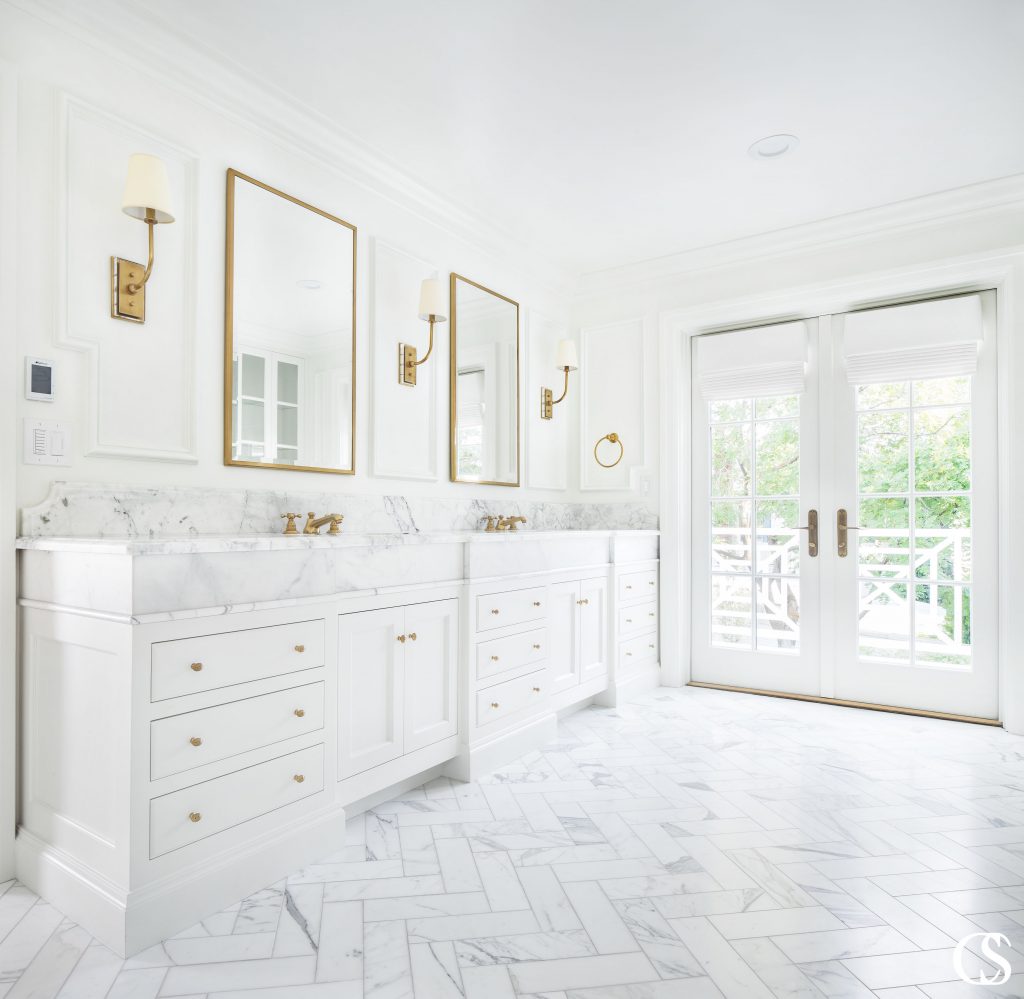 Thank heavens the basic bathroom is a thing of the past. I mean, why waste precious space on utilitarian boredom in your home when your personality can shine and individual needs can be perfectly catered to in the bathroom as well as anywhere else? A custom bathroom is such a fun place to creatively solve for unique pain points without interrupting the flow of your home's overall aesthetic.
So what do our favorite bathroom ideas look like when brought to life? Scroll on to find the best bathroom design ideas full of custom cabinetry, beautiful spa-like master bathrooms, powder rooms packed with personality, and bathroom remodel inspiration that everyone can love. From cabinet door details to our favorite paint colors and distinctive hardware and light fixtures, you'll find a new favorite bathroom idea with every single picture.

Our Favorite Bathrooms Design Ideas IRL
Part of what we love about our portfolio of custom bathroom work is that no two spaces are the same. In part because no two homeowners want the same thing, but also because we love the creative opportunities a unique bathroom affords our designers and builders. And just because we love one master bathroom for its calming, spa-like qualities, doesn't mean we don't equally appreciate a spunky little half bath with something a little louder to say. Each of our bathrooms has something for anyone to fall in love with—but these are some of our favorites.
The Luxury Spa Master Bath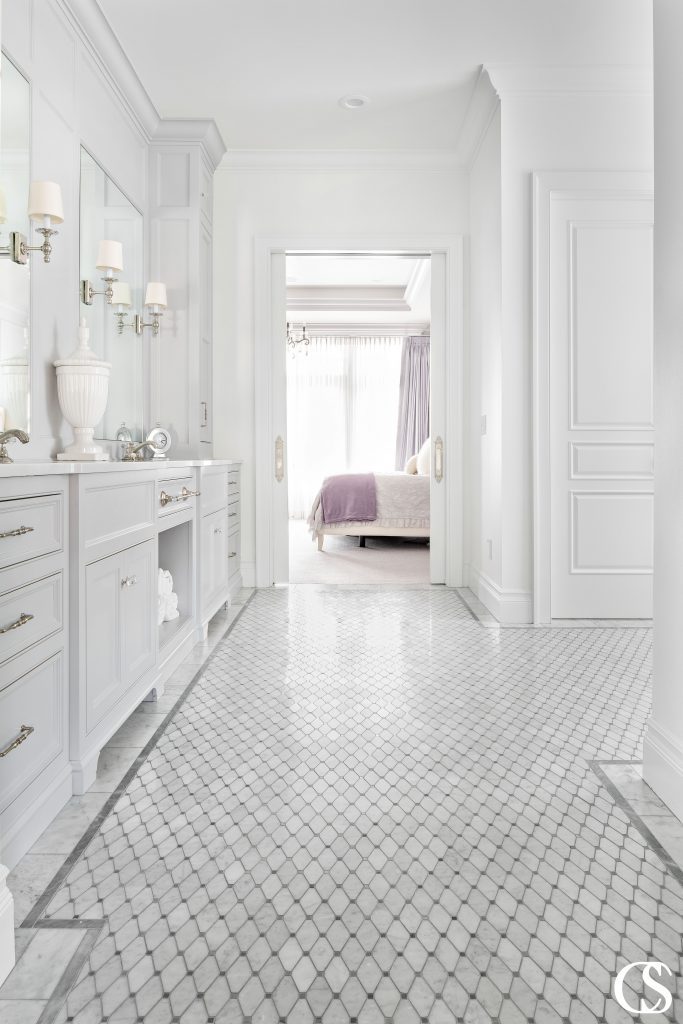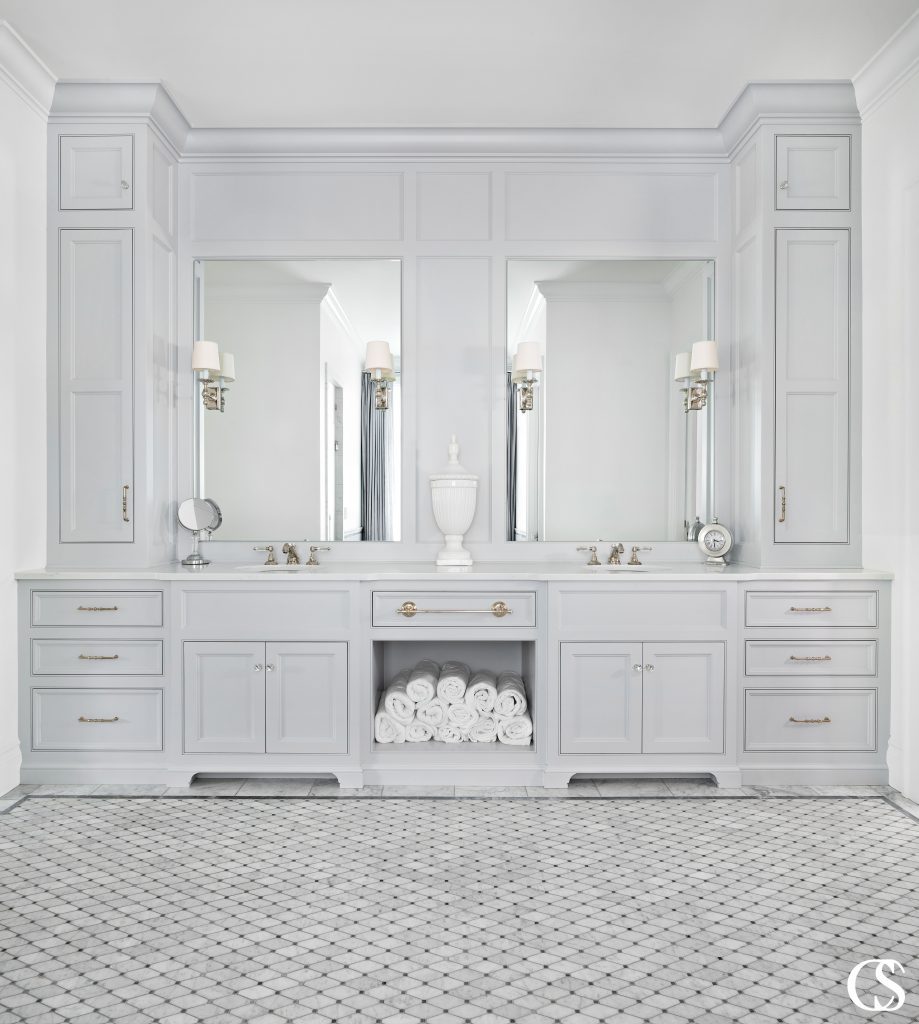 This bathroom does serious work at elevating a beautiful home to a luxury hotel and spa environment, all while making it look effortless. The soft white and gray palette offers an immediate sense of calm and cleanliness without feeling stark or sterile, while the double sink vanity provides plenty of storage and counter space for the master bath users. It's a beautiful fusion of function and luxury.
The Classically Feminine Bathroom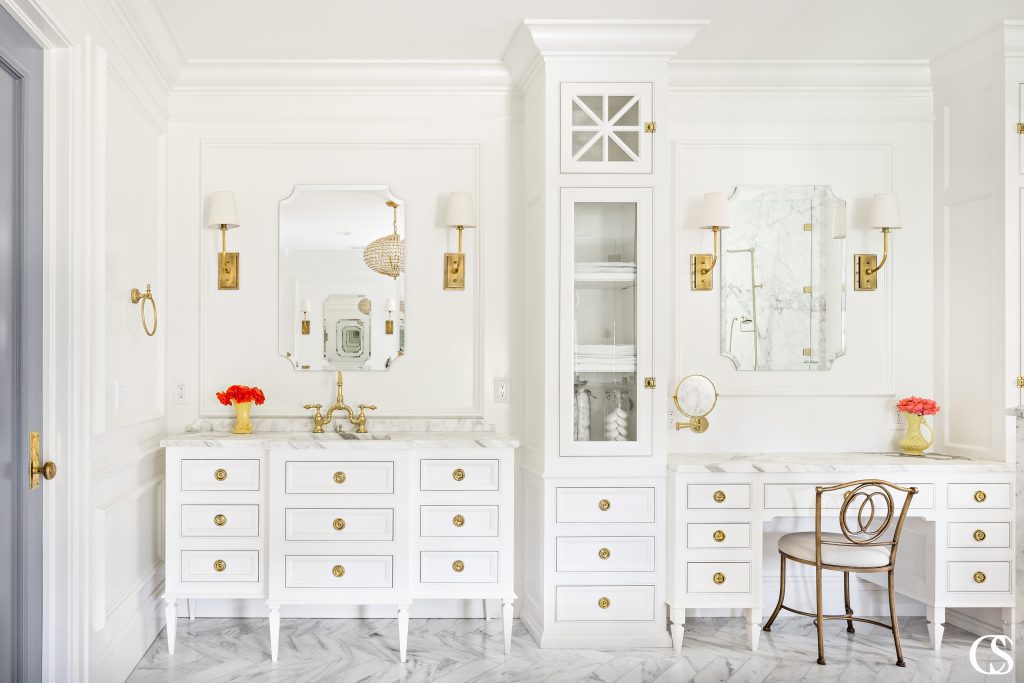 Chic barely begins to describe this dreamy white and gold bathroom, complete with absolutely one-of-a-kind stiletto-heeled vanity cabinets. That little boost off the floor brings a regal air to the entire space, complemented by brassy gold cabinet hardware, elegant faucets, and several lady-like sconces.
The Boldly Traditional Master Bathroom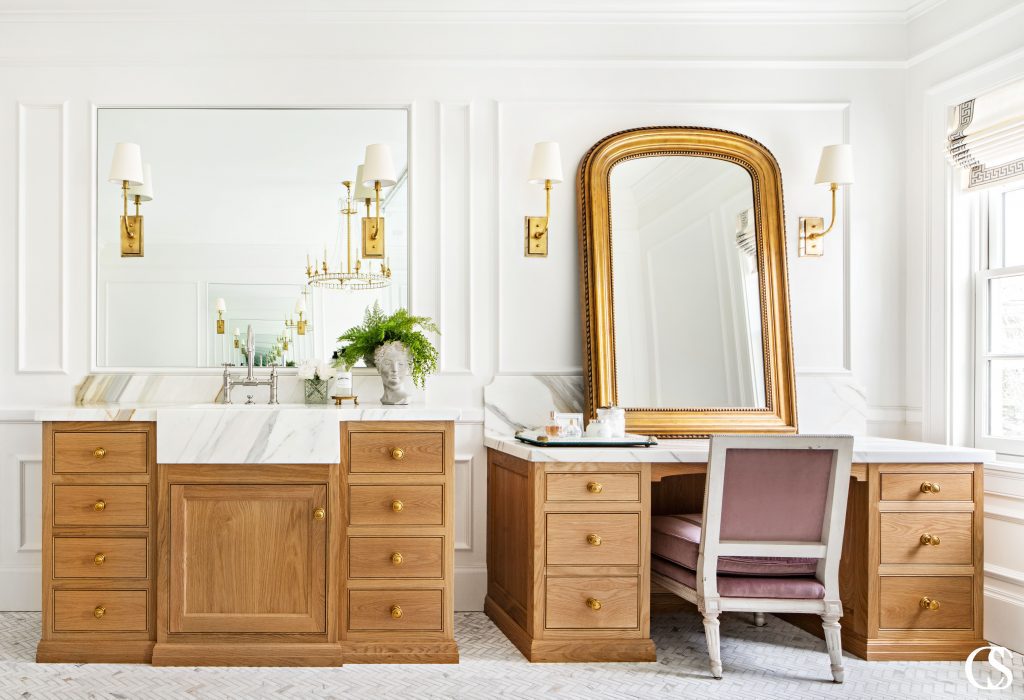 We love this unique master bathroom for its unabashedly regal nature. Everything from the richly stained wood vanity cabinets to the marble slab sink and decorative wall trim oozes dignified elegance. Plus, any time you add a gilded arched mirror, we're sold.
The Seeing Double Vanities Bathroom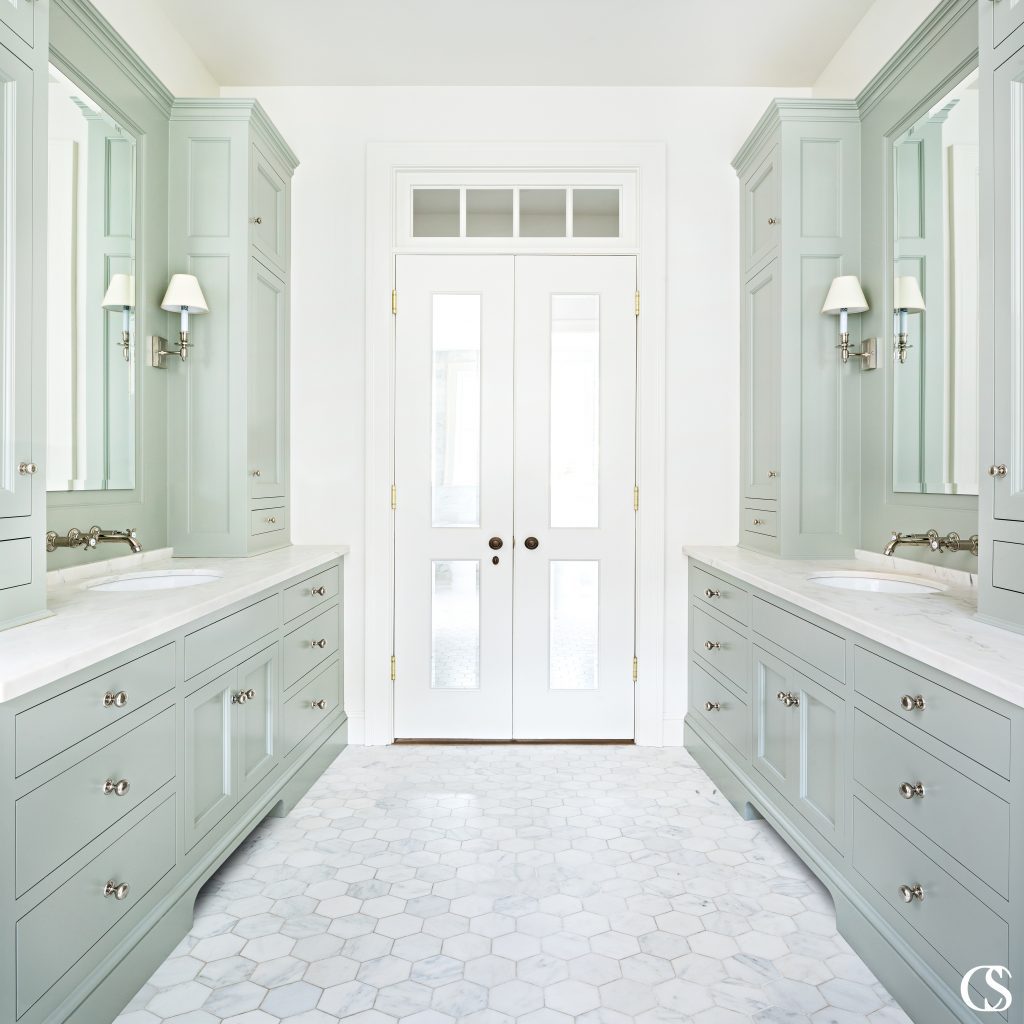 We'll be honest, if seeing double always felt like this, we wouldn't be able to find a problem with it. This master bathroom is full of a soothing symmetry that we're certain is offering just as much peace to the couple actually using it as it is to us. It's also packed with tucked-away storage (adorned by sleek silver hardware) and made bright with white walls, flooring, and countertops. The brilliance trifecta is made complete with custom framed-in mirrors directly opposite each other to make the room feel even more light and spacious.
The Graphically Black And White Bathroom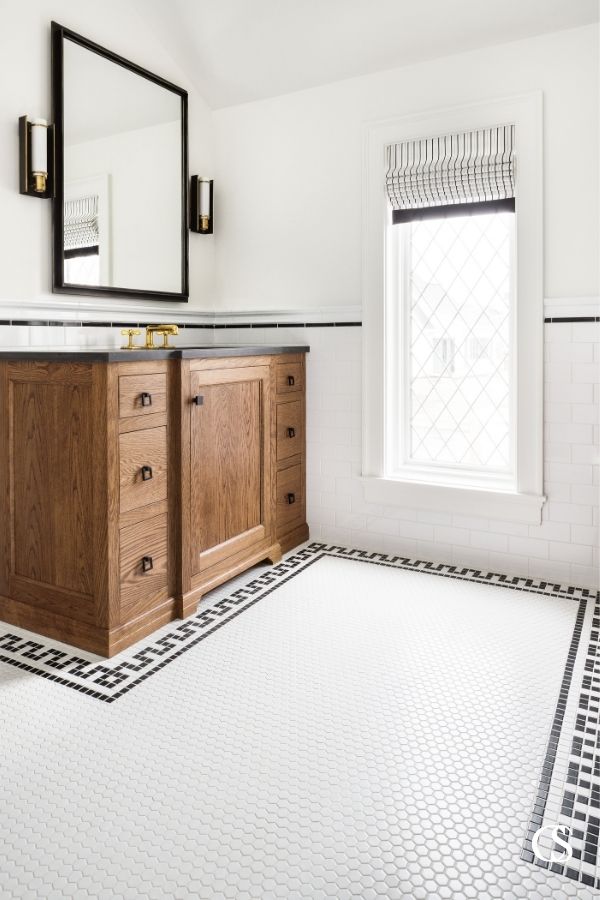 Our favorite things about this black and white beauty? The custom tile design and black cabinetry details (which you'll notice if you can bear to take your eyes off the floor). What better to richly complement that graphic motif than a dark stone countertop and square hanging drawer pulls? Well, we may actually argue that the horizontal black tile line on the wall and absolutely everything about the window and its subtle fabric shade is battling for the top spot in this design. We'll let you decide which feature takes the gold (which is highlighted nicely in the faucet, now that we think of it).
The Modern Contemporary Bathroom Design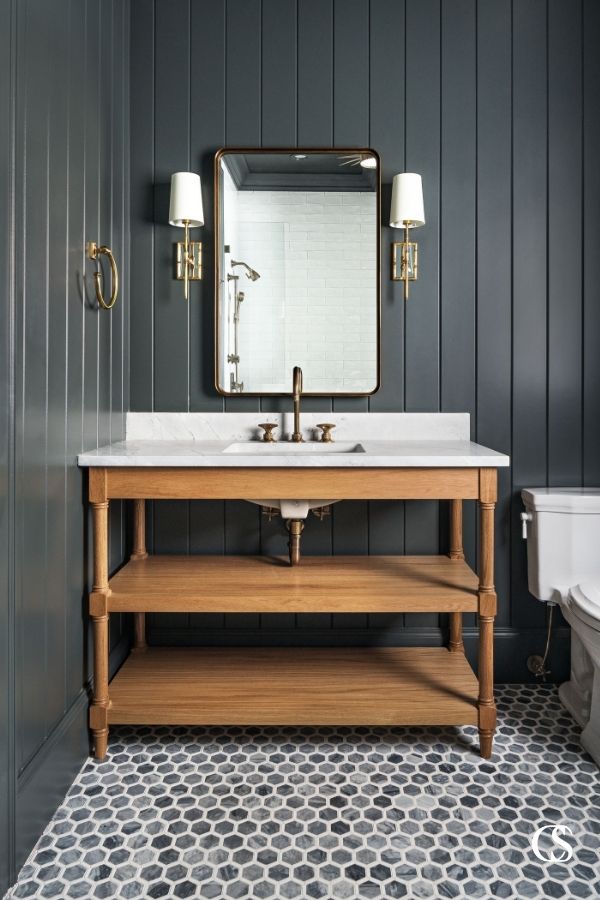 From the unique shelf-style bathroom vanity and vertical shiplap to the hexagonal floor tile, this custom bathroom design is all about modern lines. We also love how the deep blue-gray wall paint makes the stained cabinetry pop with a good dose of homey warmth. That, combined with such an eye-catching floor design, makes us never, ever want to stop looking at this beautiful bathroom design.
The Full Out Floral Bathroom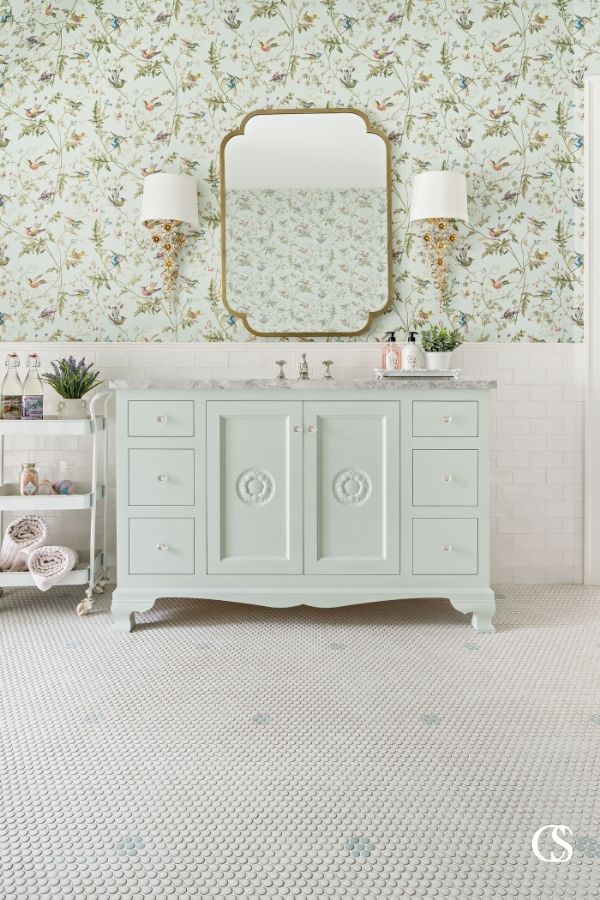 As we said, we love a commitment to personality, even (especially?) in a bathroom. It's a great space to go all out—like with this floral patterned wallpaper with a dreamy Queen Anne style vanity to match, painted in custom-mixed soft mint to match the wallpaper and topped off with delicate feet and dimensional flowers on the cabinet fronts. The clincher? Subtle floral tile design in a complementary green and white to bring the design full circle.

The Updated Classic Bathroom Idea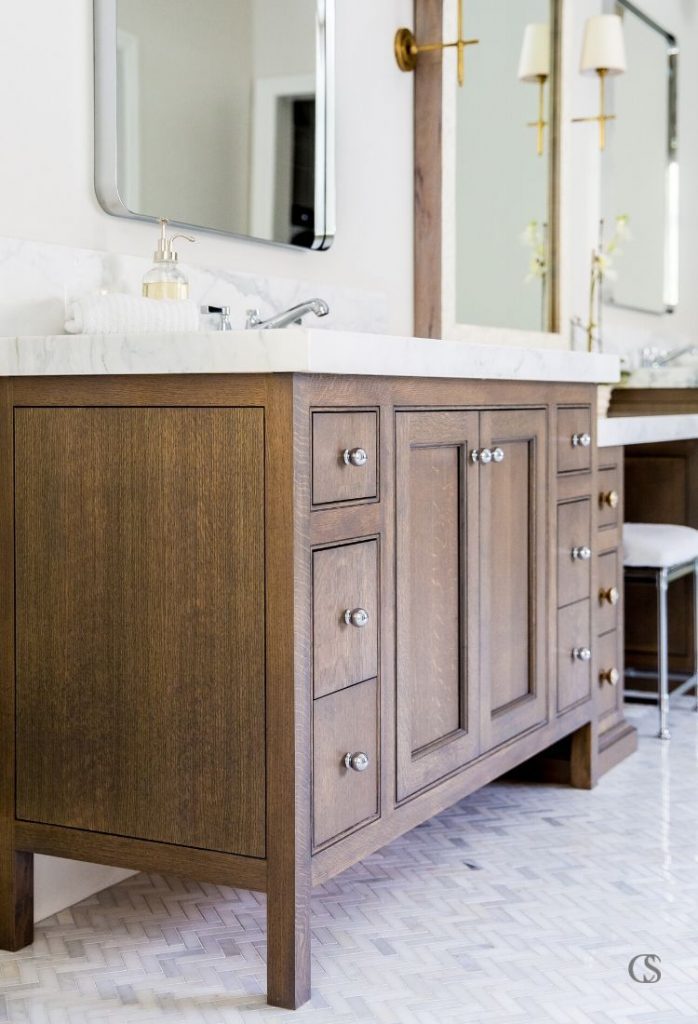 The sharp lines and deep stain on this custom bathroom vanity fan the flames of sturdy tradition, while all the intricate details make it especially modern. The beaded inset frames and subtle side design, paired with variegated chevron floor tiles, mix-and-match door hardware, and perfect leg lift take this beautiful custom bathroom design to next-level cool.
The Moody And Modern Guest Bathroom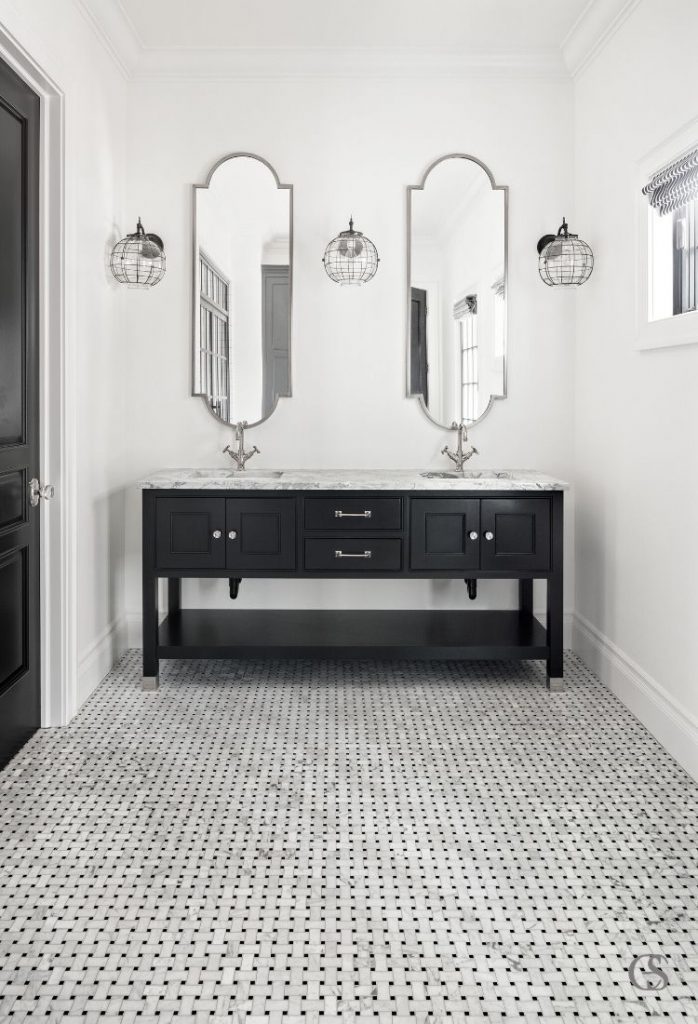 Black and white have never brought something to life so beautifully. While the dark and moody paint color on the custom bathroom vanity may seem bold, the classically-patterned tile floor, bright white walls, and silver hardware bring an airy lightness to the room. That sentiment is echoed again in the open storage space at the bottom of the vanity and in the wire light fixtures, completing a perfectly paired statement bathroom.
The Bright White Paradise Bathroom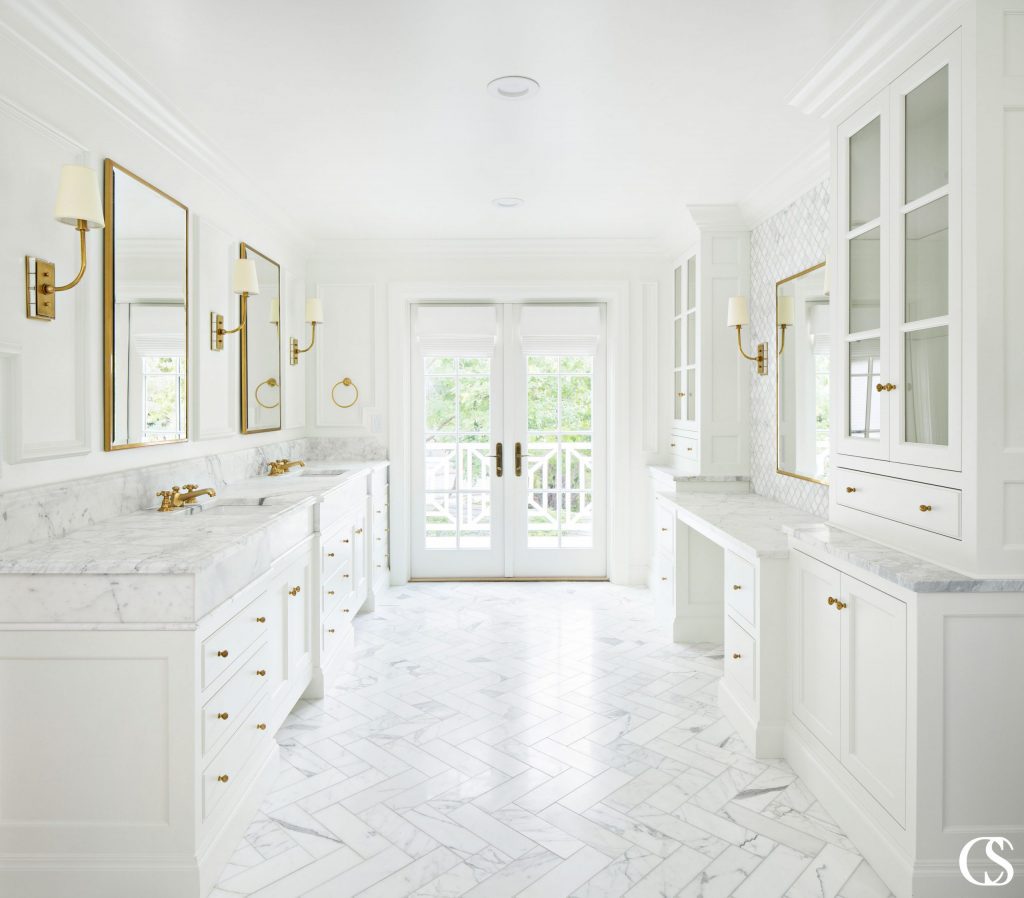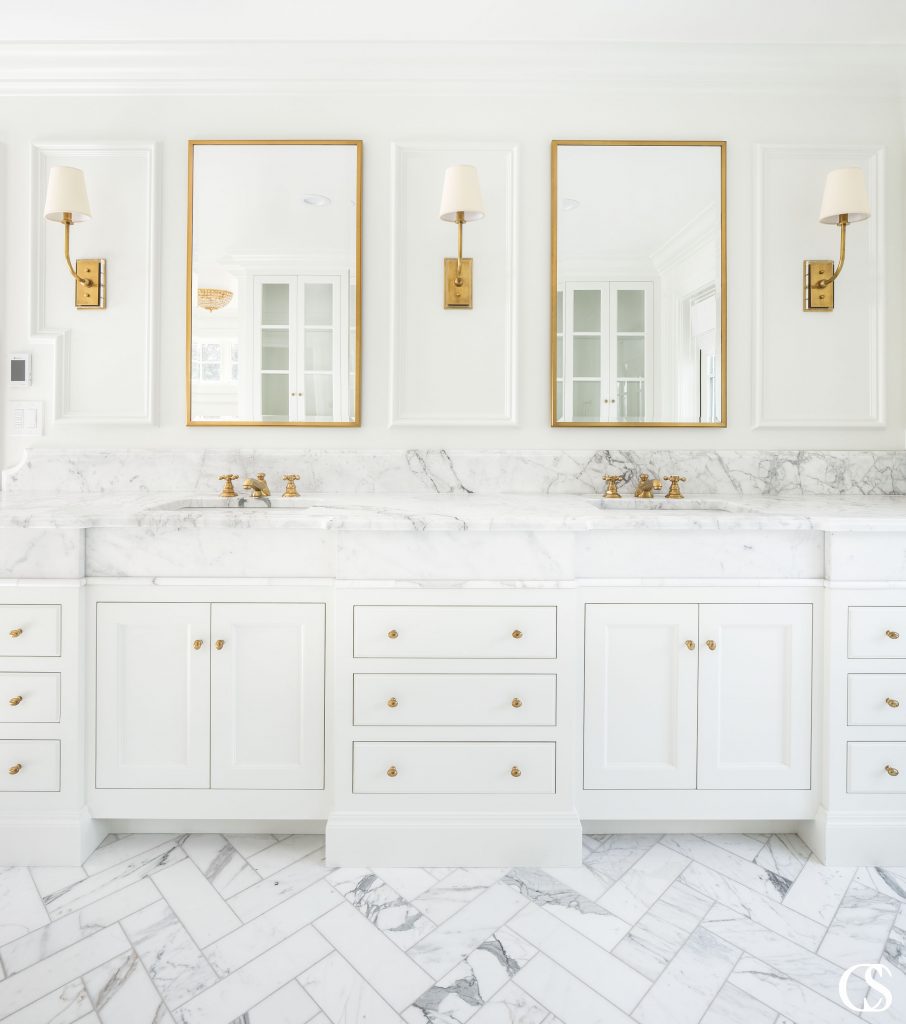 One of the best bathroom ideas of all time? Creating a space that feels perpetually clean, no matter what. And with this magnificent master, the mission was more than accomplished. Polished and bright—without even a whisper of the sterility some think of when it comes to pure white spaces—this masterpiece of a master bathroom makes us all want to take a deep breath of fresh air and linger just a little longer.
The Contemporary Colonial Bathroom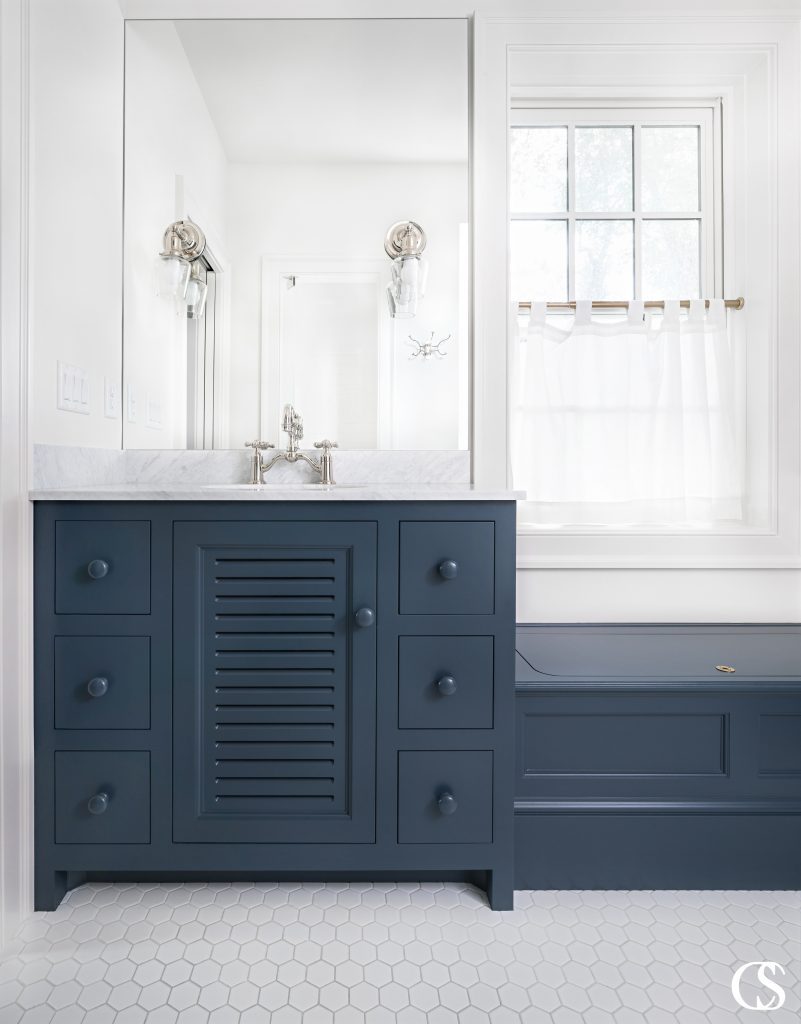 There are several details in this kid's bathroom that make it one of our favorite bathroom ideas ever. First, it maintains its bright and clean feel while fearlessly embracing one of our favorite blue paint colors—Hague Blue by Farrow & Ball. Second, it seamlessly blends old-world Colonial style (think inset cabinetry and monochrome painted hardware) with new-world oomph via the slatted cabinet door front. We're also big fans of the built-in window seat, complete with ever-necessary toilet paper and towel storage.
A Christopher Scott Cabinetry Bathroom Like No Other
It's clear that we're not playing favorites when it comes to the best bathroom ideas out there. There are so many varied ways to make a custom bathroom design stand out and truly become your own. But starting with the right bathroom cabinet designer and builder is key. At Christopher Scott Cabinetry, we're ready to take your bathroom vision and make it more than a dream. Contact us today to get started!
Need more inspiration? Make sure to follow us on Instagram and Pinterest, and check out our other cabinetry portfolios!