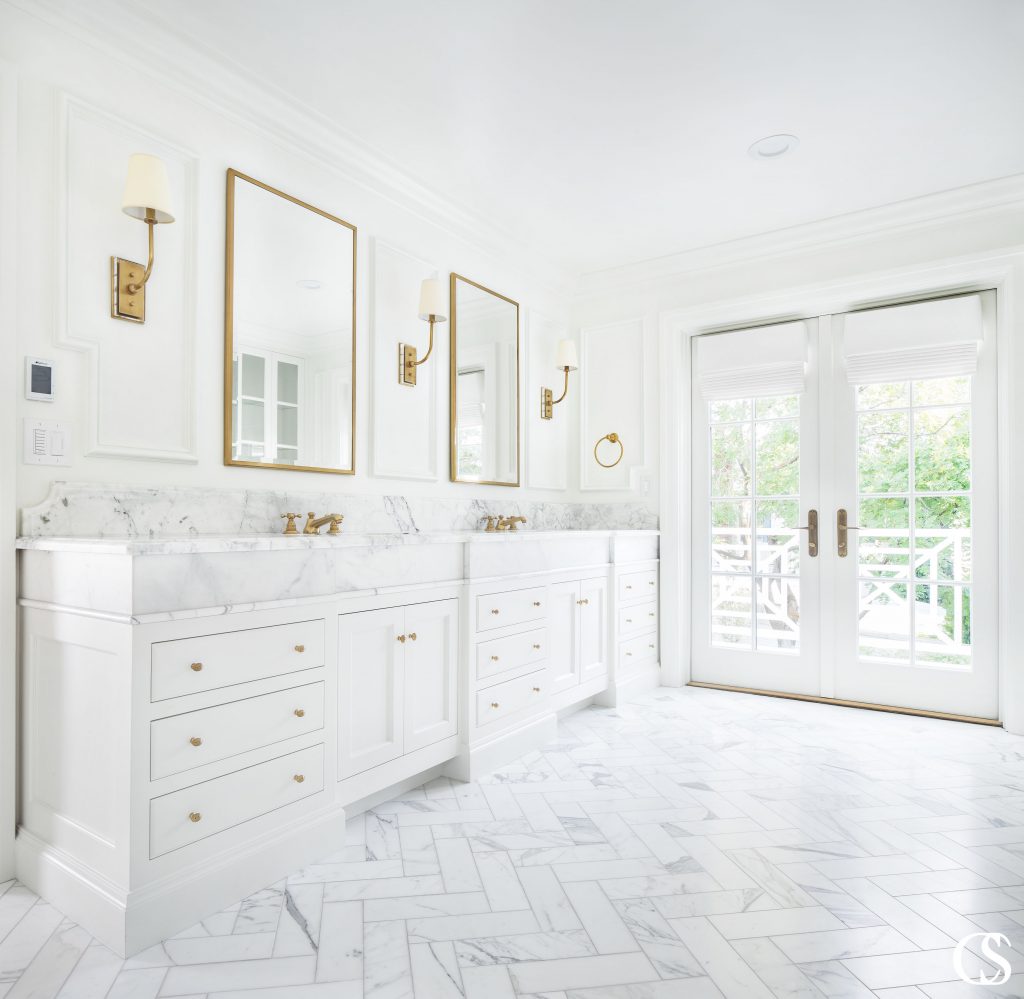 As some of the most used spaces in a home, it's important to design your bathrooms thoughtfully. That includes considering the fact that while each bathroom should provide generally the same functionality, you'll still want to make some customizations based on where the bathroom is located in your home, who is most commonly using that particular bathroom, and if you have any unique ideas floating around in your head about functionality, storage, and design—most of which should be anchored on a great bathroom vanity.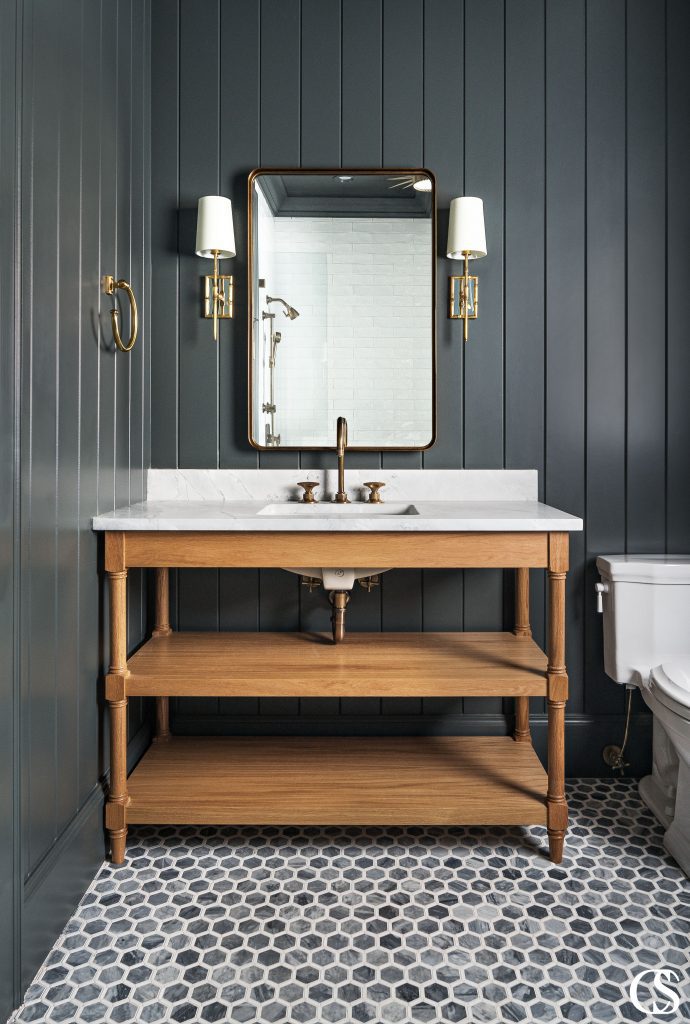 A bathroom vanity is more than just a cabinet to hold up your sink and tuck away your hairbrush. It can be a design masterpiece, the focal point of your bathroom, and a highly functional storage piece when done right. Which is where we come in.

Let's talk about some of our best bathroom vanity, bathroom storage, and bathroom design ideas.
Best Bathroom Vanity Dimensions
If you're putting in a single sink bathroom vanity, it will typically measure between 36" to 60" wide, depending on the size of your bathroom, as well as your storage needs. A standard sink vanity will stand between 34" to 38" tall.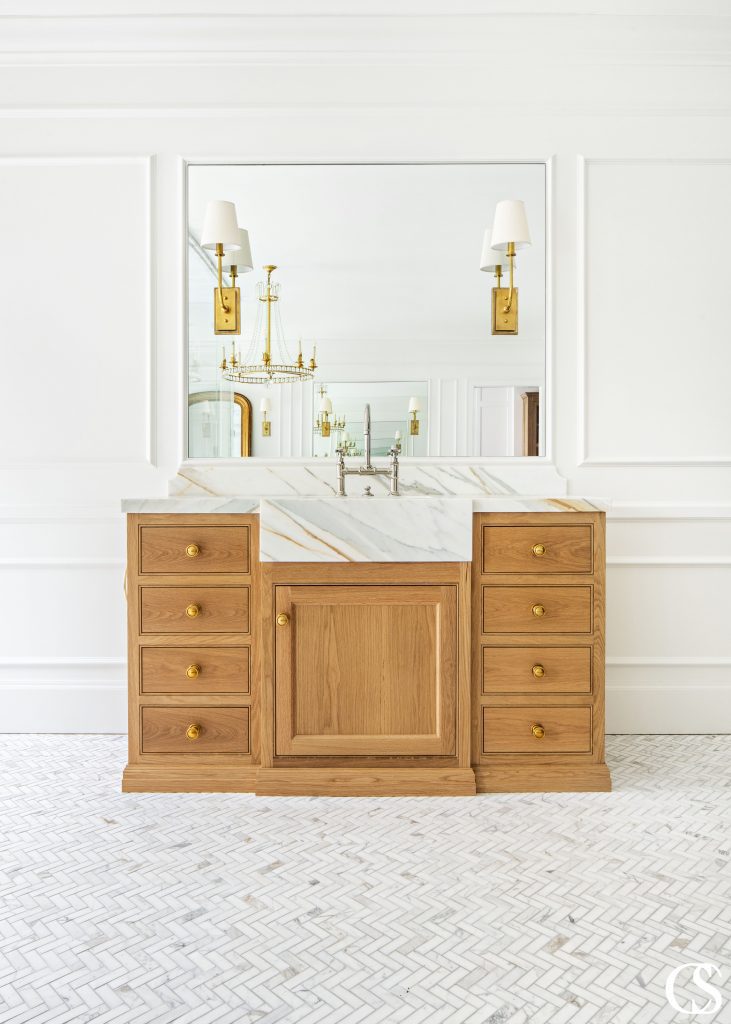 But two sink bathroom vanities are getting more and more common—and for good reason. The convenience that comes from having two sinks, particularly in a master bathroom, can be too beneficial to pass on if you've got the space.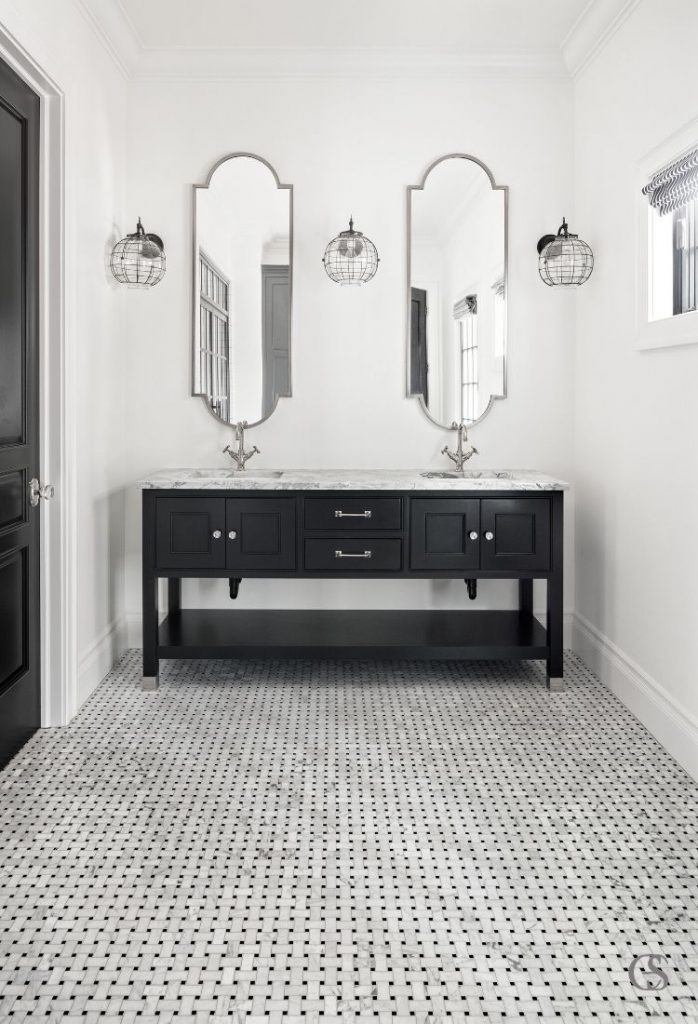 A double sink bathroom vanity should be at least 54" wide to comfortably house a bank of drawers between the two sinks. Sure, you'll have less counter space with this setup, but I believe the increased functionality of the space will more than make up for it. Plus, if you've got the space in a big enough bathroom, you can extend a double sink vanity to be as wide as 84" before you're just filling up space or accommodating plenty of storage in additional cabinetry above or below the vanity surface.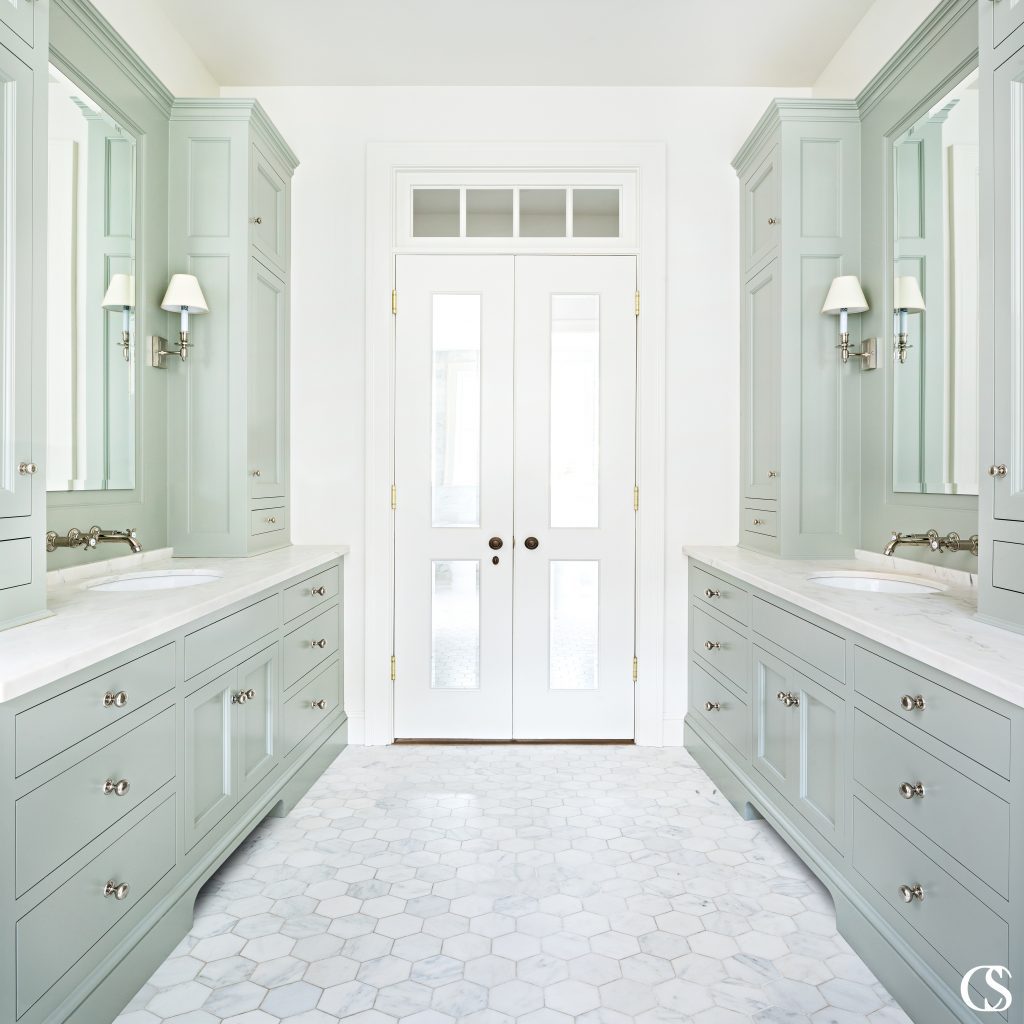 Now, what if you want to use some of that extra space in your bathroom for a sitting mirror vanity instead? Typically used as a dedicated makeup application area, a mirrored custom vanity cabinet in your bathroom can be the perfect solution for that desired countertop storage. Things like makeup or perfume can be left on the counter without fear of becoming wet or toppling over as people wash their hands at the sink. The countertop of a residential makeup vanity will reach between 29" and 31" to be a comfortable height while sitting.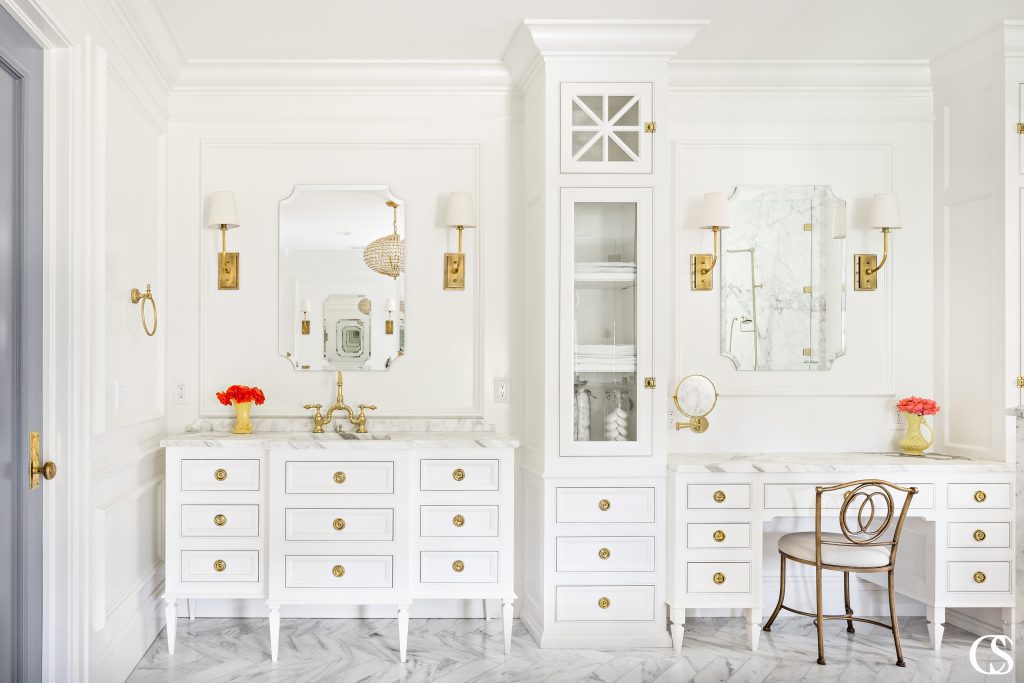 And what if you have a dedicated children's bathroom? Some say to stick with a countertop no higher than 34" to accommodate smaller bodies, but I have a different opinion. While I appreciate the idea of creating a custom space just for littles, kids grow up fast and you don't want your teenagers crouching over a sink in the blink of an eye. Stick with a standard height bathroom vanity and invest in (or build!) a sturdy stool for when they're younger. That standard height will also appeal to any future owner of the home.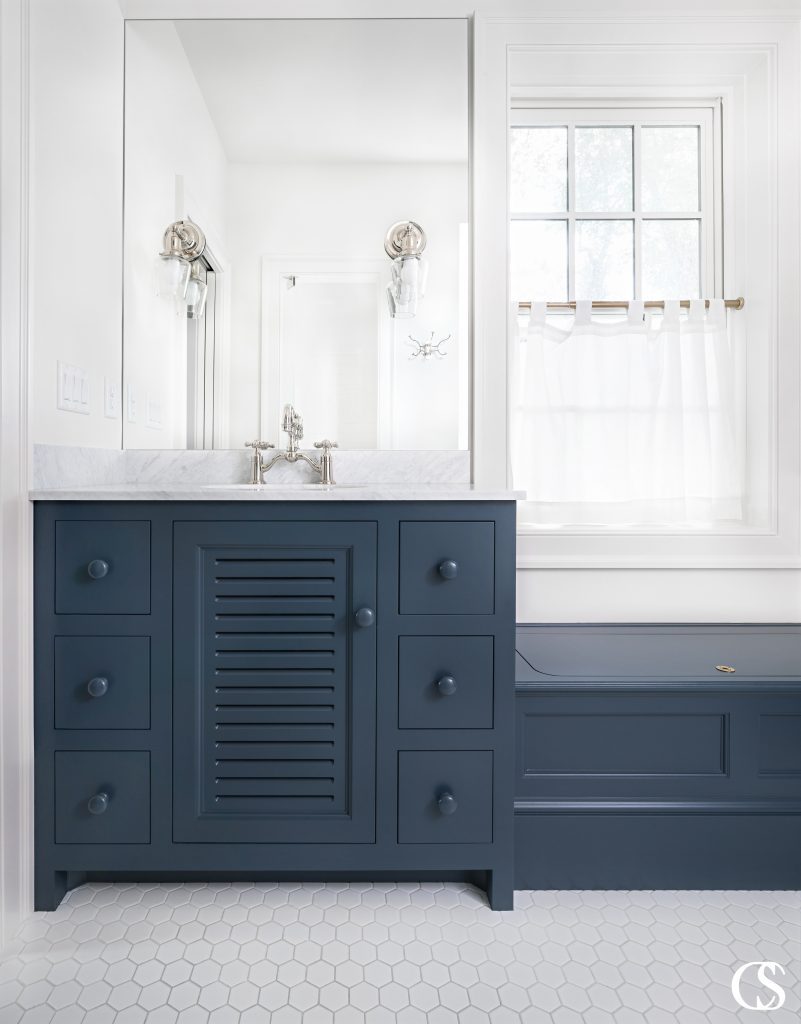 As for the standard depth of a bathroom vanity, you're looking at about 21". I like to go with 22" for the additional breathing room it gives the sink and counter but it isn't absolutely necessary. And if you ever need to make your bathroom vanity even more shallow than the standard, you may need to plan on the faucet coming from the wall to give enough room for the sink at all. For more bathroom design inspiration from Christopher Scott Cabinetry and Design, check out our full bathroom portfolio.
Best Storage Ideas For Bathrooms
The bathroom vanity is rife with opportunities for customized storage spaces. The most common requests I get are for metal cup inserts to safely store hot tools like curling irons and blow dryers, and for outlets built into the drawers for charging electric toothbrushes and razors. Both are easily accomplished in a custom bathroom vanity and can seriously increase the ease, functionality, and joy you get from your space each day.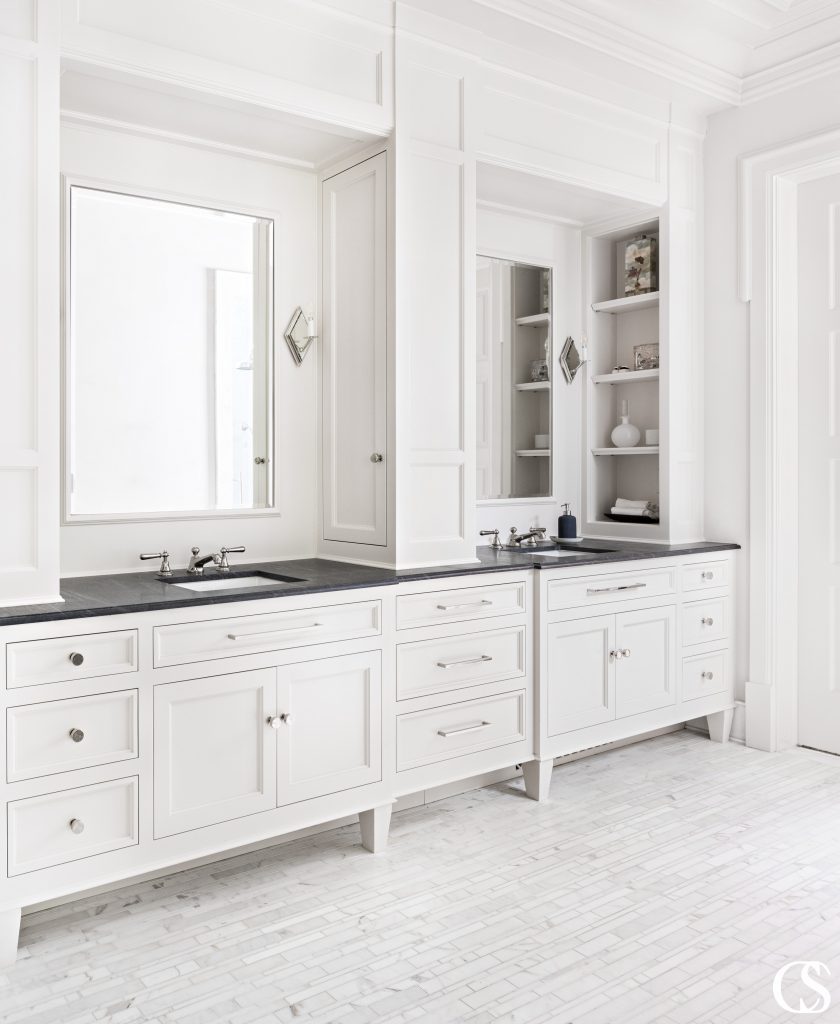 You can also plan for other items unique to your circumstances to be stored in a master bathroom vanity if you know you'll need them but don't want them sitting out all day—things like small organized cubbies for nighttime retainers, or pullout bin drawers for extra soap or shower supplies.
The one thing you do have to make sure you've got enough storage space for is toilet paper. Whether it's in the master bathroom or a guest bath, no one wants to run out of toilet paper! Often a master bathroom vanity has plenty of storage space for a drawer or cabinet dedicated to the white gold, and having enough space under the sink in a guest bath for an extra roll is fine—but if you opt for a vanity that has no storage in your guest, kids, or powder bathroom, you can always add an over-the-toilet cabinet for convenient but still-hidden access.
Best Bathroom Design Ideas
A master bathroom should be a place of relaxation and peace, so I highly suggest not going too bold in your design here. A pop of more muted color is fine but in a space that is used so consistently, you'll find that calming colors and a more subtle palette will suit you better in the long run.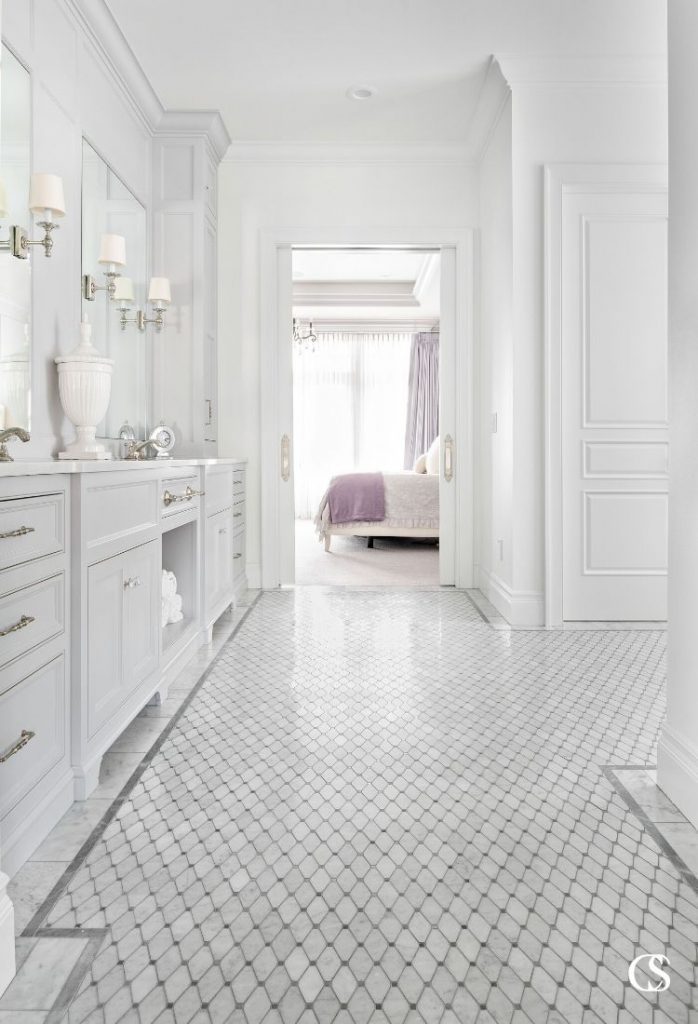 Now, the other bathrooms in your home are free game for more bold design statements. Have fun when designing these smaller, less overwhelming spaces—think more elaborate tile designs, a fun wall color or splashy wallpaper, and even a unique bathroom vanity. All these things can add to the enjoyment of your guests or kids and brighten up an otherwise boring room.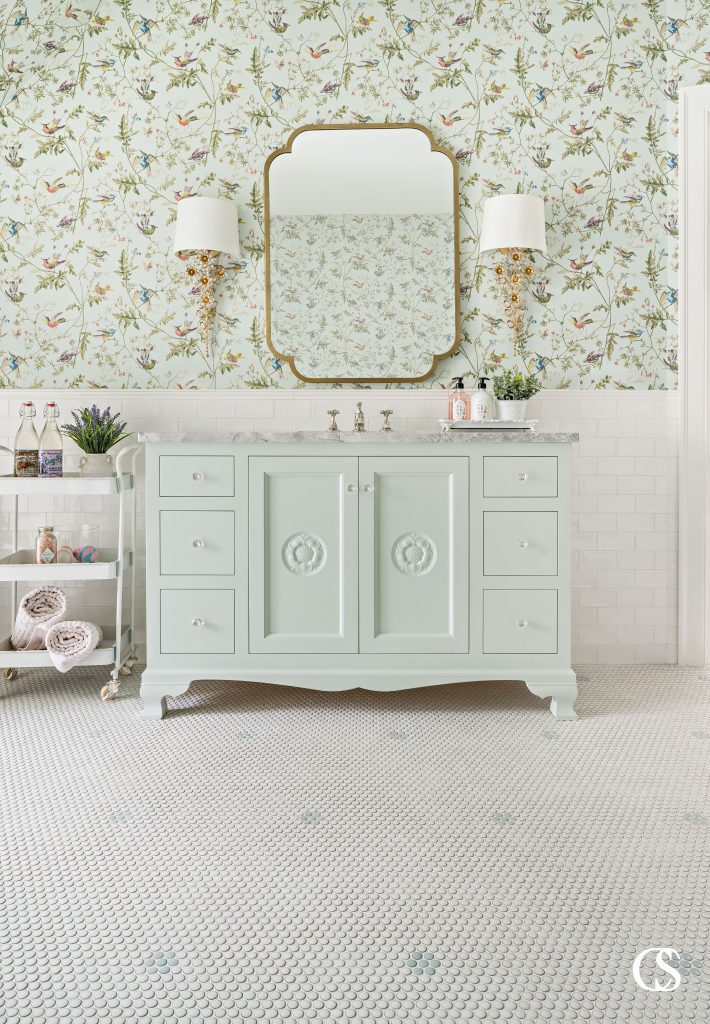 That said, I do suggest considering natural wood colors for the vanity in your kids' bathroom. Simply because the wood can take a beating better than paint, which tends to show every chip, scratch, and indent it receives. But don't hesitate to compliment a wood bathroom vanity with unique wall or floor designs, fixtures, and hardware.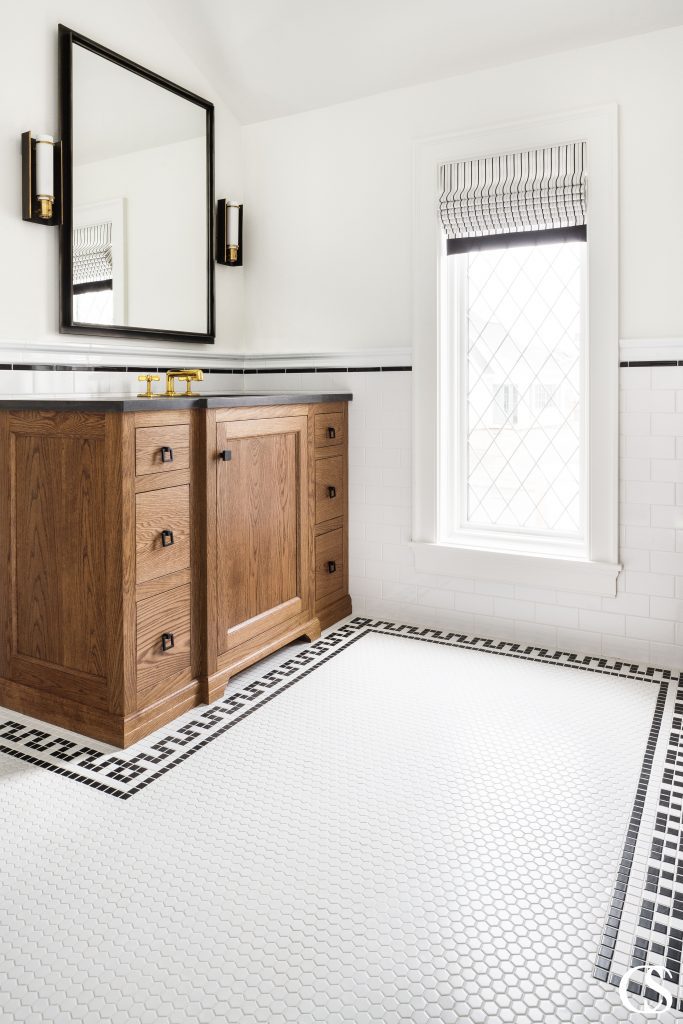 When it comes to bathroom mirrors, they're quite subjective to style. A modern approach is one big mirror—even with a two sink bathroom vanity—while the more traditional approach is to have a mirror over each sink. But with every shape and frame (or lack thereof) available, the type of mirror you put in your custom bathroom design just depends on your personal taste, style, and budget. They're also a great way to reflect light and make a bathroom feel larger than it really is.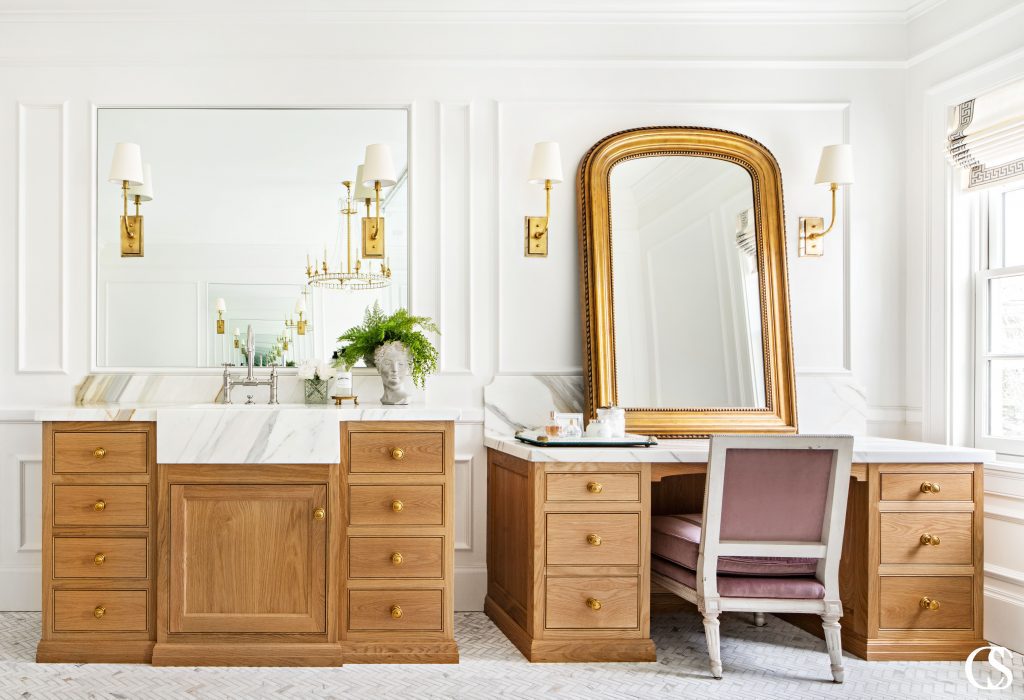 Speaking of lighting, it's another imperative consideration in great bathroom design. Natural lighting is best in a bathroom but you can also supplement it with natural light bulbs in whatever fixtures you choose. And don't forget the right kind of lighting over your makeup vanity, either. No one needs harsh or unflattering light while they're getting ready each day.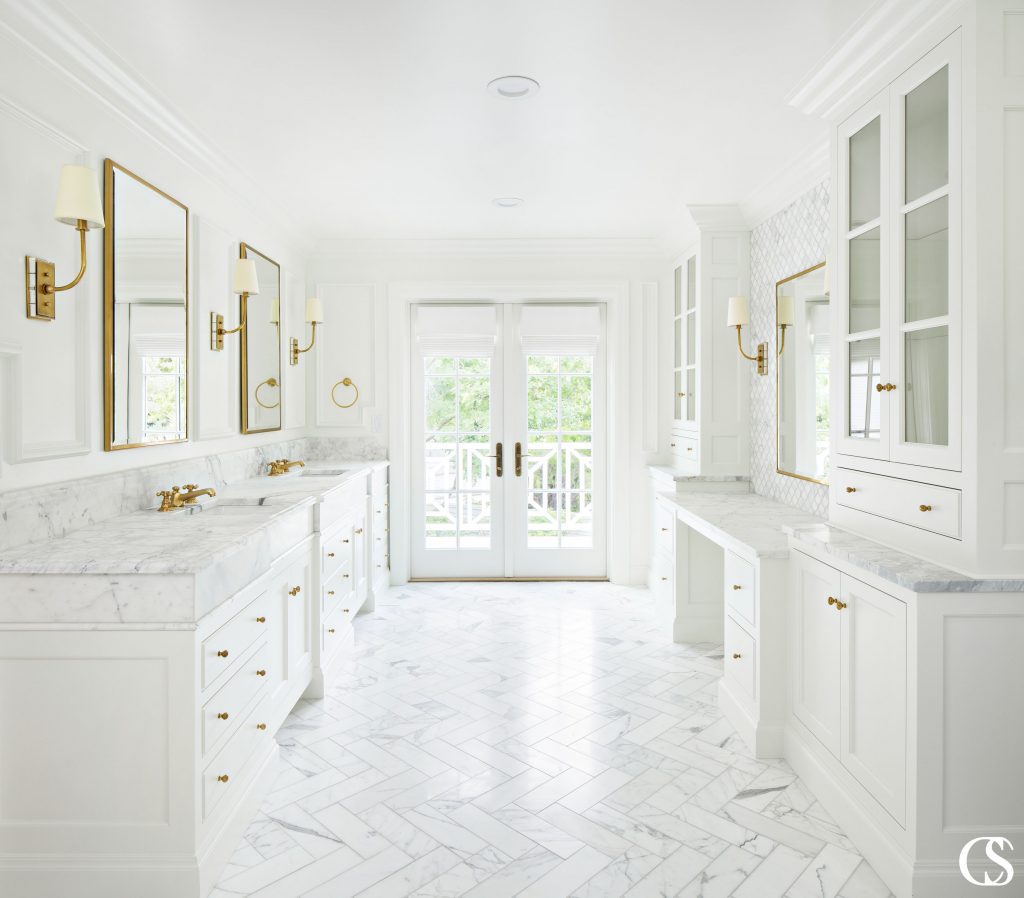 No matter what your bathroom dreams hold, we're confident we can design and create the right cabinetry for you. No two of our bathroom vanities are alike—and for good reason! Each one should be as unique as the people it serves.
You can see more of my design projects—kitchens, bathrooms, built-ins, and furniture—on Instagram, Facebook, or Pinterest.
Looking for help with your custom cabinetry and layout design? You can contact me here.