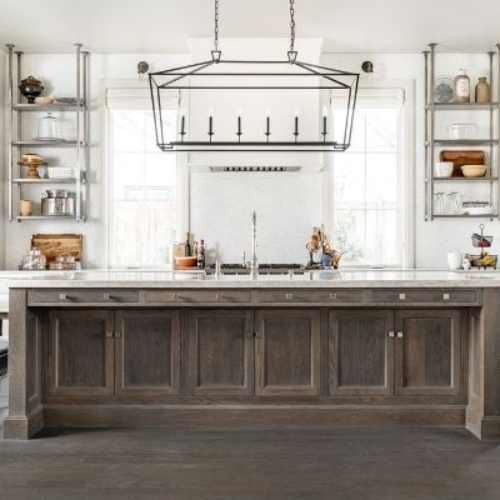 It is well known that redoing the kitchen is one of the best—and most expensive—ways to give new life to a dated home. But with one much smaller change, you can make an incredible visual impact without tearing out any kitchen cabinetry or even refinishing it. New cabinet hardware upgrades can give your kitchen (or bathroom, closet, laundry room, home office, etc.) a completely fresh look, a little farmhouse flair, or a return to the traditional style you love.
But with so many different types and styles of cabinet hardware pulls and knobs, coupled with the unspoken "rules" many choose to abide by regarding cabinet hardware, it can be tricky to know where to start and totally daunting to actually take the plunge. But we're here to help! Make sure to bookmark or pin this page as a resource for all things cabinet hardware. From how to measure for new knobs and pulls to how to choose the right style of cabinet hardware for your kitchen–read on to discover everything you'll need to know before giving your cabinets a makeover.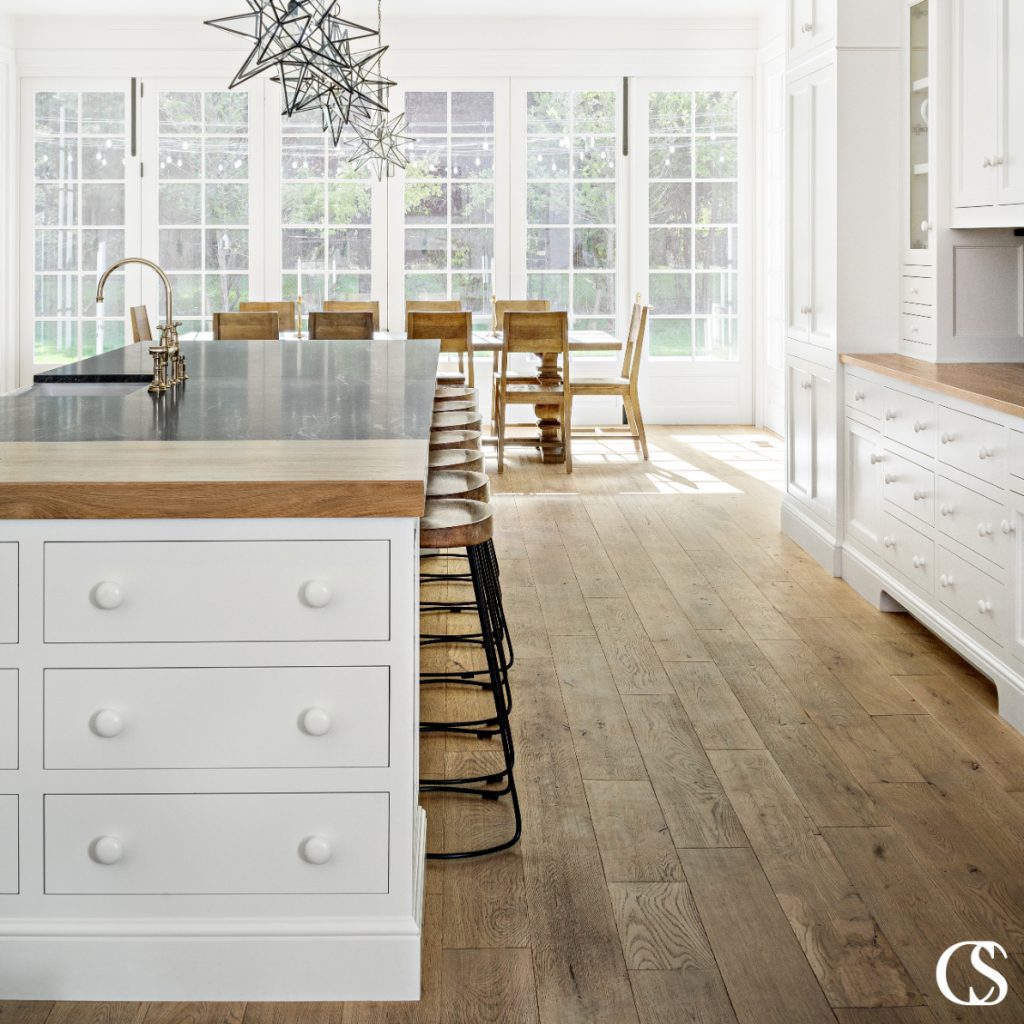 The Importance Of Cabinet Hardware
Cabinet hardware is absolutely essential to the look, as well as function, of your cabinetry. It not only includes the visible handles on the outside of cabinet doors and drawers but also the hinges and slide hardware you invest in to ensure doors and drawers open and close softly and with ease. It's imperative that you invest in high-quality products, whether or not they'll be seen, so that you can enjoy the proper use of your cabinetry for years to come.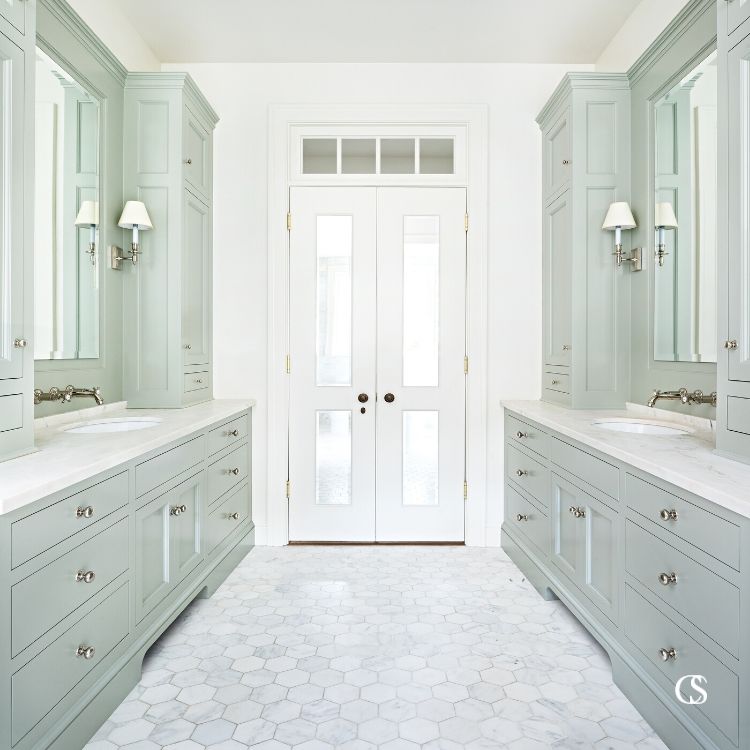 Cabinet hardware knobs and pulls are no exception. They are one of the most eye-catching pieces of interior design that can make or break a space's overall aesthetic. The right handles can take a kitchen from dreadfully outdated or builder-grade basic to feeling beautifully built-in and bespoke. They're also key for how the cabinets in your room function. Reaching for a too-small knob can be more frustrating than you'd think. Or installing pulls improperly so they come loose time and again—these are issues that can be avoided by following some of our best tips for how to choose the right cabinet hardware for your home, installing it properly, and evaluating over the years whether it's time for another much-needed cabinet hardware update.
Main Types Of Cabinet Hardware
Let's first go over the most common types and materials of cabinet hardware so you can gain some familiarity with what you'll come across when hardware shopping.
There are two main types of cabinet hardware—functional and decorative. Functional cabinet hardware typically includes drawer slides, hinges, and latches. Decorative hardware refers more often to the knobs, handles (or pulls), and other ornamental elements found on the fronts of the doors and drawers. Admittedly, there is some crossover between the categories as a knob serves both a design and operative function. Similarly, hinges are largely functional but can also contribute to the overall look of the cabinetry.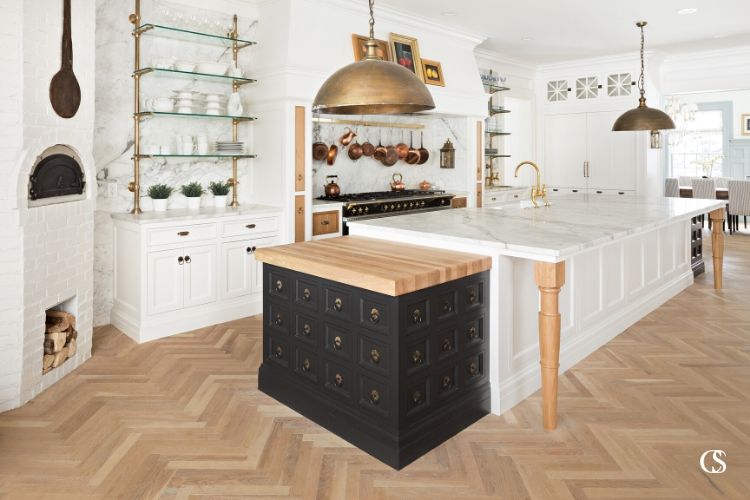 The most common materials used in the manufacturing of cabinet hardware—focusing on decorative hardware here—include everything from metal to plastic, with seemingly innumerable options in between. When choosing cabinet hardware you'll undoubtedly come across metal, wood, plastic, glass and crystal, stone, porcelain, and resin. And while many options can be well-made no matter the material, you'll want to choose your hardware carefully based on the overall design goals of your space, among other key considerations.
How To Choose Cabinet Hardware
Don't let the generally overwhelming number of choices of cabinet hardware deter you from upgrading your kitchen or bathroom! With a little guidance from the experts, you'll soon feel well-equipped to choose the right cabinet hardware for whatever space you're looking to update.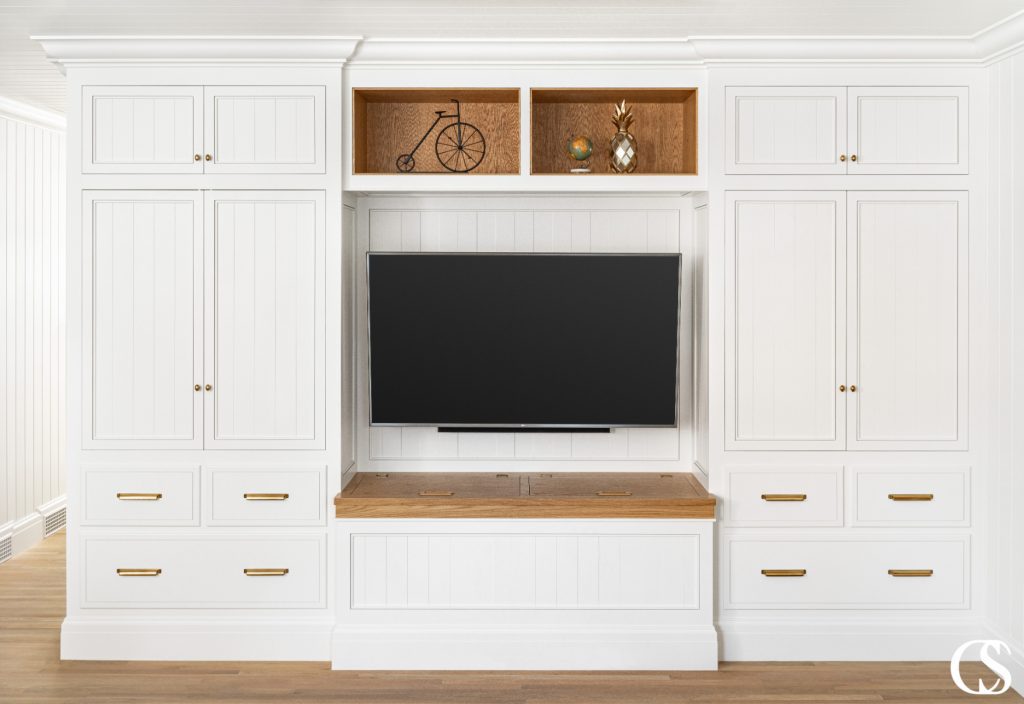 Choosing Between Knobs And Pulls
There is a general rule that many follow when it comes to choosing between knobs and pulls for any given cabinet. Most will instinctively place a knob on a door and a pull on a drawer. It's a traditional formula that works well in most spaces, regardless of overarching style choice. But don't make the mistake of sticking hard and fast to something that can also be tweaked to create a unique and playful look in your own space! Many have bucked the traditional rule to great effect—both in look and function to satisfy their personal taste.
You should also look into the many, many different types of knobs and pulls available out there. It's not just a matter of a ball-shaped knob or an arched handle anymore. Think leather finger pulls, glass cup or sleek metal bin pulls, cylindrical bar knobs, locking latches, handles with backplates, and so much more. There really is a style out there for every personality and project.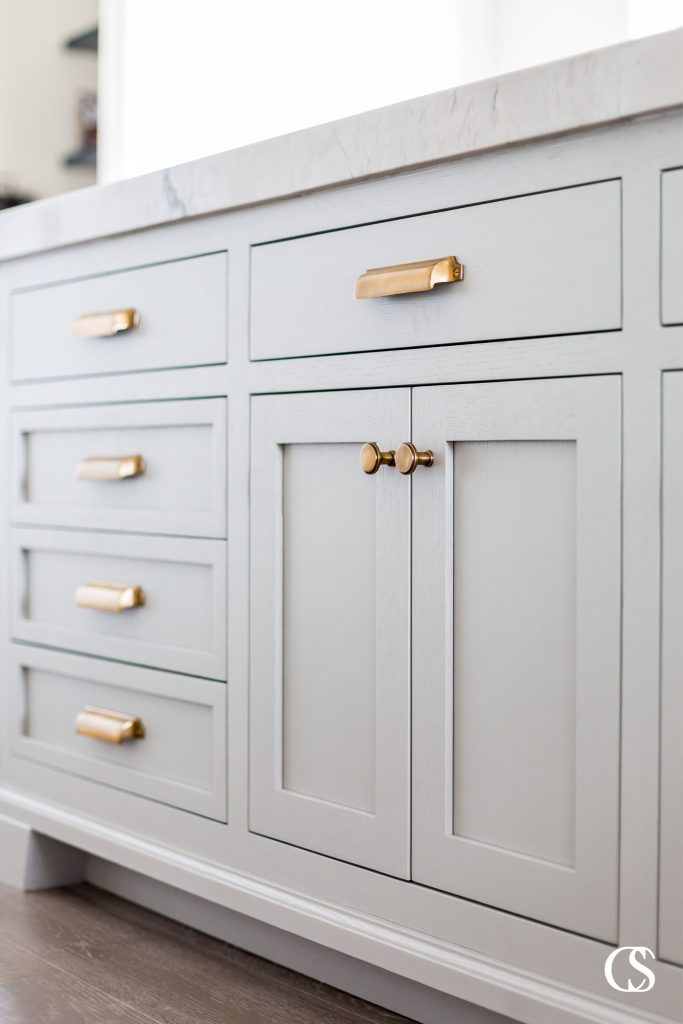 Coordinating Cabinet Hardware And Your Style
Speaking of personal style—this is one of the most important considerations when choosing which cabinet hardware to use in your home. If your bathroom boasts a delicate and feminine air, completing bathroom cabinetry with bulky hardware (even if you love them on their own) will only serve to ruin the overall aesthetic with awkwardly eye-drawing pieces. You would do well to choose something in a lighter and more elegant style to pull the room together. And remember—there are many, many companies that offer cabinet hardware. Don't settle for anything you haven't fallen in love with, even if you haven't found the just-right pieces in the first few places you've shopped.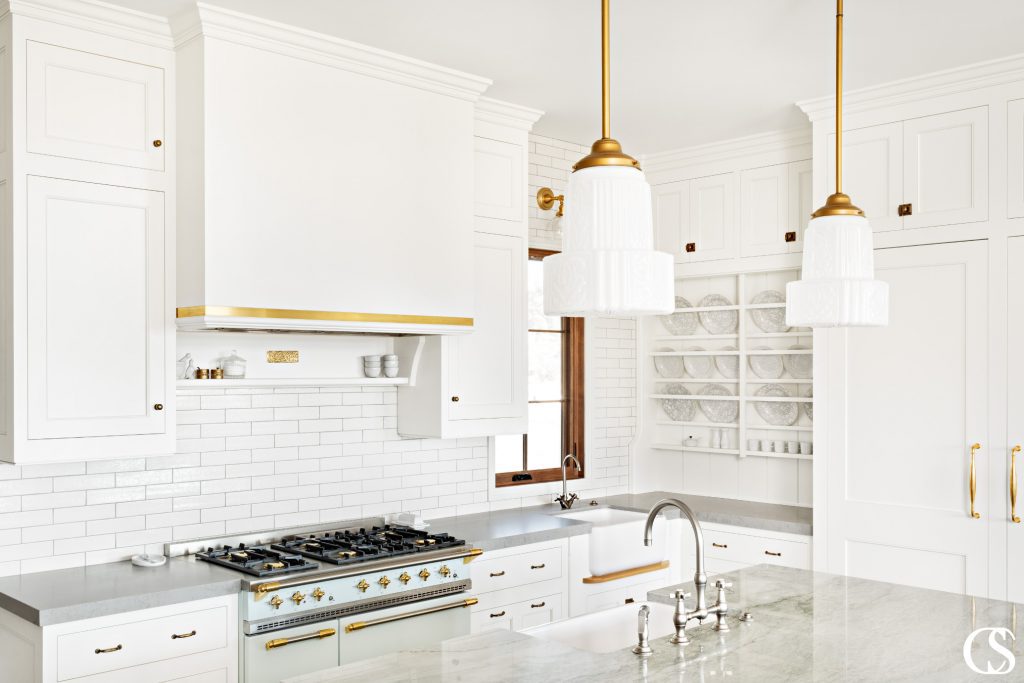 When coordinating your new cabinet hardware with your space, you need to keep in mind several things.
Overall design theme.

Is your kitchen leaning toward modern farmhouse? Industrial chic? French cottage? Sleek Scandi? Pick a cabinet handle that matches your theme. You wouldn't likely combine crystal knobs with a rustic homey kitchen with rough-hewn or knotty wood cabinetry.

General cabinet hardware styles.

Typically, we can put cabinet hardware into three loose categories: traditional (think natural wood finishes, dark or bronze metals, and basic shapes but with sometimes elegant detailing), modern (cleaner shapes, sharper edges, offering more minimalistic contrast), and transitional (a combination of the previous two, sometimes with mixed materials, custom color finishes, and a mixture of traditional and modern shapes).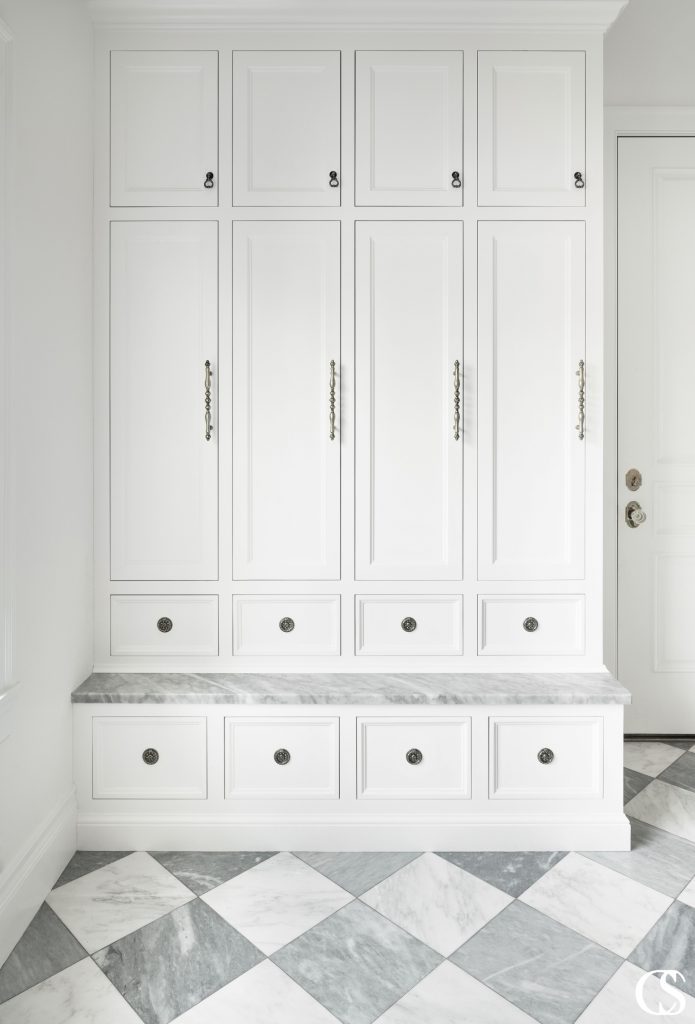 Cabinet hardware materials.

We've touched a bit on the materials available, but you need to keep in mind how they'll play with the rest of your interior design. Painted wood works very well in a monochromatic scheme, for instance. But it's not just about looks. Material also matters when it comes to future care, so keep that in mind as well.

Cabinet hardware finishes.

Let's say you've narrowed your cabinet hardware choice down to a general material—metal. Just note that metal can still mean a number of different colors and finishes. If you have chosen nickel cabinet hardware, you'll still need to choose between smooth or hammered, brushed or polished, satin or gloss, etc. Rather than looking cohesive, mixing finishes can actually be a bit jarring.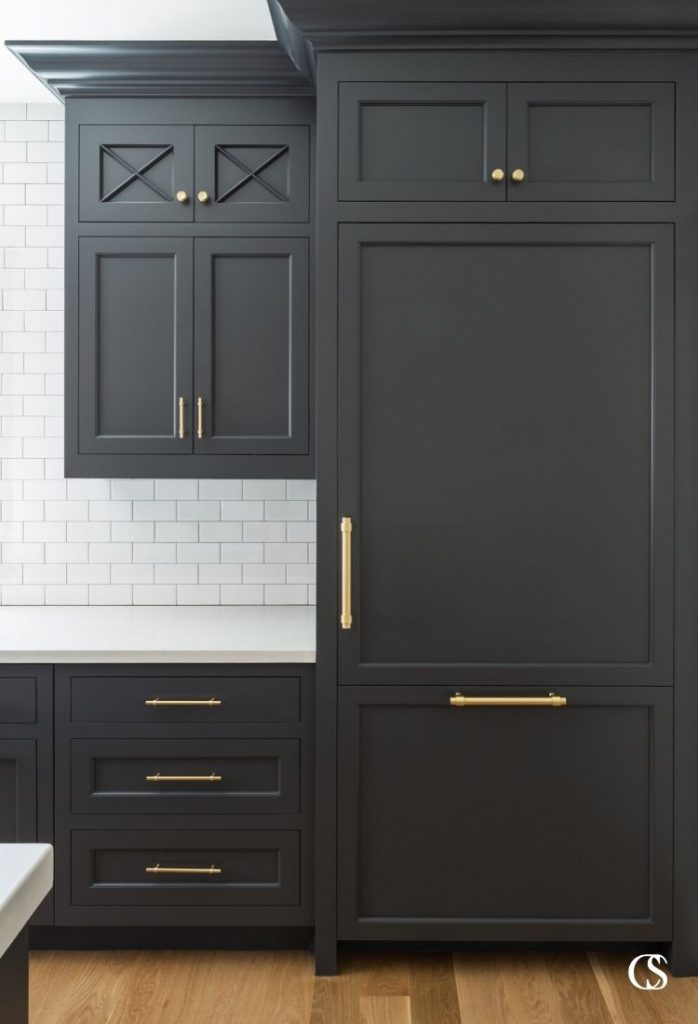 Cabinet hardware combinations.

Prepare to be blown away: you do NOT have to use all the same cabinet hardware in your space. Particularly if you have a larger area, such as a kitchen, it's often best to pick two or even three different—but coordinating—types of cabinet knobs and pulls. Just remember that while the shapes or lengths of cabinet hardware can (and maybe should?) be different they should still be complementary, and you'll want to stick with all the same finish as mentioned above. The one exception we'd make to that is when you choose to incorporate painted hardware that matches the cabinetry with other metal or wood cabinet hardware like in the picture below.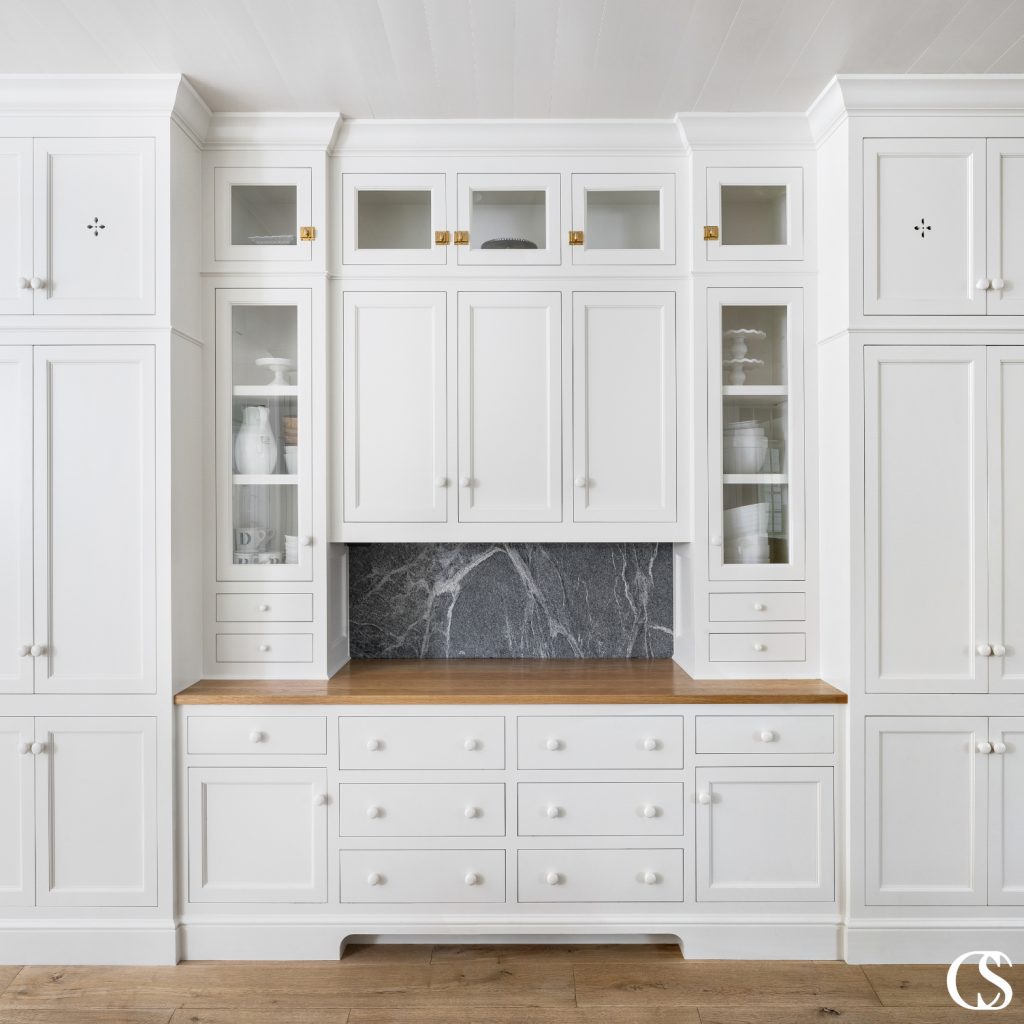 Considering Hardware Sizes
Size is another important element to consider when choosing your cabinet hardware. Not only the size of the knob or pull itself, but the size of the cabinet face as well as the size of the installation space surrounding the new cabinetry hardware. Luckily, this is a pretty intuitive rule when you've got hardware in hand. You'll likely be able to easily see if something is too large or small for the project. However, here are a few measurements you can check against when shopping online.
Pulls are often around a third the width of a drawer front. So, for a 12-inch-wide drawer front, shop for a 4" wide draw pull. That said, sometimes it can be fun and visually pleasing to break the rules. You can consider a transitional style pull that covers much more of the drawer—

if

it works in the space.

For larger drawers between 12-30" wide, use a pull at least 4-12" wide.

For extra large drawers, you can double up on smaller, widely-placed drawer pulls or skip the pulls altogether and use two well-chosen knobs.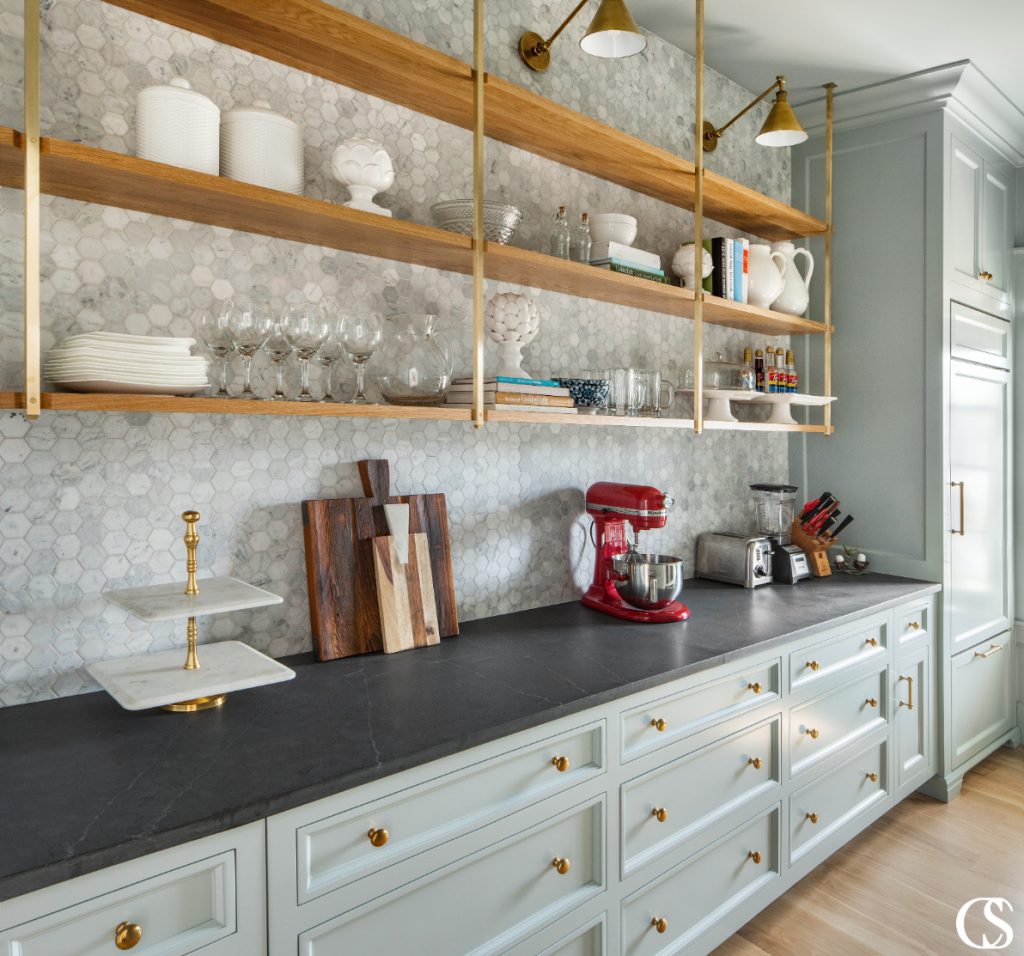 Cabinet Hardware Installation
While updating to more modern cabinet hardware is a much simpler and less expensive way to refresh the look of your cabinets than a complete remodel of the space, there are still a few things you'll need to be mindful of when choosing, shopping for, and installing your new cabinet hardware.
If you're a total beginner and don't feel comfortable making more advanced modifications to your cabinetry, you'll need to make sure you only shop for the same sized hardware that already exists in your space. This doesn't mean you won't be making a drastic change to the look, but measurements matter a lot if you don't want to get in over your head. In order to get the proper measurement, you need to measure from the center of one screw hole in the handle to the center of the other. The face of the handle may go beyond that measurement, but this way you'll know how to narrow your shopping search to only the pulls guaranteed to fit your old handles' specifications. And just for reference, the most common sizes of hardware handles are 3, 4, 6, and 8 inches from screw hole to screw hole.
If you want to update your hardware with the least amount of hassle, one trick is to look for bin pulls and cup pulls (pictured on the island drawers in the photo below) because this easy upgrade covers up existing holes.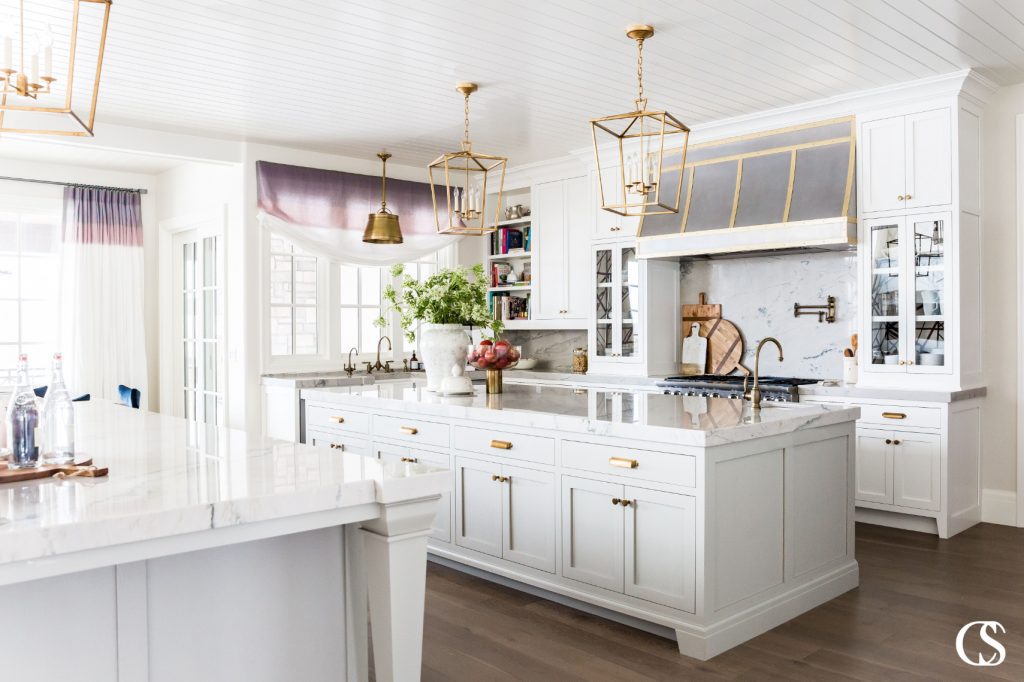 Now, if you're feeling a little more capable and you've got the proper tools and paint available, you may be able to get more creative with your updated cabinet hardware. For instance, if you want to switch from knobs to pulls, you'll have to deal with the fact that you're planning to put two holes where there was once only one. In this scenario, you'd need to use a wood filler (depending on the material your cabinets are made of), sand it down, repaint that area of the cabinet door to match the rest, and then properly drill news holes for the updated hardware. Make sure you're familiar with this process before attempting it, and understand that it will never be perfect, it's simply a patch. You wouldn't want a simple hardware replacement to turn into a massive overhaul on accident.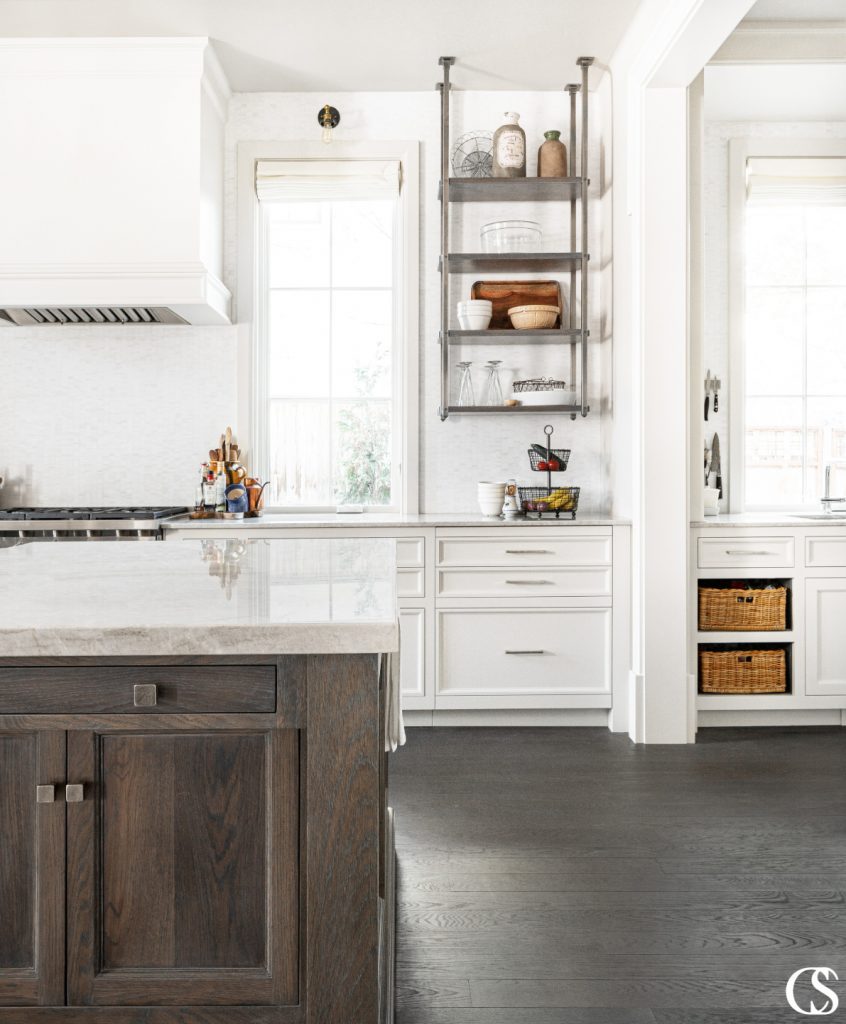 Another important part of cabinet hardware installation is the placement. This doesn't apply, of course, if you're just replacing old hardware with new pieces that fit in the same holes. But if you plan to alter the look of old cabinets with totally different hardware styles and sizes, you can follow a few simple rules for recommended hardware placement. For smaller drawers (less than 24" wide), most would center one knob or pull on the face. For larger drawers, if you'd like, you could plan on two knobs (or even two small pulls) placed around the one-fifth mark of the drawer width. So, if your drawer is 30" wide, one fifth of 30" is 6", which means you'd want to place each knob around 6" from either edge. For upper cabinet doors, a knob is usually placed in the lower corner of the door face, about 2 ½" to 4" from the bottom and in the center of the vertical door stile. The same goes for lower cabinetry, except you would of course place the knob between 2 ½" and 4" from the top of the door. Handles for upper and lower cabinet doors (not drawers) are typically placed vertically, following similar measurement rules for placement. All of these calculations are general rules of thumb. They are flexible in every way you'd like.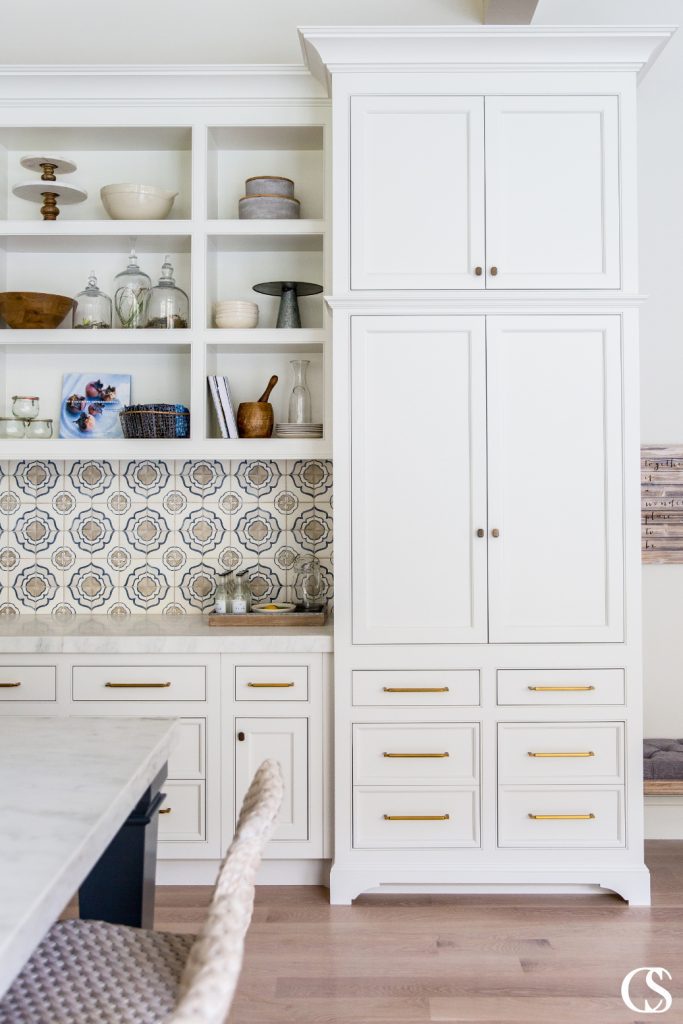 And when in doubt, sift through the hundreds of photos in our portfolios to get a good idea of your own taste and gain confidence in your decisions.
Do You Need To Update Your Cabinet Hardware
New cabinet hardware is one of the most inexpensive yet impactful ways to update any kitchen, bathroom, or other beloved space in your home. Without the financial burden of a complete remodel and without the overwhelming stress of repainting everything in the room, you'll be able to enjoy what feels like a refreshed and modern space.
Only you can decide whether or not it's time to update your cabinet hardware, but we'd argue that even doing so once every decade can lend a new style, more enjoyment, and even increased resale value in your home.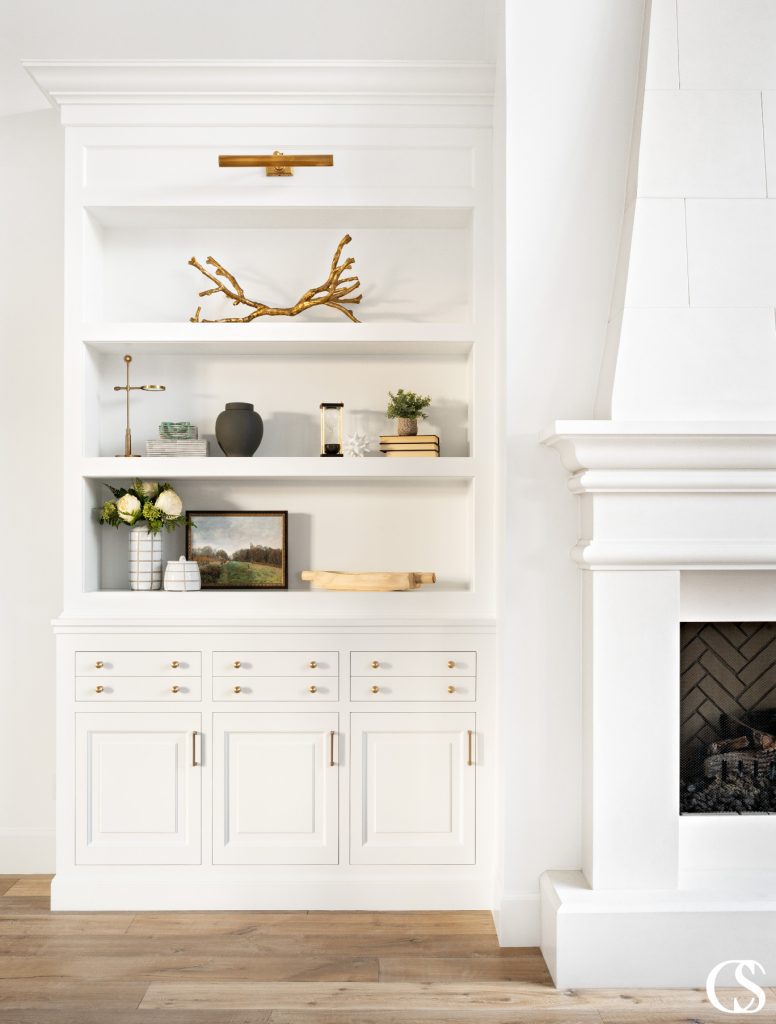 Here are a few reasons you should consider updating you cabinet hardware:
You're still living with outdated hardware from the original home built decades ago.

You're bored by builder-grade basic hardware.

You can't see your personal style reflected well in the space.

You're frustrated by a knob when you'd really like a pull on a particular drawer.

You don't like the hand-feel of the current hardware. (Yes, this matters!)
This list is anything but complete, but hopefully you're finally feeling the push to update your cabinet hardware if it's something you've been considering for a while. Trust us—the payoff is well worth the simple task of finding something you love and installing it easily at home.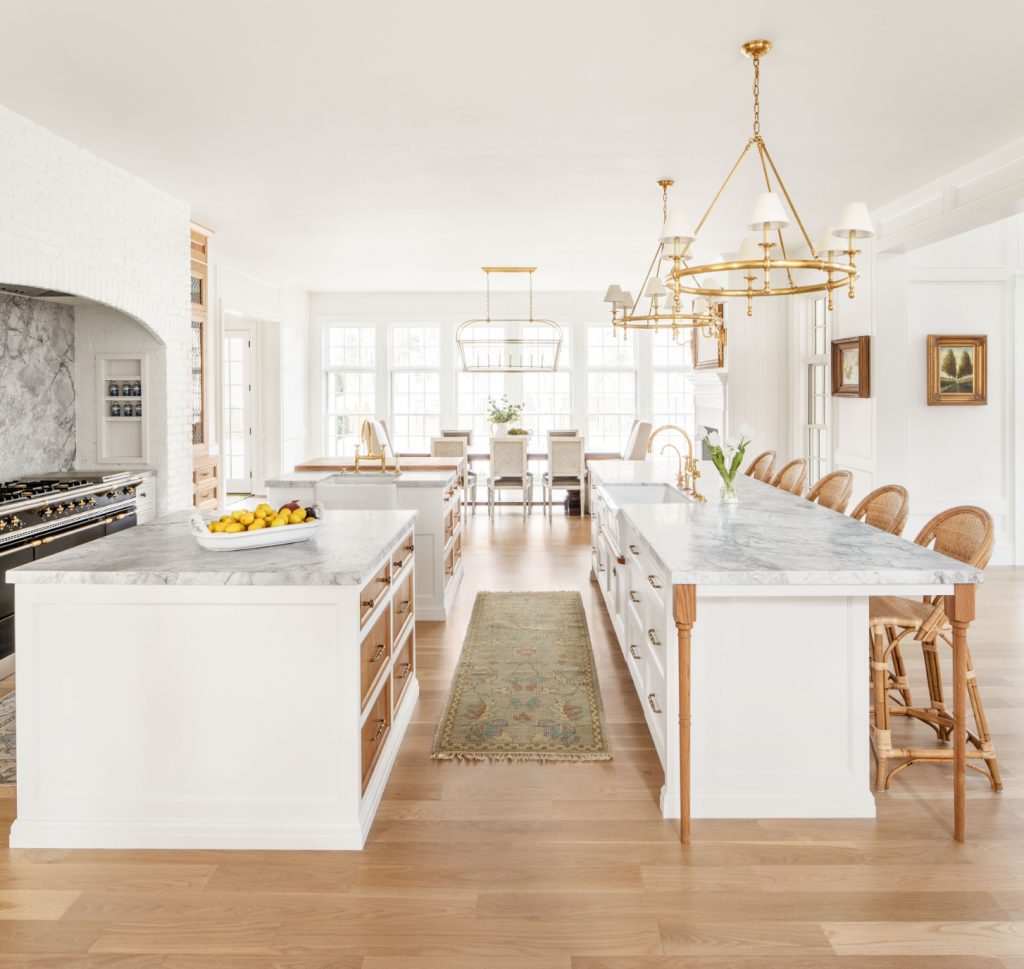 What Should I Update?
Updating cabinet hardware in any area of your home will make an impact—the kitchen, the bathroom, your living room built-ins–anywhere! But it's not necessary to switch out every knob and pull in your home at once. Most find that starting in the kitchen will have the biggest impact and the most satisfying effect, getting you that much closer to the kitchen of your dreams. But we suggest starting with the area where you find least joy in the hardware. Even small spaces—like drawers on your bedside table—will breathe life into your design and brighten the space, not to mention your mood.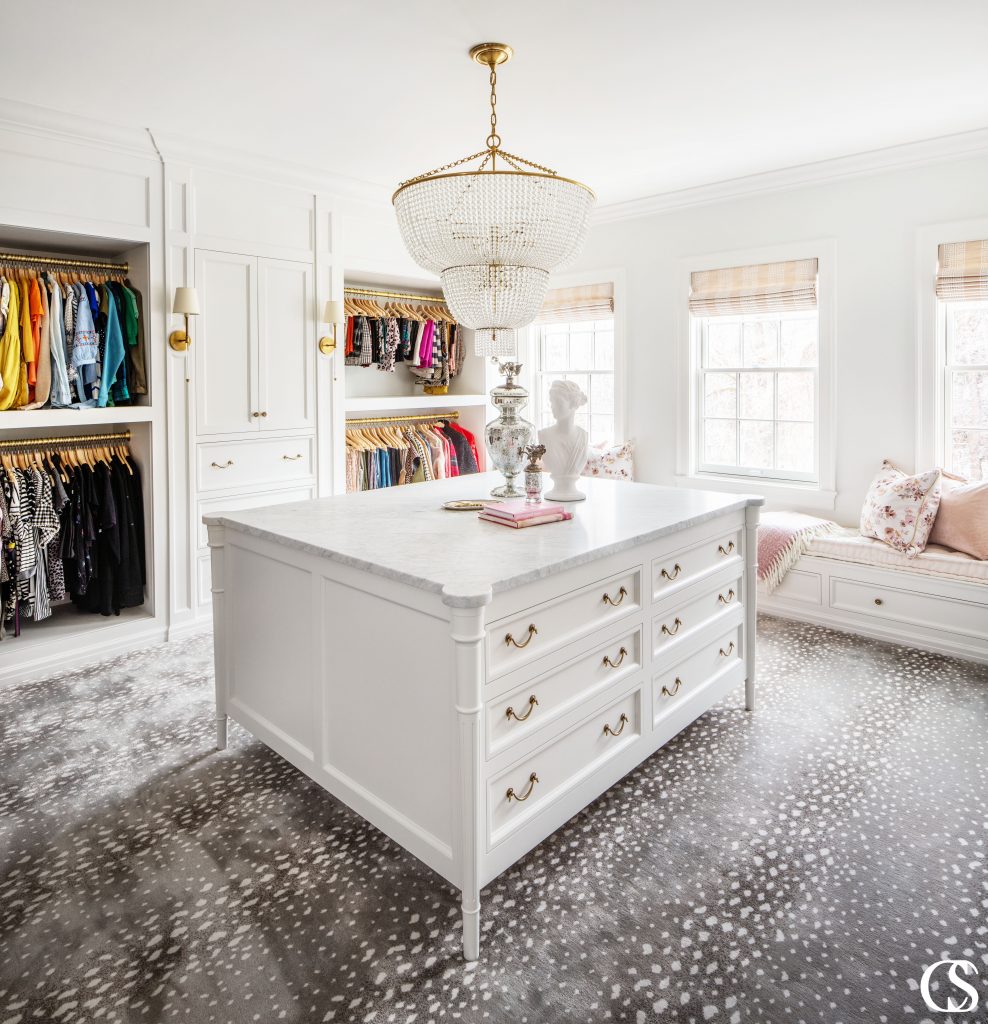 That said, here is a list of some places you may want to take a good look at and decide if you want to update the cabinet hardware:
Kitchen cabinets

Pantry cabinets

Bathroom cabinets

Bathroom vanities

Built-ins

Laundry room cabinets

Mudroom cabinets

Closet cabinets

Home office cabinets

Bedroom cabinets
Ready to start shopping for the best hardware out there? Check out our Amazon Influencer store for all the inspiration and links you'll need to update your cabinet hardware today!