It's always interesting to see dozens of different custom kitchen design ideas clustered together, like you've seen on many of our blog posts or portfolio pages. But it's also nice to dive deep into a client home and explore all the spaces within. That's why we're excited to take you on a full project tour of The Cottonwood! This home is bursting with beautiful and unique cabinetry and design ideas, all driven by the incredible Fox Group, and brought to life by Christopher Scott Cabinetry located near Salt Lake City, Utah!
The Cottonwood is a new build. Constructed from the ground up, it's built mainly in a Colonial Nantucket style with a few other influences sprinkled throughout the interior. The built-in cabinetry alone makes this a perfectly customized and unique home that works for the entire Fox family.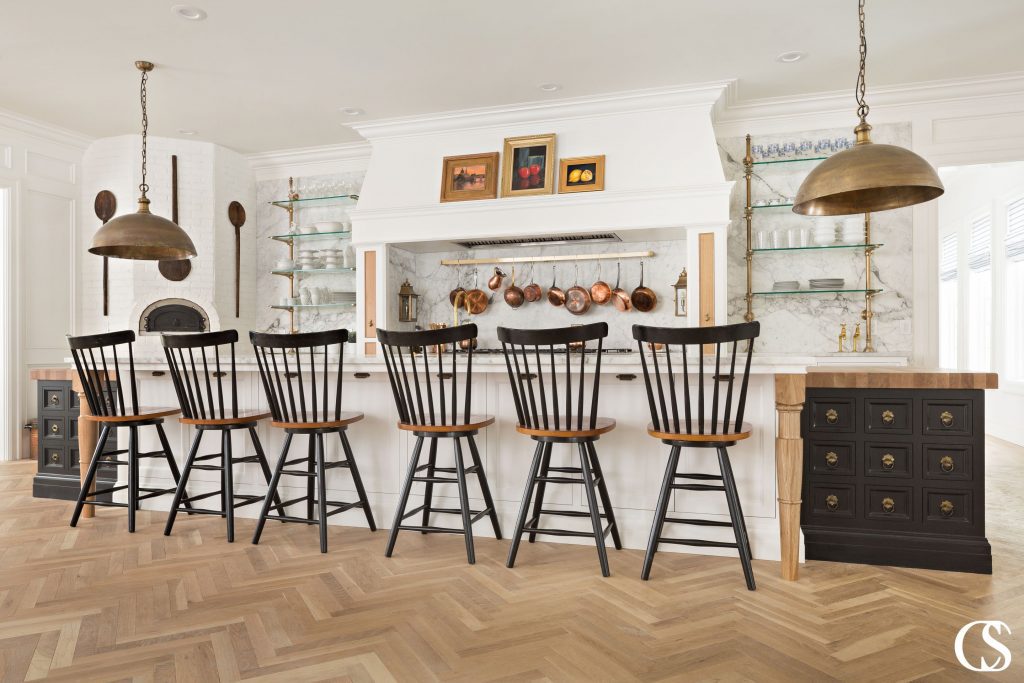 Cabinet Designer: Christopher Scott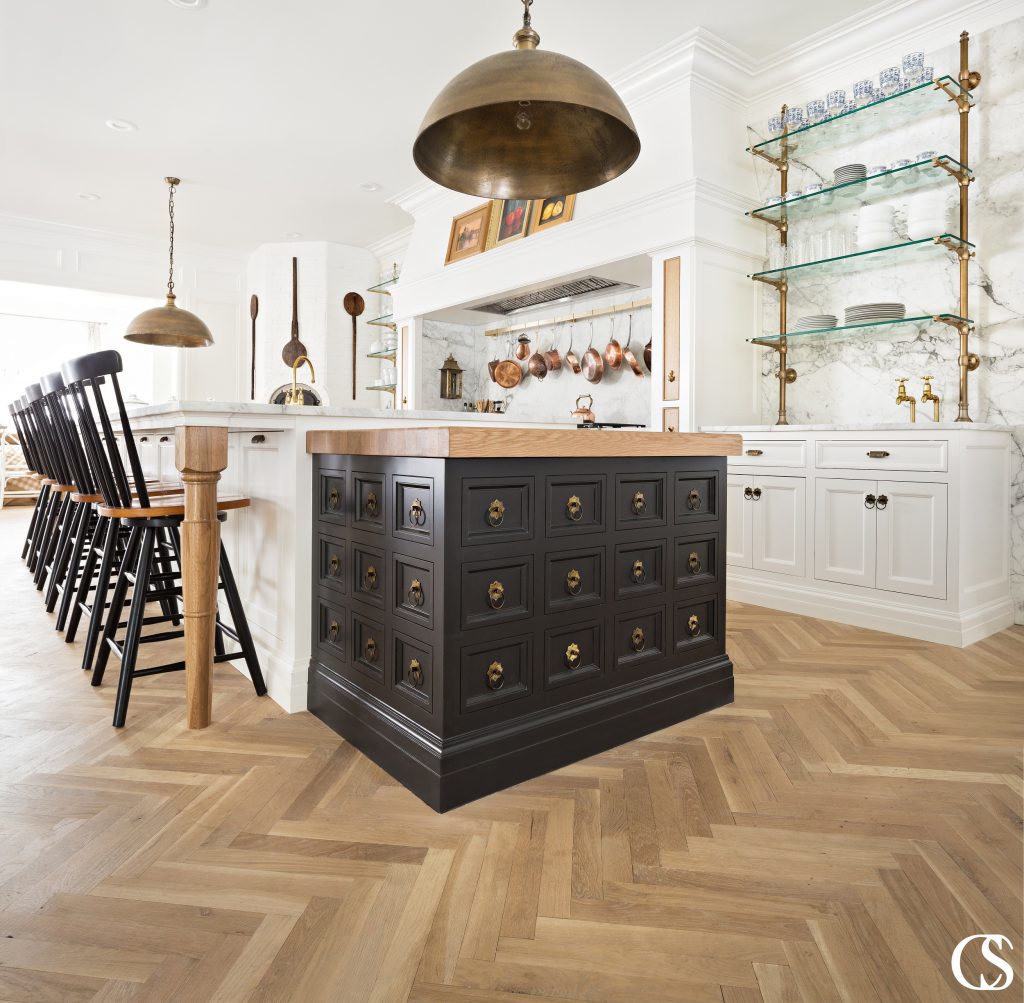 Cabinet Designer: Christopher Scott
The kitchen design at The Cottonwood started with a mood board of white, oak, and brass. But we also knew we wanted drama and definition. It wouldn't be just another stark white kitchen with perfectly monotonous cabinetry at every turn. We included visual surprises like the French bistro-inspired open glass shelving, a fully operating brick pizza oven, and those vertical spice pullouts, with contrasting oak fronts, that flank the range. This kitchen exemplifies the benefits of choosing custom cabinetry in Utah—not only do you get to choose thoughtful details like pull-out spice racks, but you can add details like the wood tone cabinet fronts and copper hardware.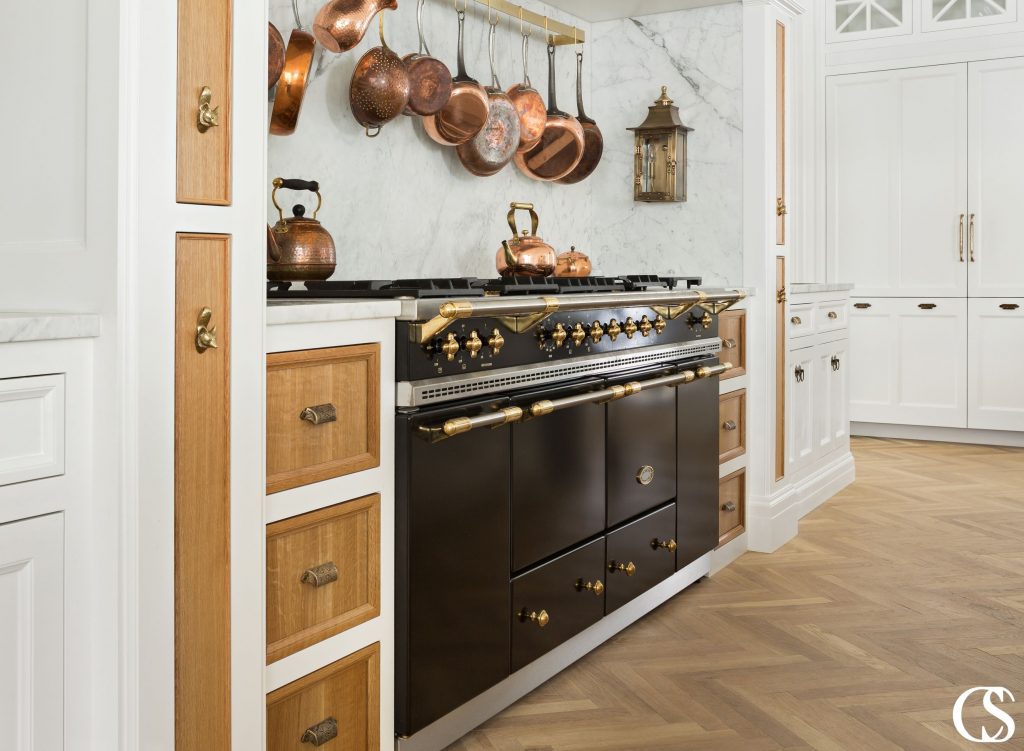 Cabinet Designer: Christopher Scott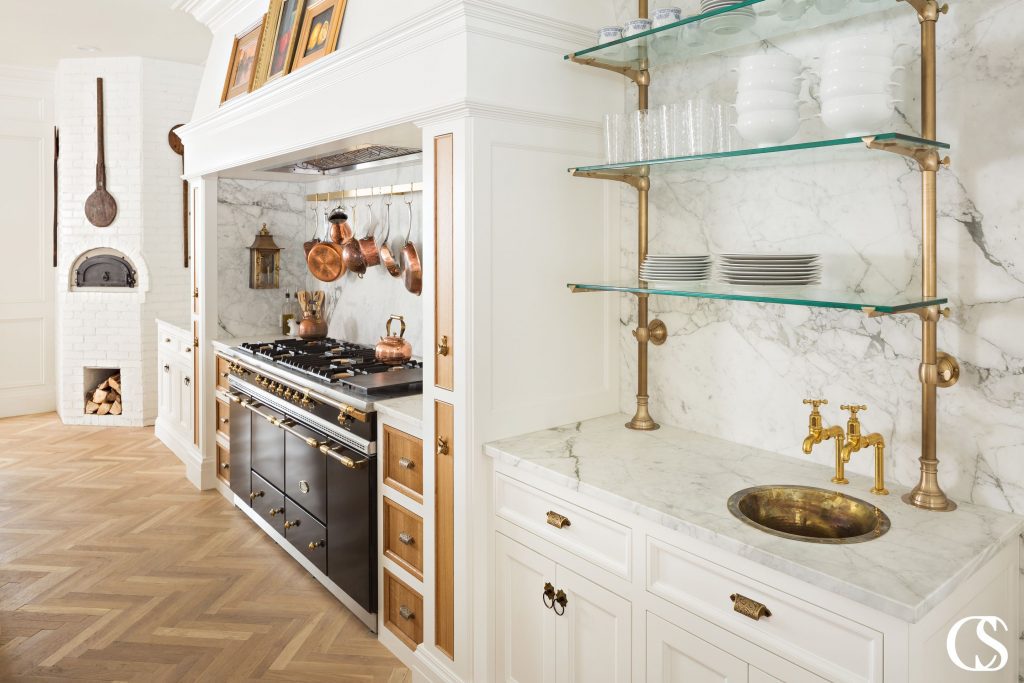 Cabinet Designer: Christopher Scott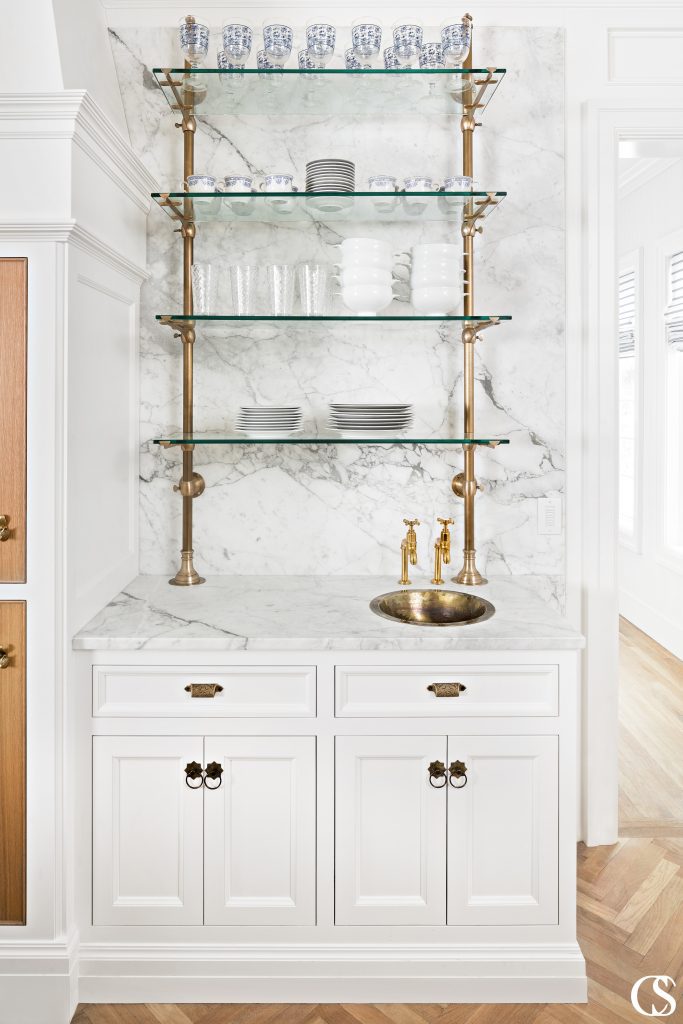 Designer: Christopher Scott Cabinetry
Not to mention gorgeous and distinctive elements like this solid brass sink and star-themed hardware found throughout the space. But the visual intrigue doesn't end there. For every beautiful detail that expresses itself so easily here, there are multiple subtle features that take a deeper look to appreciate, like the asymmetry you can see below.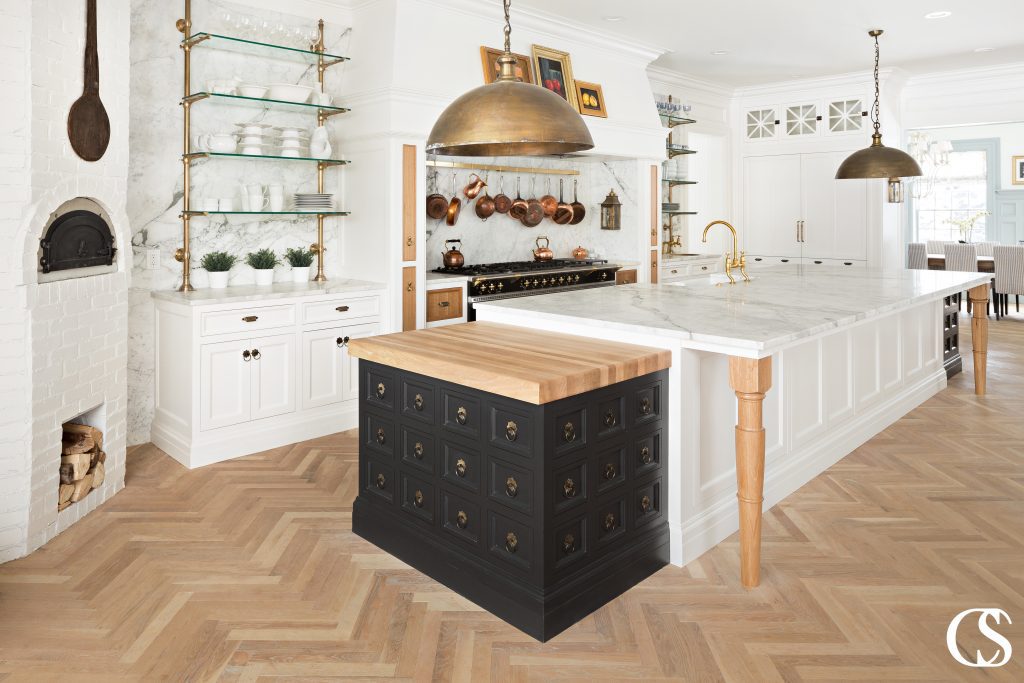 Cabinet Designer: Christopher Scott

Symmetry is one of the things that people get really rigid about when it comes to cabinetry and design ideas. But if you look closely at the photo above, you'll see two tall cabinets hiding a double fridge with matching freezers below. Now, logic might tell you that the glass-fronted star cabinets placed above the tall cabinets should line up perfectly—two star cabinets above two refrigerator cabinets. But when Cara Fox expressed her love of stars, we knew we'd need to keep the cabinets that featured that particular design perfectly square. So we threw out the symmetry and stacked three square glass-fronted star cabinet fronts above two flat-paneled refrigerator doors—and the result is uniquely beautiful. Playing around with scale, proportion, and dimension is one of the funnest parts of creating a custom kitchen design like this.
Cabinet Designer: Christopher Scott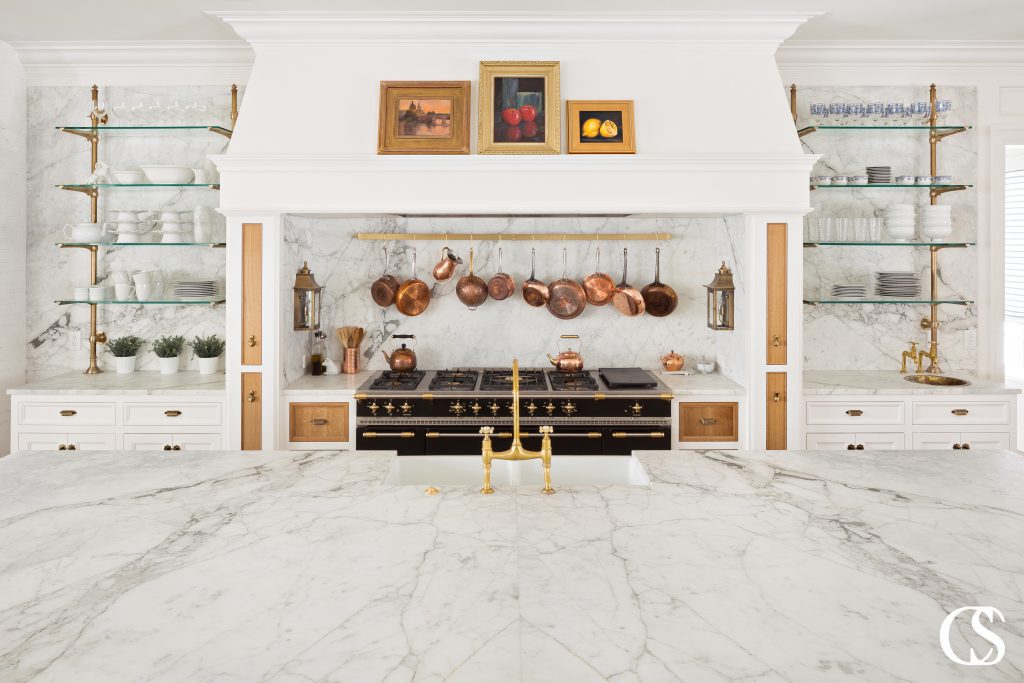 Cabinet Designer: Christopher Scott
Another element that came out beautifully is the custom range hood we designed for this project. Not only does it play a vital role in anchoring the kitchen cabinetry design, but it also improves the functionality of the space. Everything from the width and weight of the hood's "legs" to the pullouts and adorning trim works are in proportionate balance with the rest of the kitchen cabinetry. Enclosing a range hood like this is also extremely practical because it makes the fan and exhaust systems more efficient, which keeps your house cleaner. Form and function are everything when it comes to designing the perfect range hood.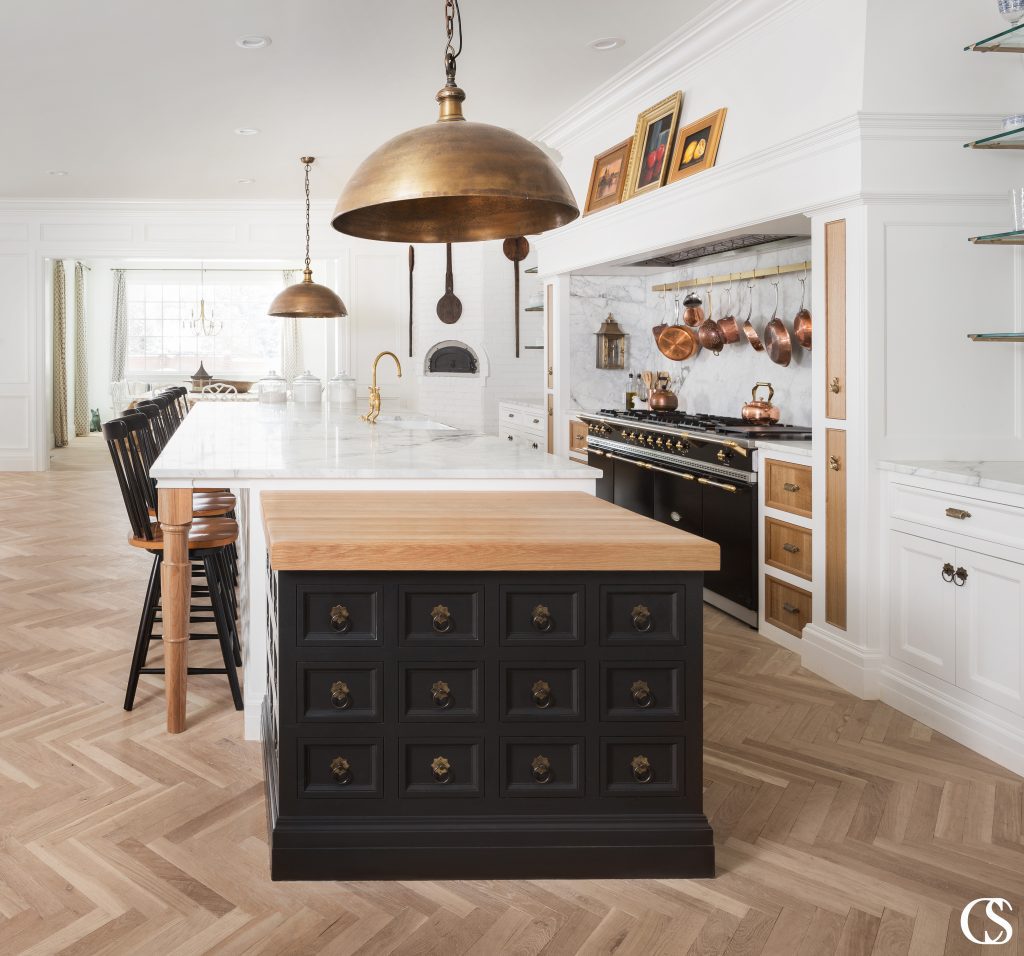 Cabinet Designer: Christopher Scott
It may come as a surprise that the decision to add black to The Cottonwood kitchen design came at the very end. We took our time and worked with many 3D renderings to find the right combination of colors and materials on this impressive island, and landed on what you see here: a custom white kitchen island with user-friendly marble countertops, a foot-wide overhang for bar seating, and these black "end caps" with butcher block work surfaces to complete the piece.
Kitchen Island Design At Cottonwood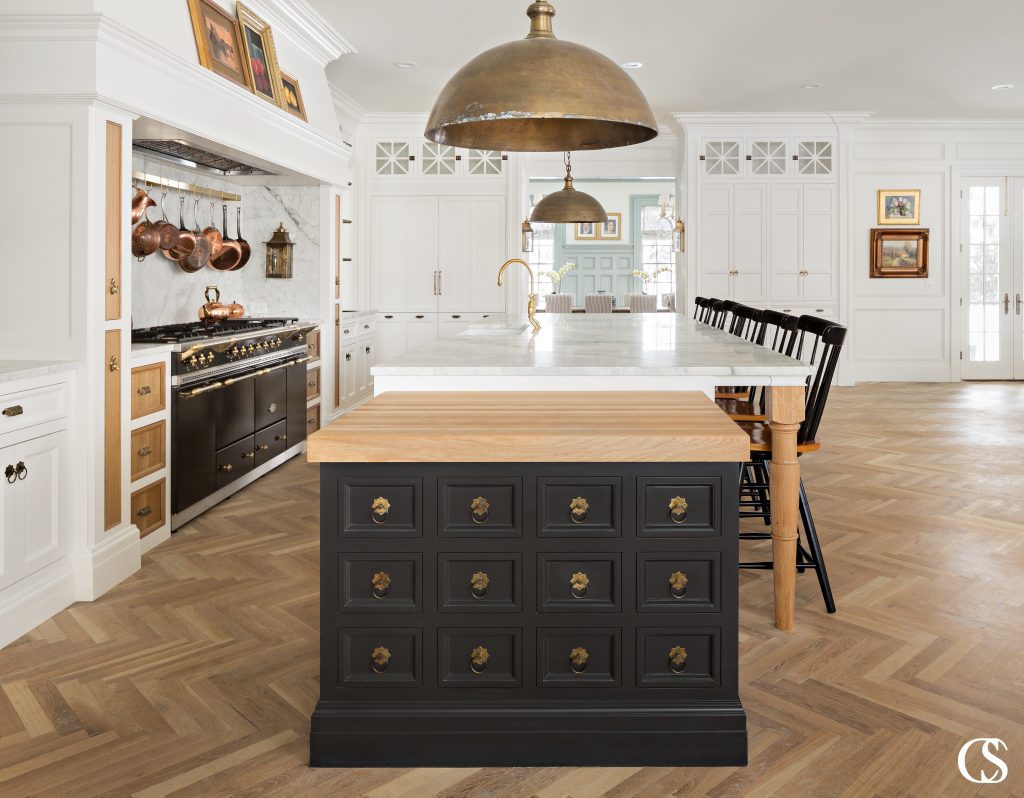 Cabinet Designer: Christopher Scott
This massive island is truly a sight to behold. That butcher block invites you to come and use it. The marble is truly user-friendly, functional, and sturdy. I love that the entire thing feels like a workhorse, but is balanced by the fragility of the glass shelving close by. The farm sink found in the center of the island is also totally accessible and inviting. But the beauty of a centerpiece like this is that it also pushes you to have more clean-up initiative in your kitchen. You want to clear the mess immediately so you can enjoy the cabinetry and design ideas you've worked so hard to bring to life.
Another bonus about the island is that it has many hidden secrets—like two dishwashers, a garbage can pull-out, and a microwave all in the island base cabinet facing the range.
When we started designing the island for the Fox home, we knew we wanted a multi-drawer look. But note that none of the island's "drawers" you see below are actually functional—they're false panels designed to look similar to a wall of post office boxes. But the look carries the drama we wanted, while still providing functional storage. The back side of these black bookends houses two deep drawers used for tucking away necessities like pots and pans. Good kitchen cabinetry will always blend decorative style with function.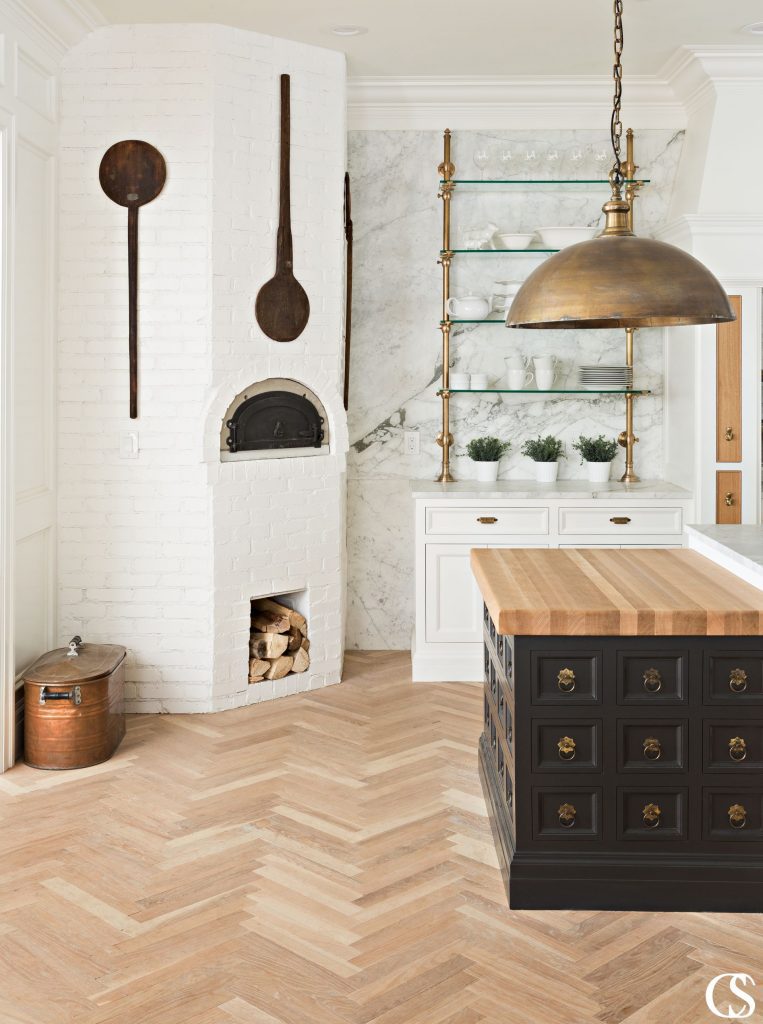 Cabinet Designer: Christopher Scott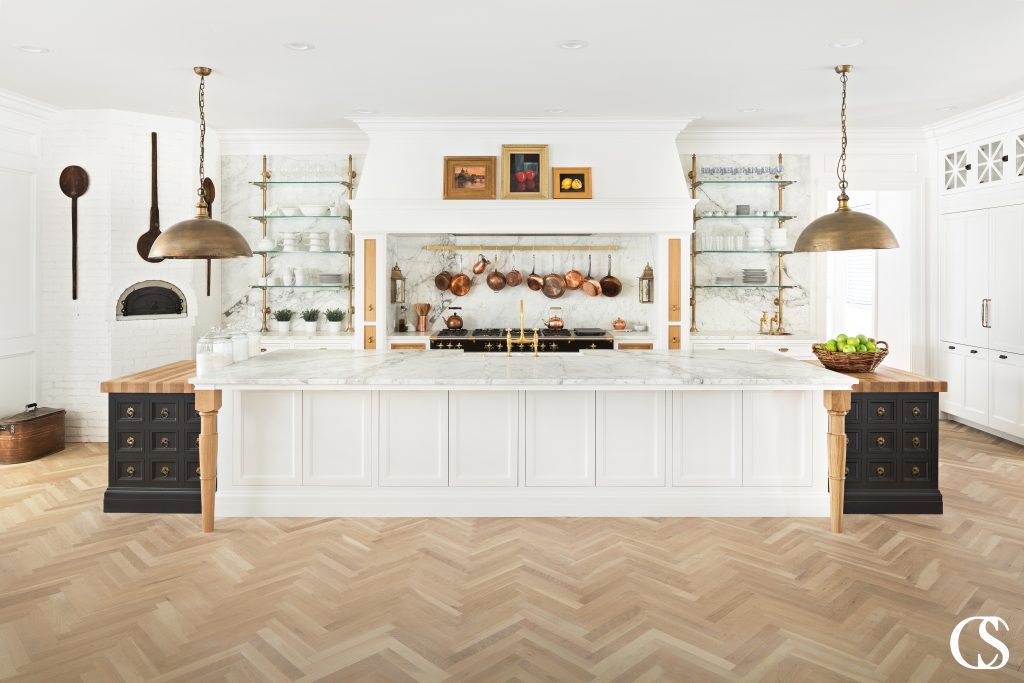 Cabinet Designer: Christopher Scott
I've alluded to the fact that this island is a whopper, and I wasn't exaggerating. It measures approximately 13 feet long, without the black end caps. Those each add another 32 inches, for a total of almost 19 feet. The counter is five feet deep, with a one foot overhang large enough for six bar stools. Yet, as big as it is, it fits perfectly in its space and invites family and guests alike to gather and enjoy the kitchen.
As a whole, we accomplished what we set out to do in this kitchen. From the chevron floor and striped butcher block, to the marbled wall, white painted brick and fully custom cabinetry, our unique and thoughtful designs brought Cara's vision to life. Now the Foxes have a dramatic yet homey kitchen the entire family can gather in and enjoy.
Bathroom Design At Cottonwood
The Cottonwood master bathroom was another exciting area where we could explore cabinetry and design ideas. Cara knew she wanted something delicate, feminine, yet traditional.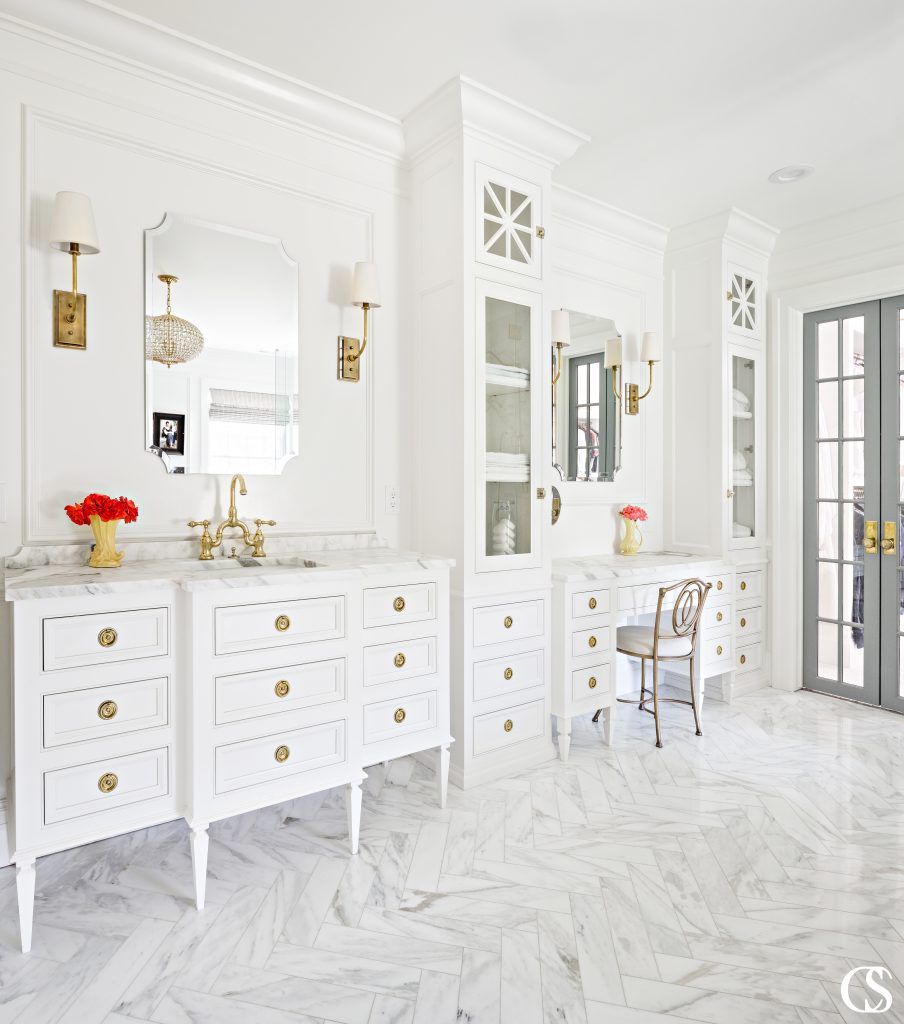 Cabinet Designer: Christopher Scott
I created an elegant leg to boost the bathroom sink and makeup vanities off the floor, and balanced that by grounding the two storage towers Cara requested on the chevroned marble floors.
You'll notice that while this custom white bathroom design is completely unique, it also echos themes from the kitchen cabinetry and design. Like the chevron-patterned flooring and star-themed upper glass-fronted cabinets above the storage towers. Even the rounded drawer pulls find themselves centered on each drawer face, echoing the look from the kitchen island end caps. Ultimately, this beautifully designed Salt Lake bathroom blended feminine with functional.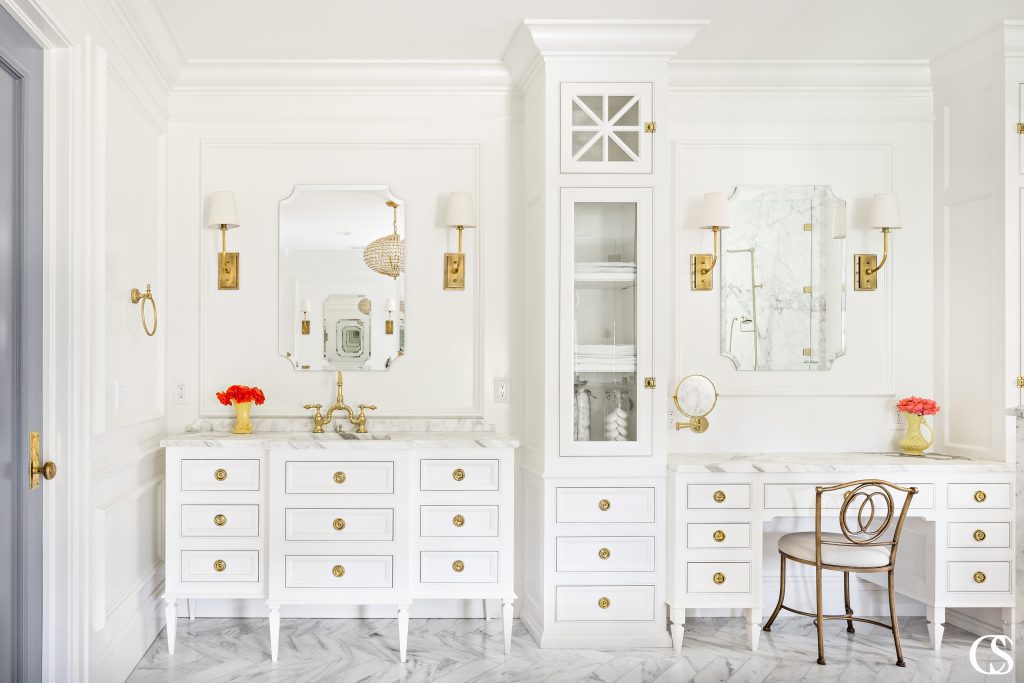 Cabinet Designer: Christopher Scott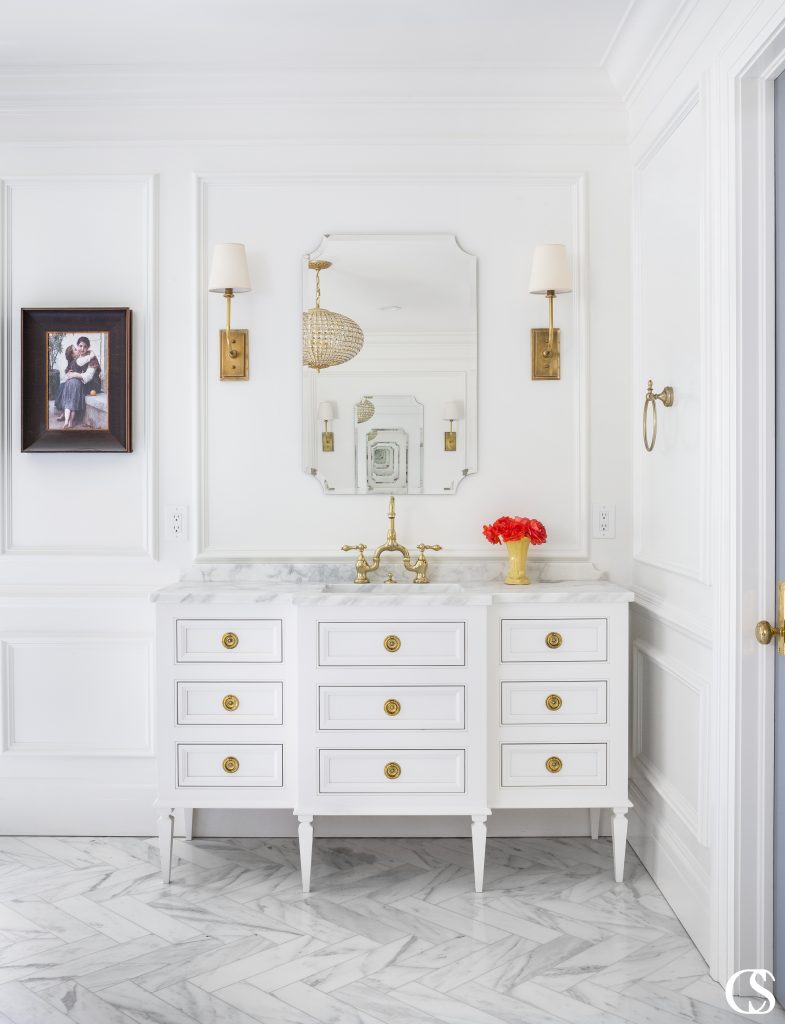 Cabinet Designer: Christopher Scott
Rather than doing one double sink vanity, the Foxes' master bathroom called for two separate sinks that face each other across the space. They are mirror reflections of one another, making the room feel expansive, yet evenly balanced.
Built-In Design At Cottonwood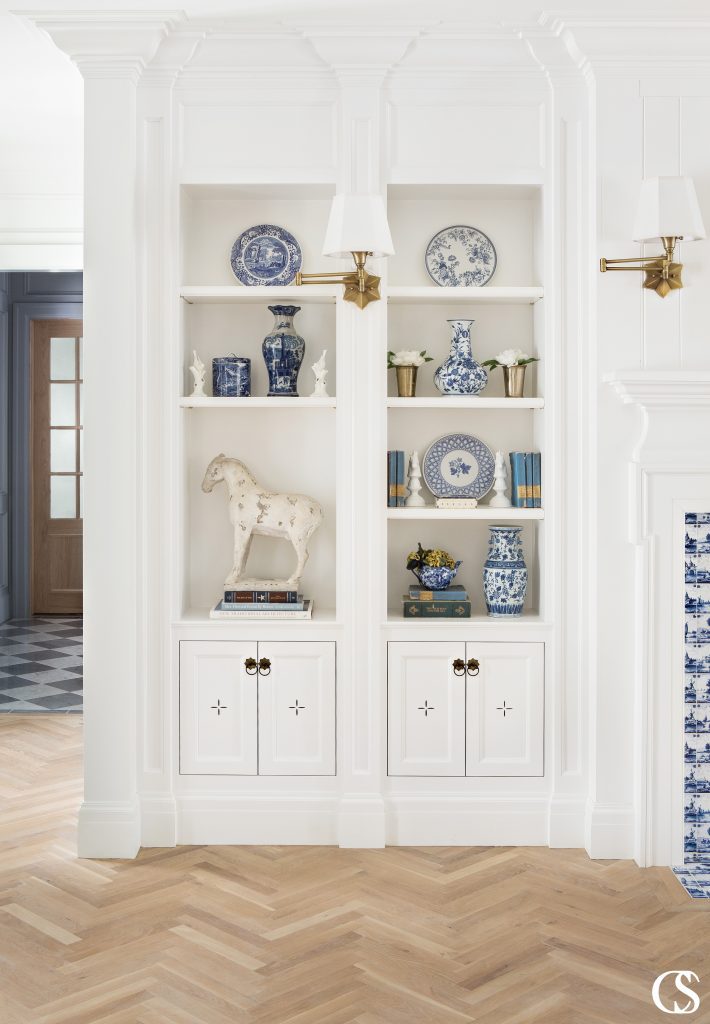 Cabinet Designer: Christopher Scott
As you enter the formal living room space at The Cottonwood home, you'll again notice the chevron floor motif and Cara's love of stars coming through. The lamps, cabinet fronts, and even the hallway chandelier highlight the theme.
You can also see the Colonial influence here in the built-in cabinet design. Rather than the cleaner, simpler lines you saw in the bathroom and kitchen designs, here you have a colonial crown with the addition of a sub-crown for a more ornate and luxurious look. Notice again, yet another ode to stars in the 4-pointed cutout design on the built-in cabinet door fronts. The custom built-ins in this Wasatch Front home both enhance the beauty of the home and honor the personality of the homeowner, a beautiful blend of tradition and individuality.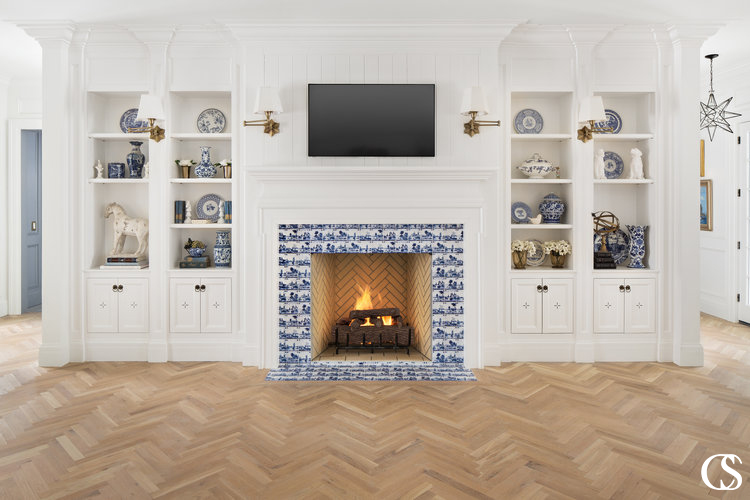 Designer: Christopher Scott Cabinetry
Office Design At Cottonwood
One of my favorite parts about coming up with cabinetry and design ideas for an entire home is that you get to work with every member of the family to understand their needs, especially in Utah where many residents have large families.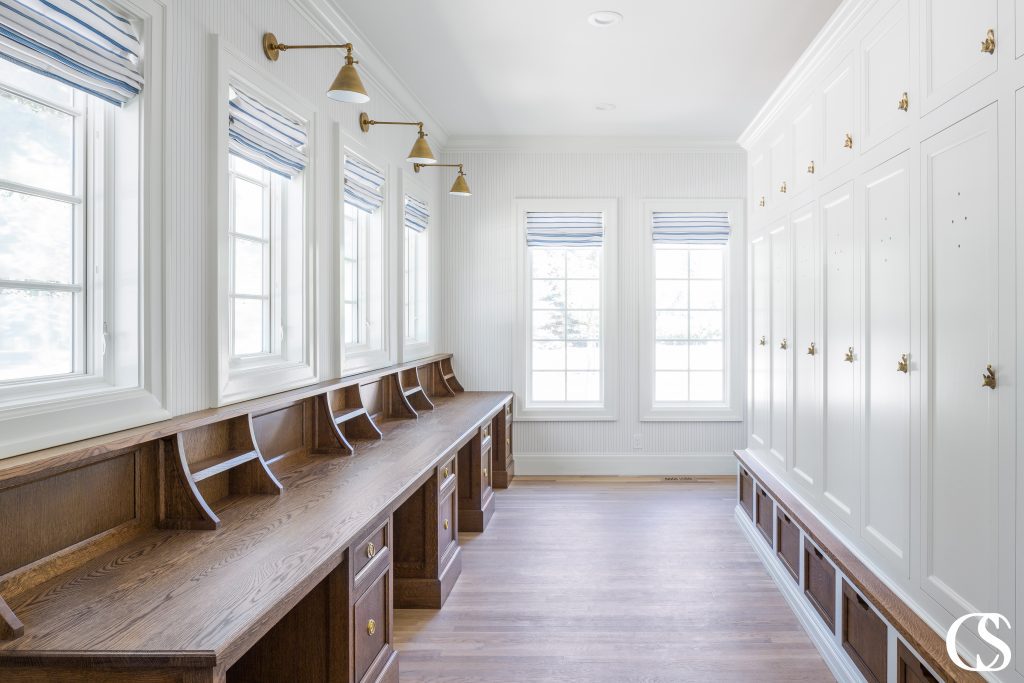 Cabinet Designer: Christopher Scott
This custom space is a dedicated home office space for the kids. Coming home from school, this homework space doubles as a mudroom with individual locker-style cabinets equipped with drawers to stow away personal items. Alongside the opposing wall, is a row of desks—built for ultimate efficiency in the space—for each of the kids to organize their things and accomplish their work, outside their rooms and outside the main living spaces in the home. This unique addition to the home showcases the industrious, family-centered nature of Utah while honoring the family's needs and aesthetics.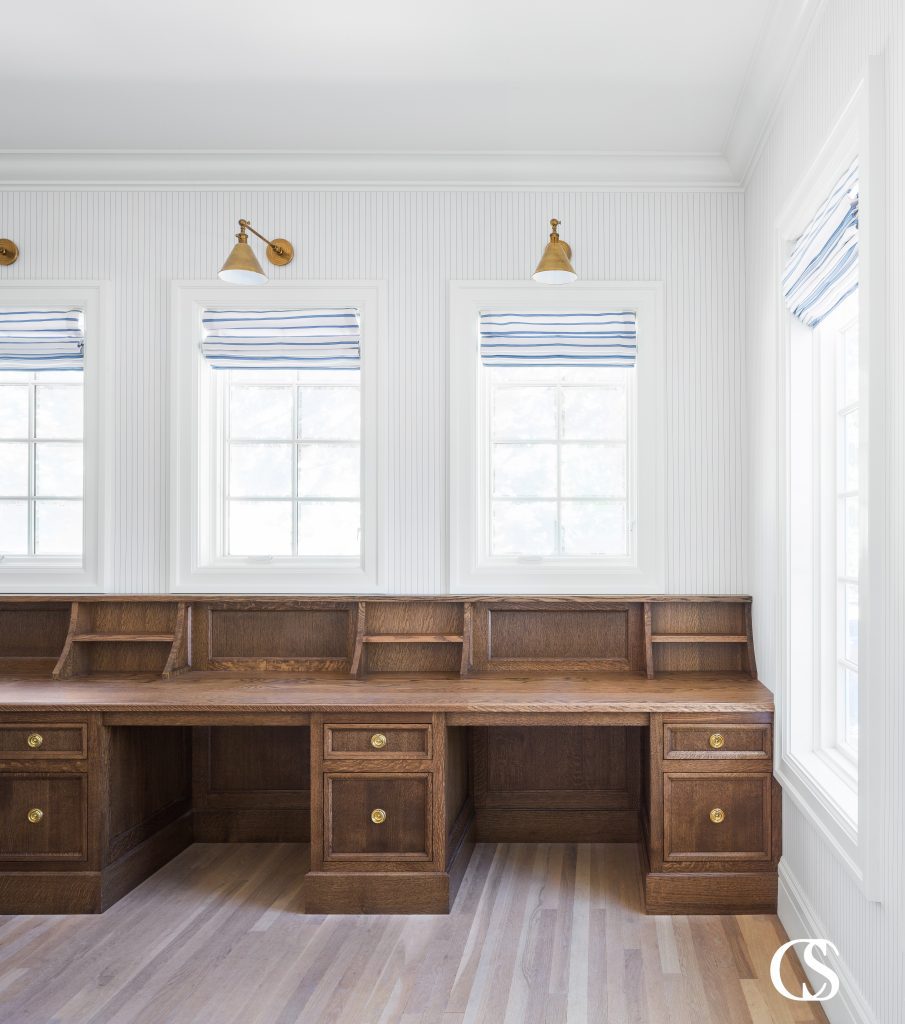 Cabinet Designer: Christopher Scott
I love the natural stained look of these desks and how all the lines from the floor, the cabinetry, the windows, and even the curtains pull the room together in that refined Colonial aesthetic.
Closet Design At Cottonwood
The built-in master closet in this Utah home is another room that we could specifically design around the Fox family's needs. With clothes easily accessible in display cabinets without doors and a large custom closet island—which measures 5 feet by 10 feet in the 20-foot by 20-foot closet—they can navigate the custom space exactly as they want to.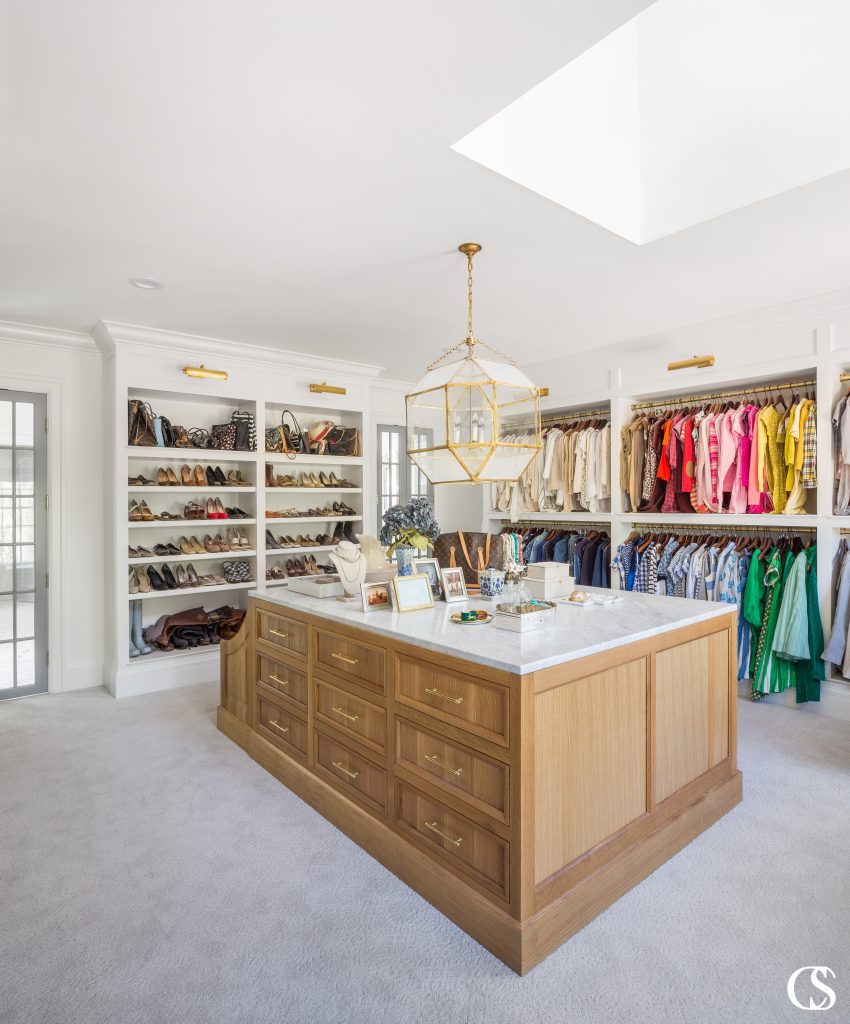 Cabinet Designer: Christopher Scott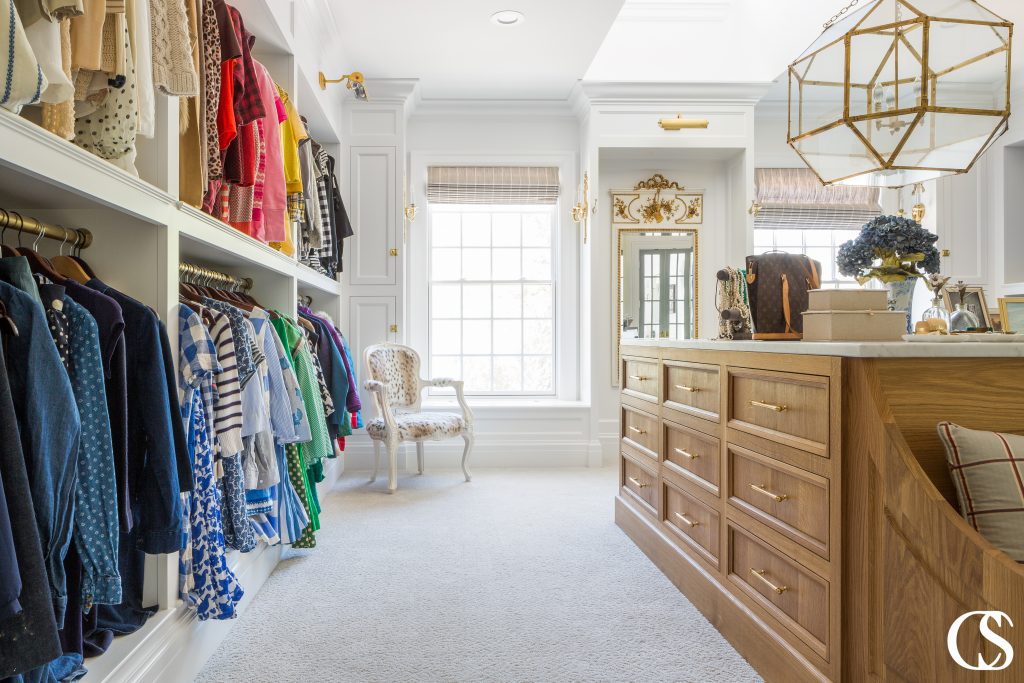 Cabinet Designer: Christopher Scott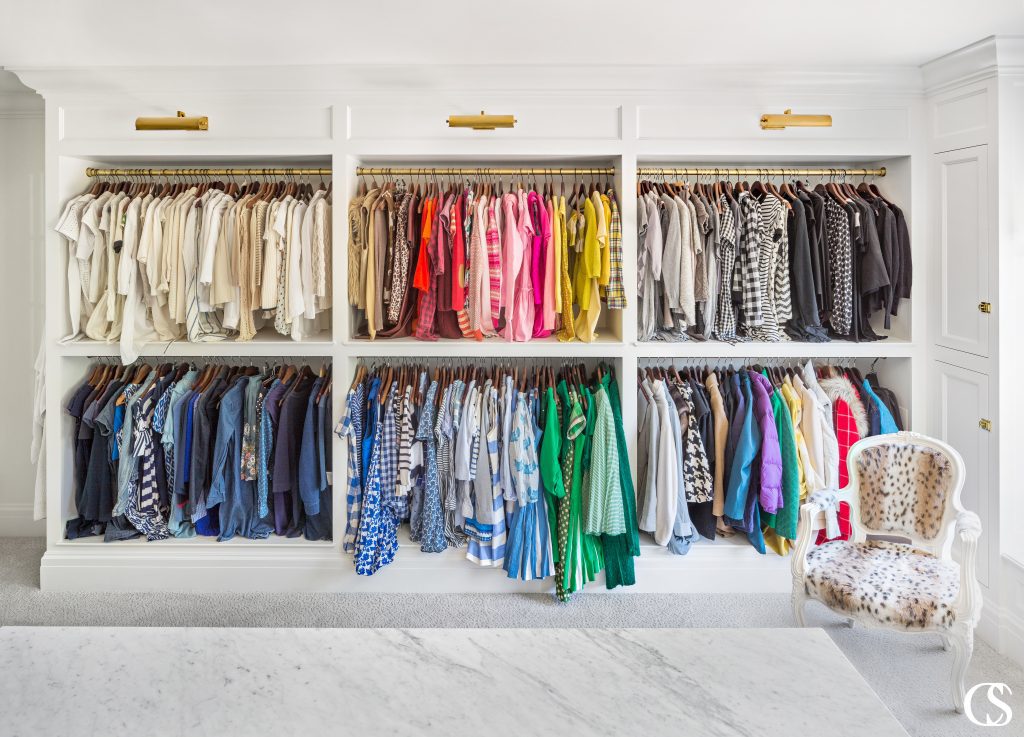 Cabinet Designer: Christopher Scott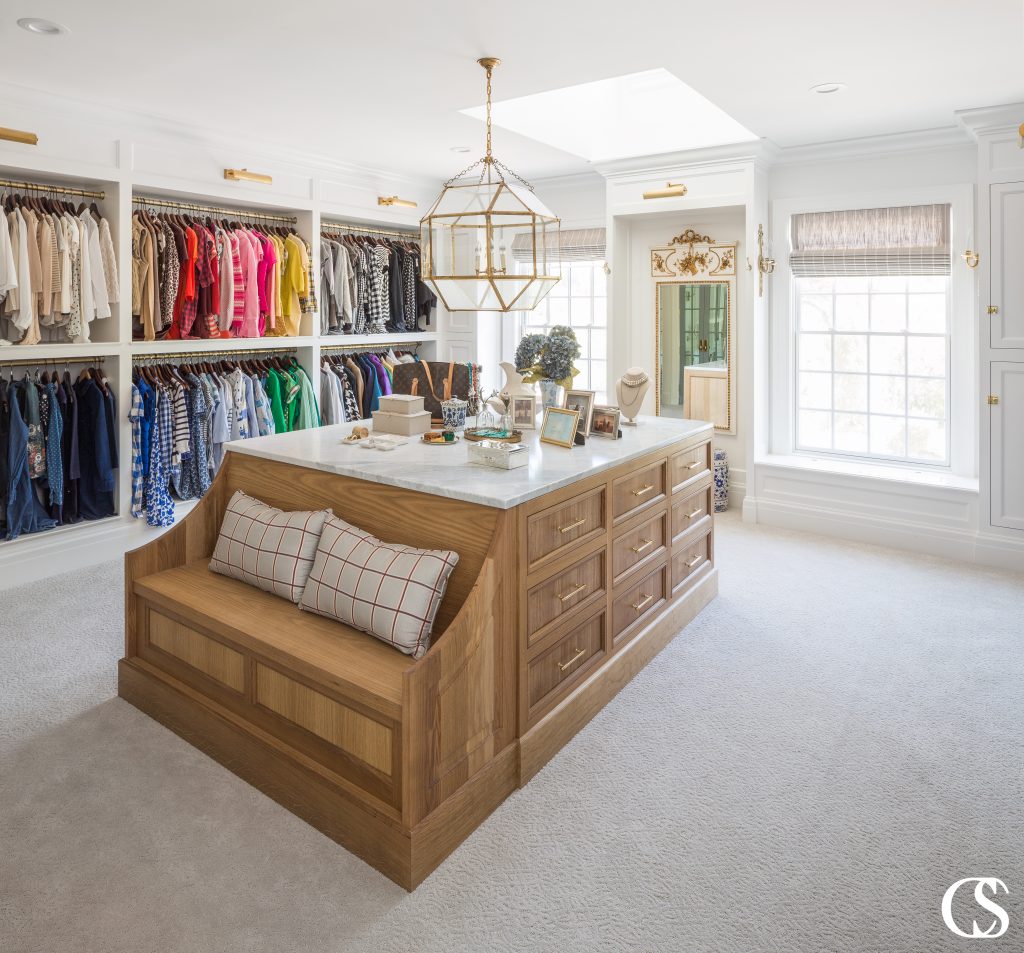 Cabinet Designer: Christopher Scott
I do love this built-in sitting bench and marble island countertops. It feels simultaneously luxurious and perfectly usable.
Entertainment Center Design At Cottonwood
The best entertainment center ideas are unique to each individual Utah family. This built-in entertainment center is found in a more cozy wing of The Cottonwood home. Sporting more of a cottage theme, this is where the family hunkers down and relaxes together.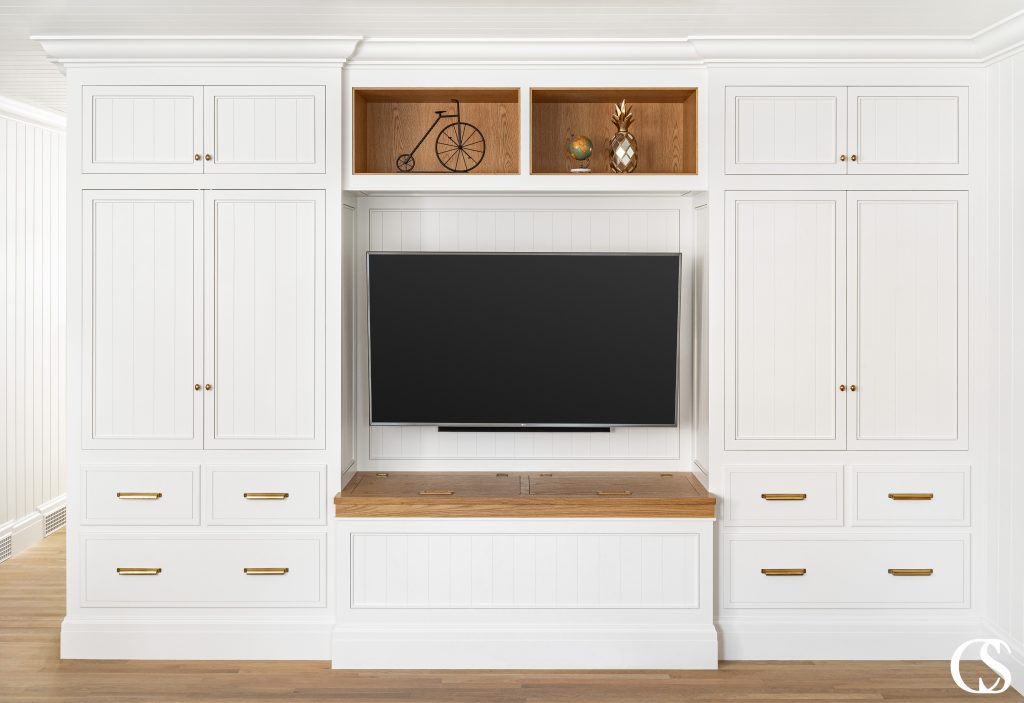 Cabinet Designer: Christopher Scott
I love this custom entertainment center's clean lines and added visual interest with the oak inset shelves and storage bench lid, which also hearkens back to the unique kitchen design. Oh, and that bench was specifically designed to hold all their comfy throws to warm up in chilly Utah for family movie nights!
Overall, The Cottonwood home gave us a fresh space to explore our cabinetry and design ideas. Behind the scenes, we worked hard to keep the cabinetry and overall Colonial themes cohesive throughout the home, yet at the same time fresh, luxurious, and family-friendly. What's your favorite part of The Cottonwood home? Let us know in the comments!
Make sure to check back here and follow us on Instagram and Pinterest for more unique custom cabinetry and design ideas!
Custom Cabinetry For Utah Homes: Christopher Scott Cabinetry
We've completed projects across the country, but our home base of the Wasatch Front is one of our favorite places to add the benefits of custom cabinetry. The Cottonwood project offered us the opportunity to showcase our custom cabinetry design by adding thoughtful features and details throughout the Utah home. With exceptional attention to detail and dedication to the craftsmanship of cabinetry building, we are honored to serve the people of Utah. Choose Christopher Scott Cabinetry for custom cabinetry for your home. Contact us today to start your journey to the home of your dreams.