Color plays such an important role in our lives, but the best instances of color being used well often go unnoticed. One of the best examples? Think of walking into your bathroom and being stopped in your tracks by bright, busy, attention-grabbing graphics. How does your body respond? Bright, bold paint colors like this may very well induce excitement and wonder—but while using color this way in a small space can be fun and engaging, we often expect the bathroom to be a place of refuge, relaxation, and detoxification from life's distractions.
So, the best bathroom paint colors are hues that actually reduce stimulation. Rather, more natural paint colors that quietly give rise to feelings of peace, calm, growth, and hope are our favorites to use in the bathroom.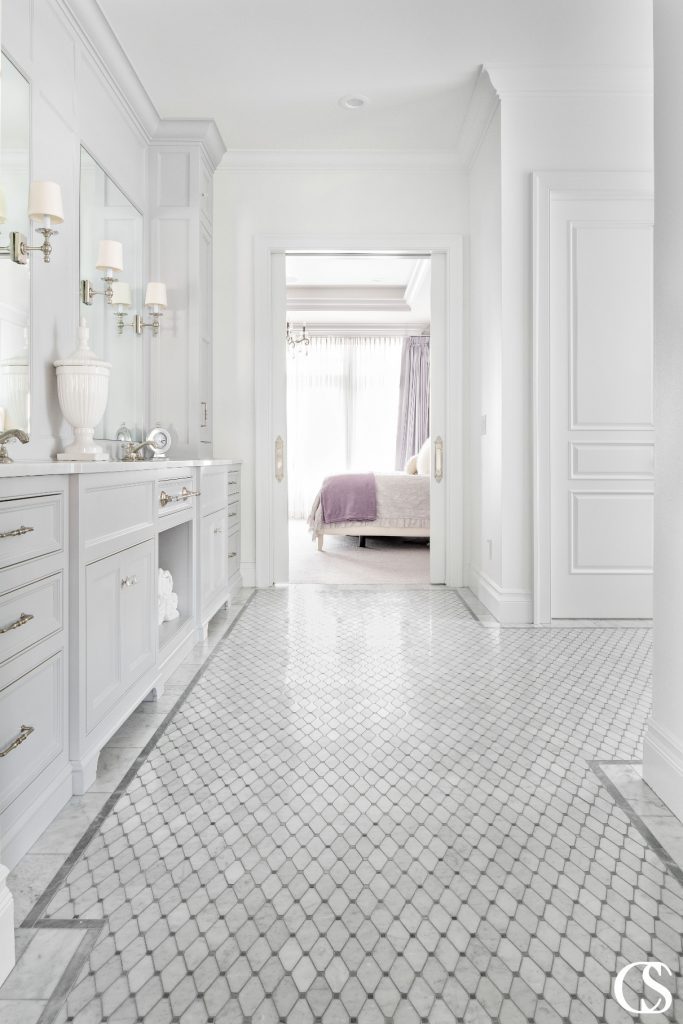 Top Bathroom Paint Colors For Relaxation
Wondering what our top bathroom paint colors for relaxation are then? Like we said, we're partial to hues that lend themselves naturally to the spa-like aspects of a bathroom. Often these colors are abundantly reflected to us in nature and that is a large part of the reason they feel so innately soothing to our psyches. Gentle greens, light blues, soft grays, beige, and even muted pinks and purples are some of the best paint colors for the bathroom.
Gentle Green Paint For The Bathroom
Our favorite green paint colors for the bathroom are often equally as gentle as the blues. Shades of soft sage, muffled olive, pasteled khaki—these can do wonders for bringing a natural freshness to your bathroom space. Often associated with growth, health, and even luck, soothing green paint can be just as inpsiring as other, more bold color choices.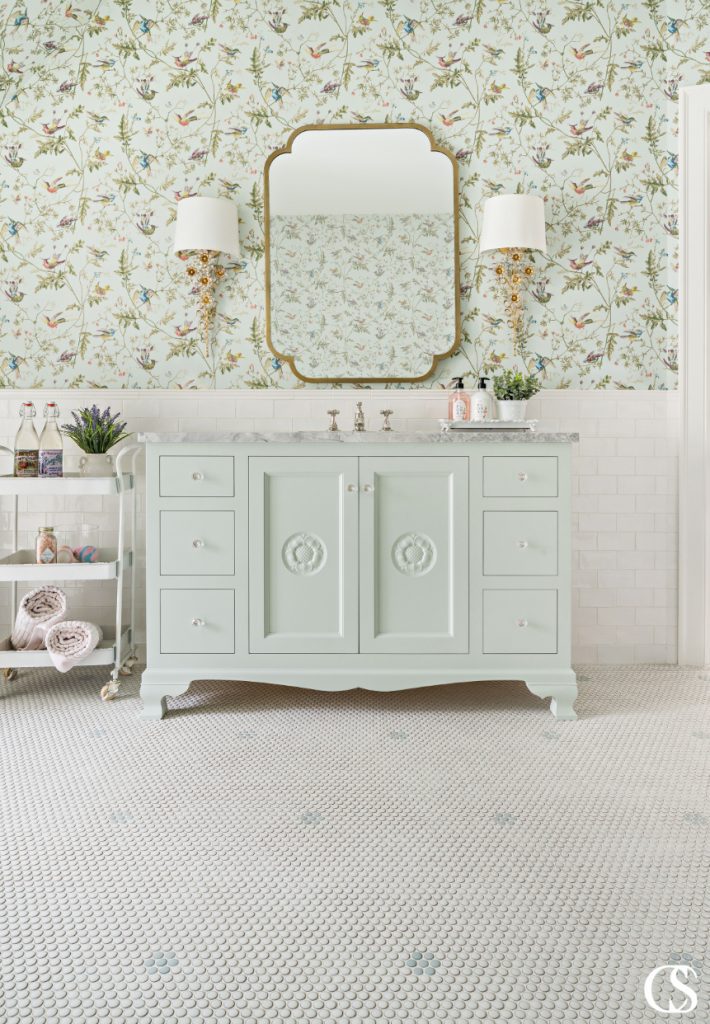 Light Blue Paint For The Bathroom
The color of an early morning sky, a tiny robin's egg, and the trickle of water at the edge of a stream—all these images conjure thoughts of a refreshing, life-giving retreat. And, according to color psychologists, blue is often associated with wisdom, hope, reason, and peace. When choosing a blue paint color for your bathroom, especially if you plan to cover more than just a vanity cabinet, we suggest using a shade that instills these same feelings—happy, lighter hues that will help lift the space and your mood when you enter it.
Some blue paint colors to consider:
Franklin Lakes by Benjamin Moore
Beige And Soft Gray Paint For The Bathroom
Being surrounded by the unassuming and docile nature of soft beiges and grays helps us to shed expectation and stress. Depending on the undertones in your beige or gray paint color—remember, these colors can easily lean toward purple, blue, or blush—the inherently neutral quality of these options can create a solid but gentle foundation for additional colors, textures, and materials in your bathroom.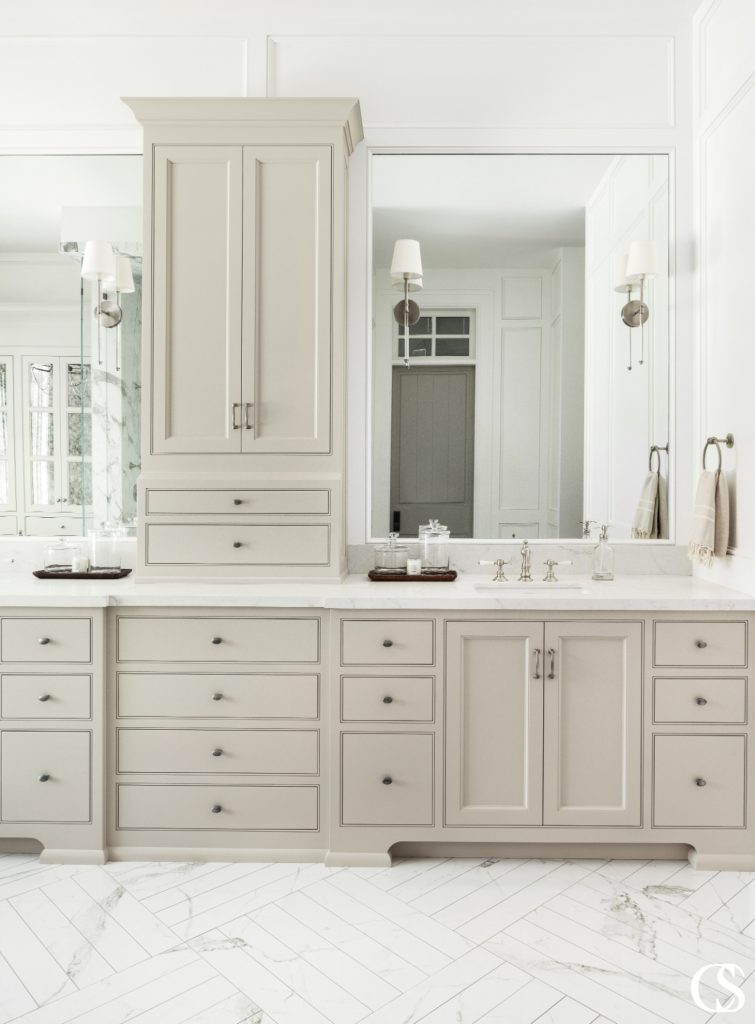 Some beige and gray paint colors to consider:
Pussywillow by Sherwin-Williams
Pink And Purple Paint For The Bathroom
Reserved pink and purple paint colors for the bathroom are a popular choice because they bring a bit of surprise but still offer their soft, earthy ambiance to the space. Lavender, blush, or even a pink-toned terracotta could be a fun choice for every surface in a bathroom without becoming entirely overwhelming.
LEARN MORE: My Favorite Farrow And Ball Paint Colors
Some purple and pink paint colors to consider:
Raindrops on Roses by Benjamin Moore
Malted Milk by Sherwin-Williams
White Paint For The Bathroom
We can't point out the best bathroom paint colors without touching on classic white. White has long been a symbol of truth, purity, and cleanliness, so it goes without saying that using white as the wall paint color in your bathroom can help you feel at ease. Fresh, pure white paints can also bring that brightness you want in a space that may not have the natural light you want.
Some white paint colors to consider:
Simply White by Benjamin Moore
White Sand by Sherwin-Williams
Swiss Coffee by Benjamin Moore
Factors To Consider When Choosing A Bathroom Paint Color
When trying to decide on the best bathroom paint colors for your home, there are a few things to consider. Things like the size of your bathroom, the lighting available, and other design elements in the room all affect where you can or should apply your paint, what color it will appear as, and more.
RELATED: My Favorite Benjamin Moore Paint Colors
Believe it or not the best paint colors for a small bathroom may not be the same as those suited for a larger area. Smaller rooms often require lighter shades of paint in order to brighten up tight spaces and help the room feel larger. If you're looking for a relaxing bathroom with some breathing room despite its small size, you should probably consider using a shade of white. That said, a smaller bathroom can still handle a bolder shade, but it often comes at the expense of visually enlarging the space.
Lighting is another factor that changes almost everything about a paint color. Natural light coming in from a bathroom window, vanity lighting, and ceiling lights (as well as the warmth or coolness of the bulbs you intend to use) will all affect paint colors for the bathroom. Because of light's ability to alter the appearance of the undertones in any paint, we encourage you to test your favorite paint color options in the space itself, with lights on and off, and during different times of the day to ensure that it's really what you thought it would be.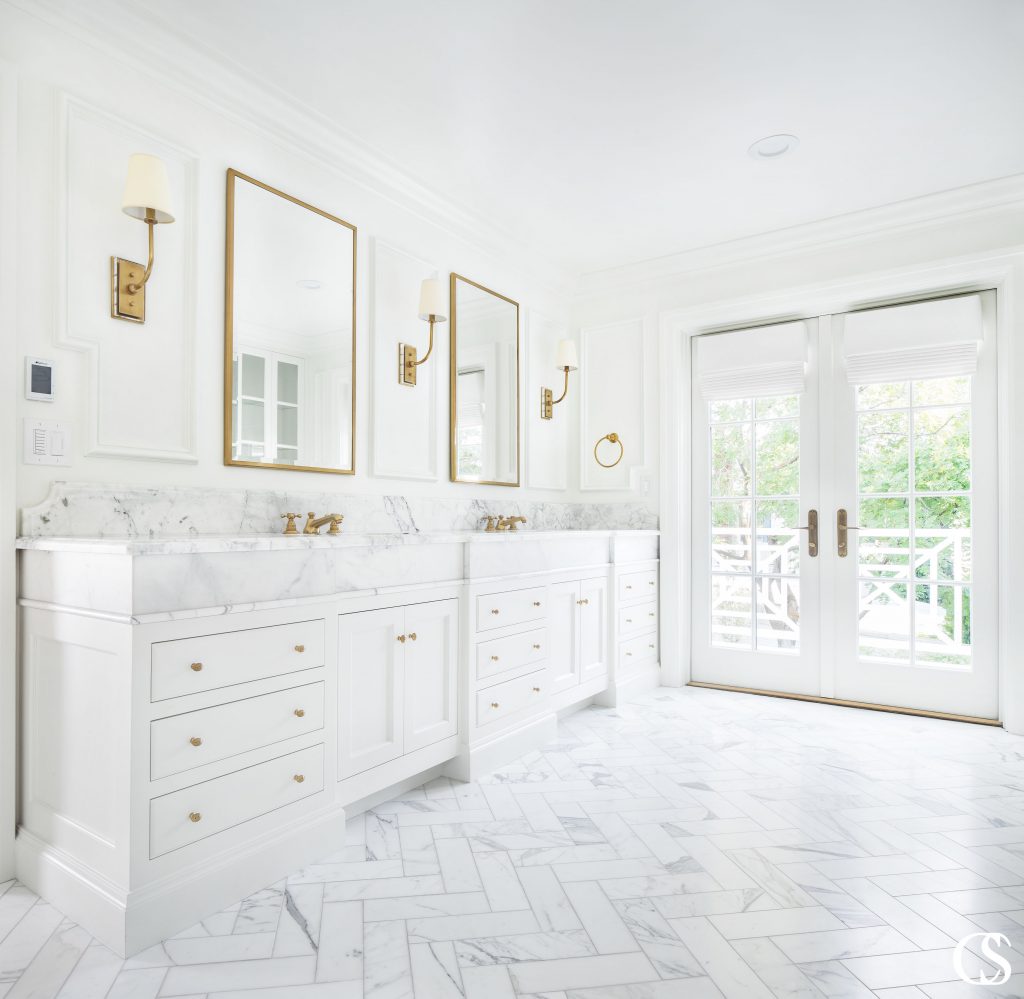 One more major consideration in picking the best paint color for your bathroom is what else you intend to design with. Warm woods and other natural materials, cool metals, and other complementary colors found on a vanity, in wall or floor tile, or in artwork will all significantly influence the color your paint choice actually appears in the space. Creating a vision board with bits of actual materials can be a smart way to see how all of your design elements come together before committing to fully designing and painting your bathroom.
The most important thing to consider before choosing the best bathroom paint color for your space is whether or not its a good fit for you and your family. If you love it and see it lasting several years, embrace your personal style and enjoy it—even if it goes against the "rules" or current paint color trends. Just make sure that if it's not a color that will live past a year or two as your preferences change or you choose to sell your home you're willing and ready to put in the effort to repaint it.
TRENDING: Our Favorite White Paint Colors
My Favorite Bathroom Paint Colors
While we can get on board with most any style and shade of paint, we have narrowed our favorite paint colors for the bathroom down to three that we've implemented and loved the results of time and again. Let us introduce you to Green Blue by Farrow & Ball, Cement Gray by Benjamin Moore, and Parma Gray by Farrow & Ball.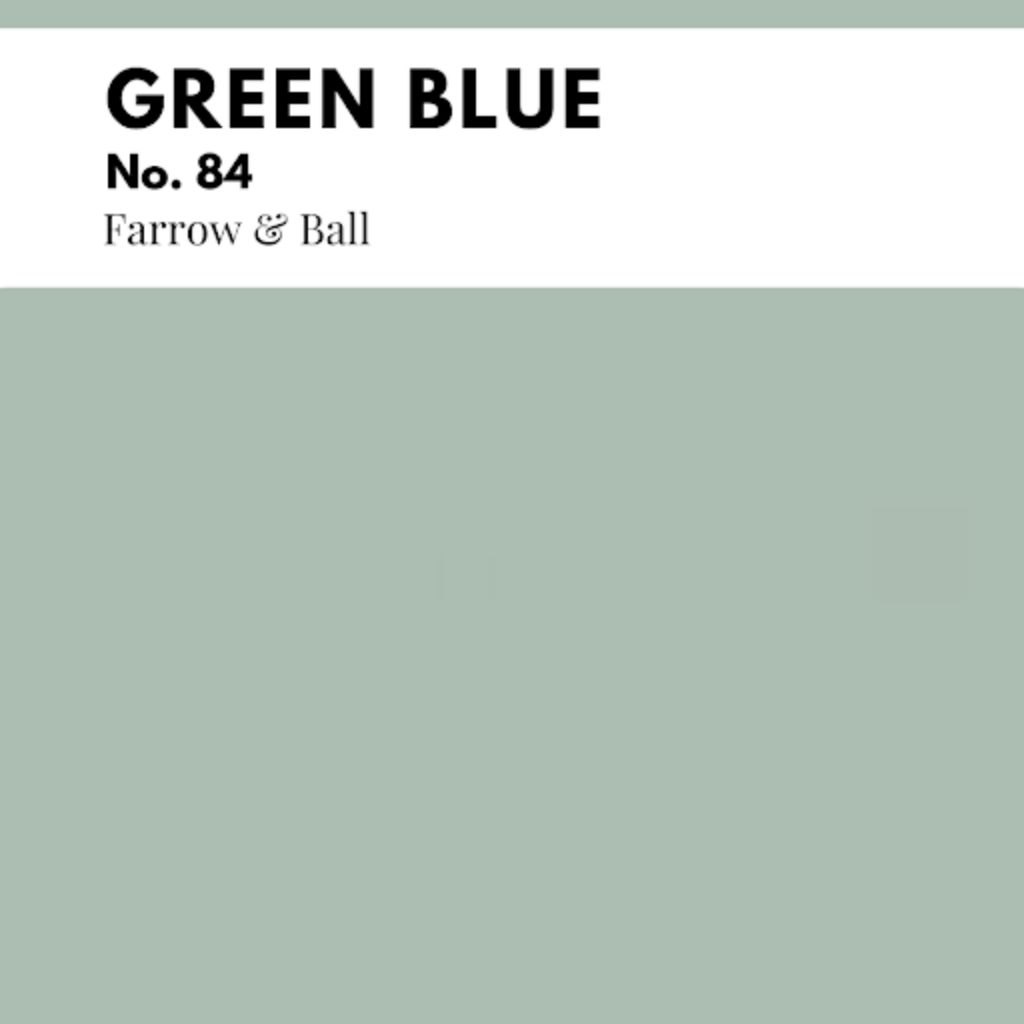 Green Blue by Farrow & Ball is one of the best paints for the bathroom because it has all the relaxing power of a zen garden right in the center of your home. It's a shade that works beautifully from floor to ceiling without overpowering the senses. It can be brightened with cool whites and metal cabinet hardware or warmed up with wood tones on a bathroom vanity or natural, fibrous rugs. Overall, it's a versatile, soothing shade of green paint for the bathroom that you'll continue to love for decades.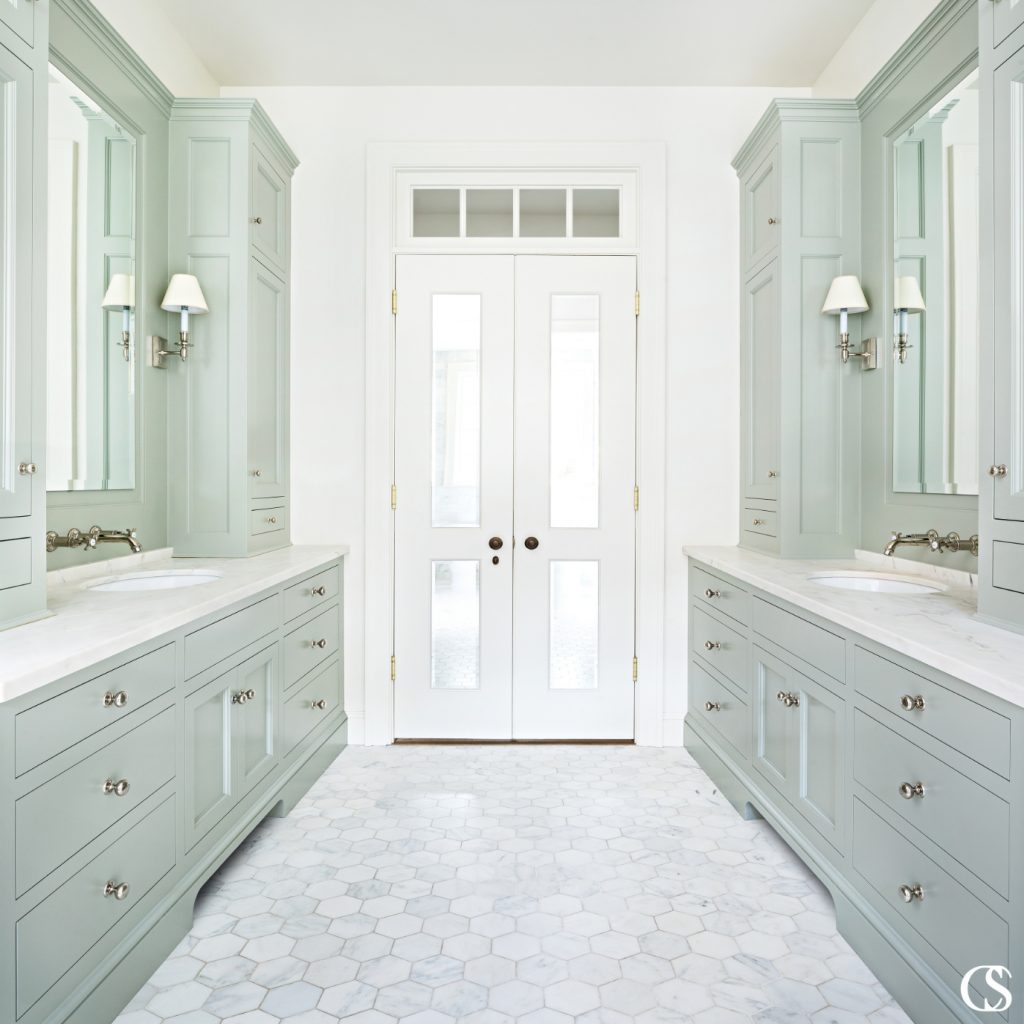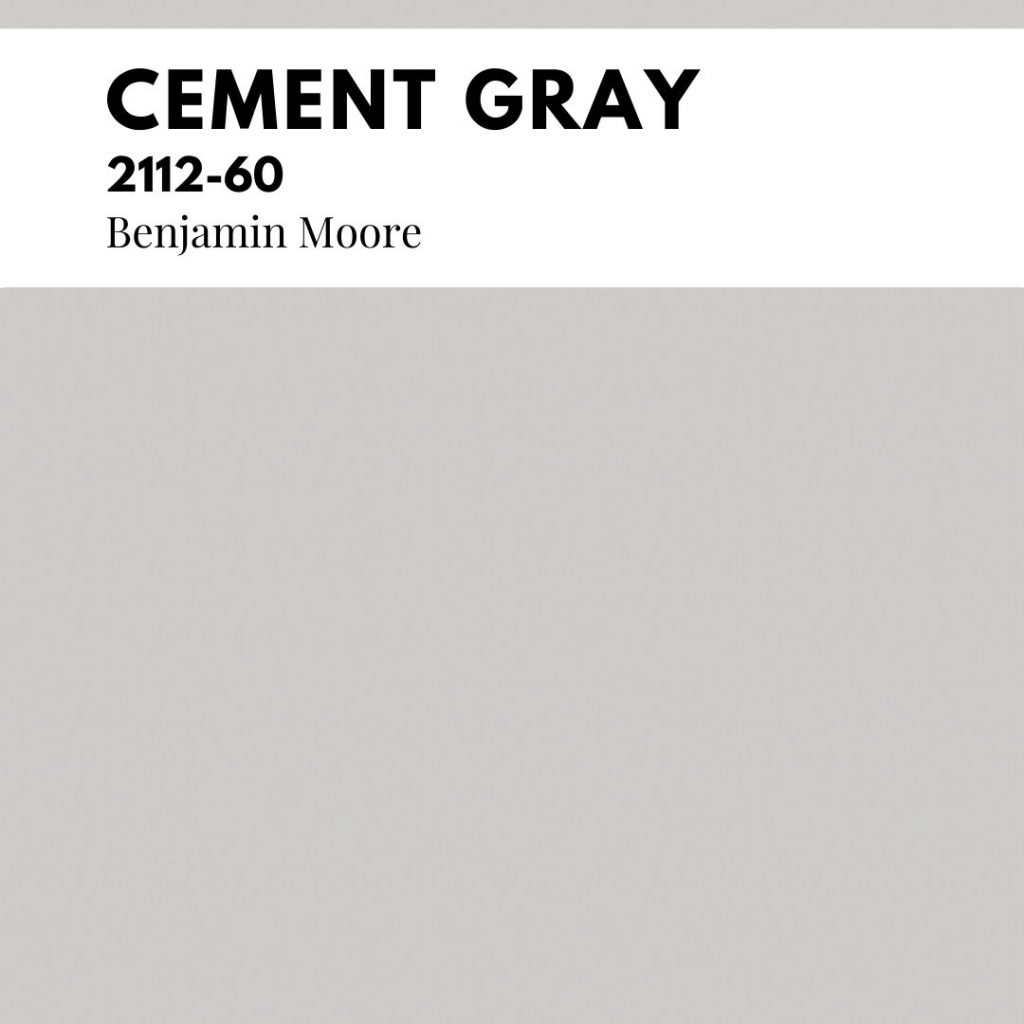 One of our favorite gray paint colors to use throughout the entire house, Cement Gray by Benjamin Moore is one of those grays that relaxes rather than depresses. It's bright enough to bring some light to even a smaller bathroom but has enough impact to make a gentle yet purposeful statement in a luxe-leaning master bath. Cement Gray is perfect for walls and bathroom cabinetry and can easily play well in either a monochrome or variably-hued space.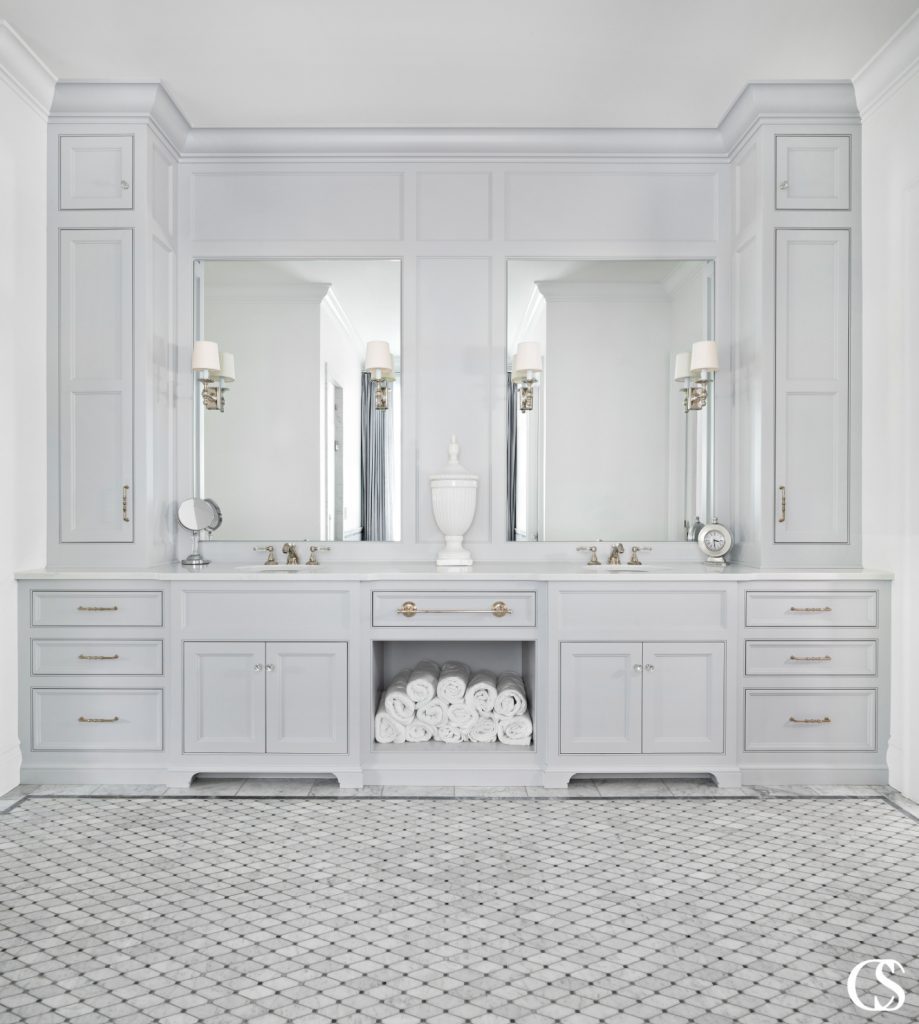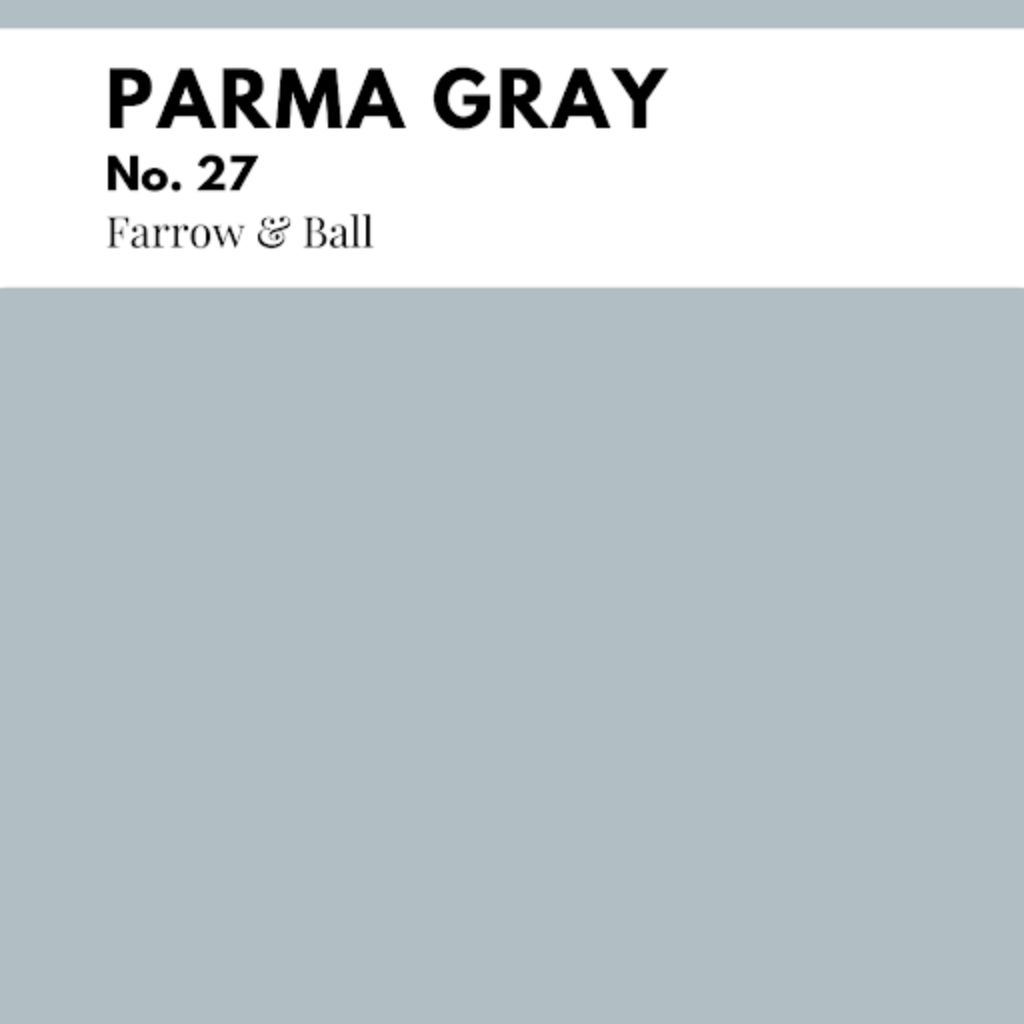 Bringing a little bit of sky or ocean to your bathroom is easy with Parma Gray by Farrow & Ball. Though it's categorized as a gray color, it leans heavily to the blue end of the spectrum and will brighten up even more depending on the light available in your bathroom space. This shade of blue is another great bathroom paint color idea because of its versatility. Simply by swapping out hardware, towels, and a few other bathroom accessories, you can easily change the style of your entire space without ever having to repaint.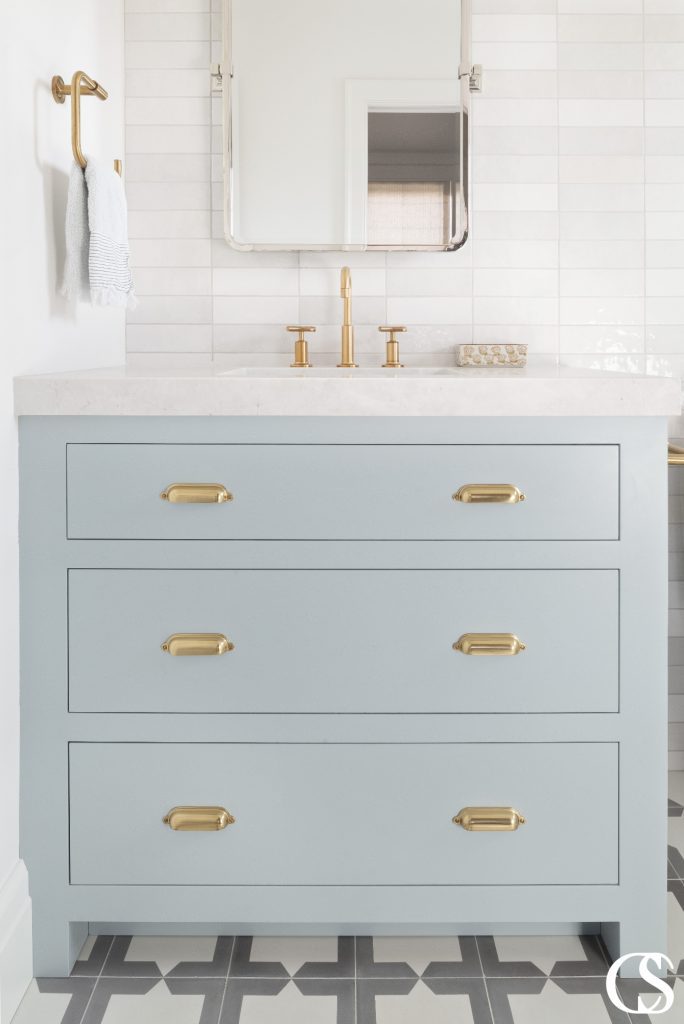 For More Paint Colors & Bathroom Ideas Check Out Our Portfolio
Bathrooms are a uniquely personal space in every home and we love to create cabinetry and design for individual styles and tastes. Plus, with nearly endless options for the best bathroom paint colors, no two bathrooms are ever the same.
Do you have an idea of what you want your dream bathroom to look like but need help bringing it to life? Make sure to check out our beautiful bathroom portfolio and follow our Instagram for inspiration, then contact Christopher Scott Cabinetry to get started on a paint color consultation, cabinet design, or bid!