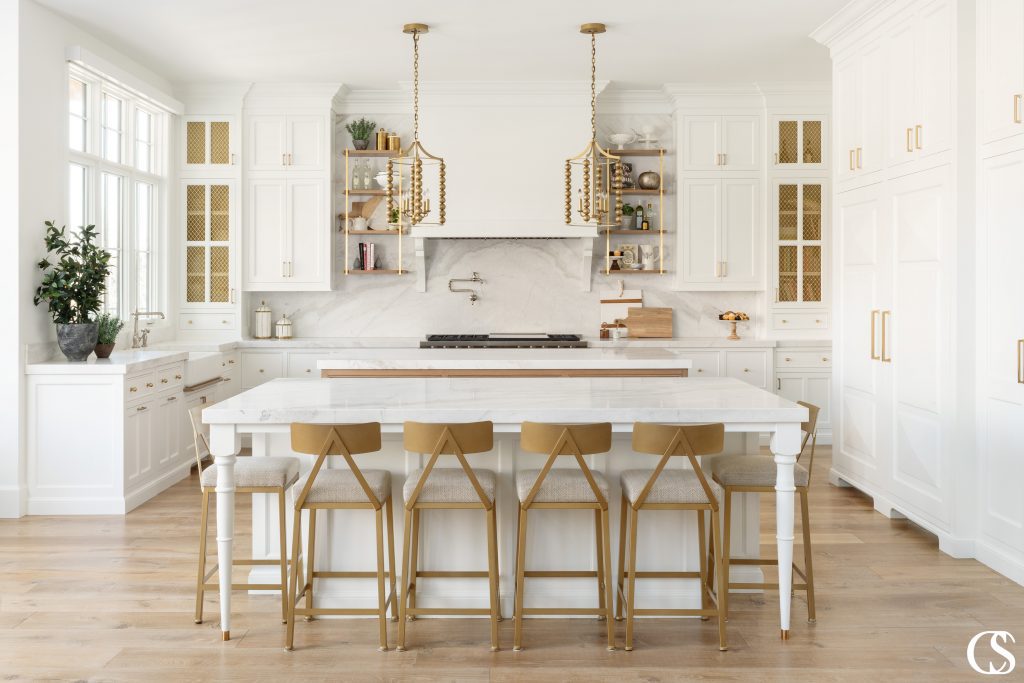 Picking the perfect countertops for your kitchen is a big decision. They can make or break a brand new kitchen design, and choosing new countertops for a kitchen update is sometimes all it takes to make it feel brand new again. But with all the different material options along with the variety of patterns available in each material—choosing the best countertops for your kitchen can be a serious challenge.
Here's a look at our favorite countertop materials and what we've learned are the best countertops with white cabinets—the classic kitchen looks that will never go out of style.

Types Of Countertops That Look Great With White Cabinets
The nice thing about white kitchen cabinets is that they are the perfect neutral backdrop for anything else you bring into the kitchen—appliances, hardware, accessories, and yes, countertops.
As a general rule of thumb, you want to choose a countertop that complements the aesthetics of your space. For some that might mean opting for butcher block countertops because they're looking to create a rustic farmhouse kitchen. For a more industrial look, someone might install concrete countertops. Once you know the general style you're going for, you'll be able to narrow down the possibilities a bit.
Another thing you'll want to consider when picking the best countertops for white cabinets is, of course, the white of your cabinets. For instance, if your kitchen cabinets are painted a cooler white, opting for a countertop material in gray or white with gray veining might be an excellent choice to bring out the sleek qualities in both colors.
If you've painted in a warmer tone of white, choosing a white countertop with warmer beige flecks throughout or even a wood countertop could really bring natural warmth and freshness to your space.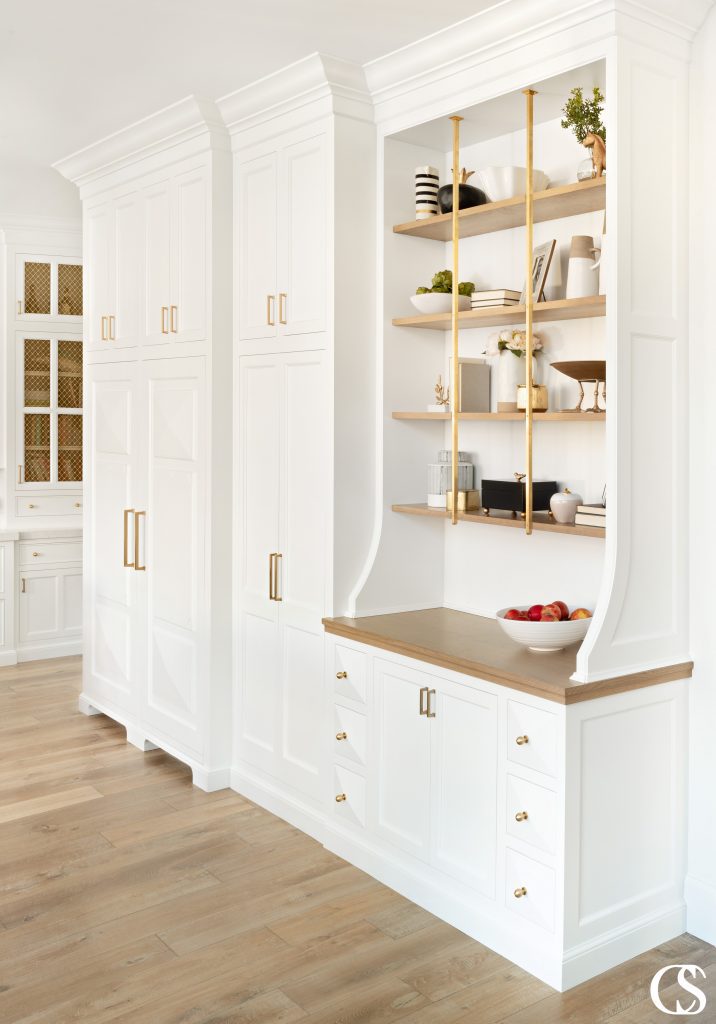 Often people think that they have to stick with very light-colored countertops to match their white kitchen cabinets, but we also find that pushing for something a little darker can make a complementary statement in your kitchen. In the kitchen below, you'll notice a darker gray countertop on every workspace but the kitchen island, which keeps the room grounded. They also opted to use a slab of quartzite in the same color family on the island to mix things up but keep everything in the same color family. (Bonus Tip: This is also a great way to save some money on countertops—create a focal point of the material you love and use something a little less expensive everywhere else!)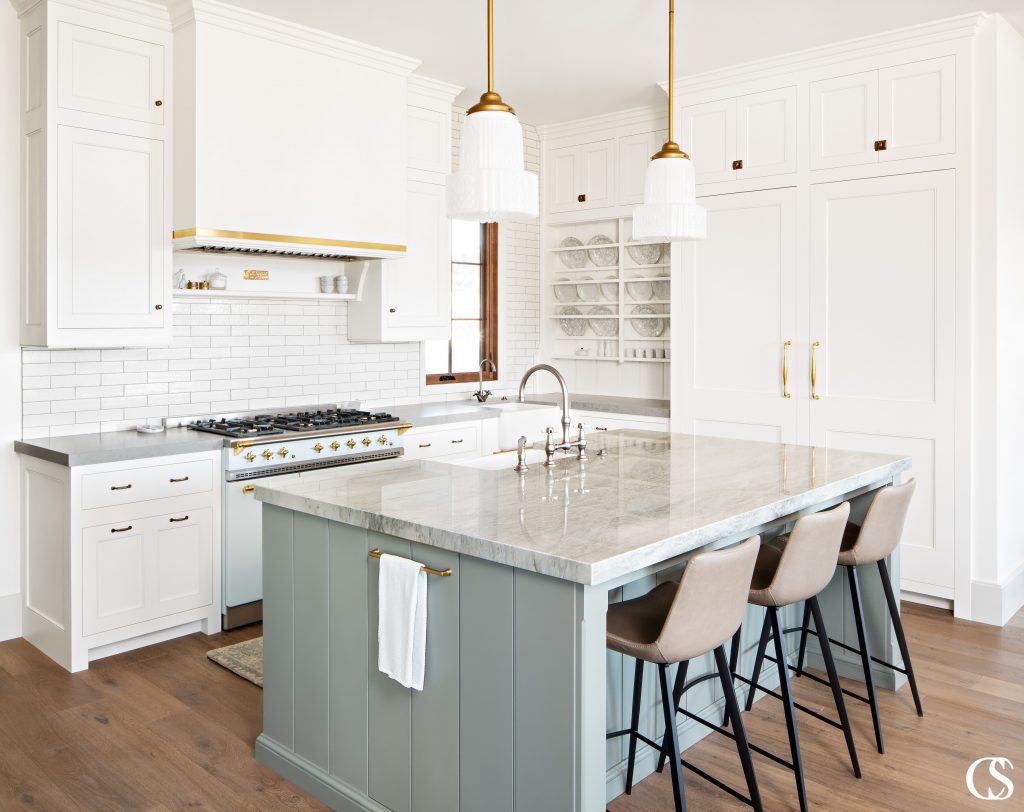 Choosing light or dark countertops to go with the white cabinets in your kitchen is really a matter of style and whether you want to stay fairly neutral or introduce some contrast into your look. The main thing we'd warn against when trying to pick the best countertops with white cabinets is to not pick anything too stark. Occasionally you'll come across a striking black countertop material that might seem a safe bet but can actually be a hassle to keep clean and will go out of style fairly quickly. If you do go dark, opt for a subtle pattern for a more timeless look. (See the soapstone countertops below!)
What Kinds Of Countertops Go Well With White Cabinets?
Now that you know which countertop looks go best with which white kitchen cabinets, let's dive into the best countertop materials and their specific pros and cons.
Marble Countertops With White Cabinets
Marble countertops are a modern yet elegant option for a kitchen with white cabinets. Marble comes in many styles and colors with veining ranging from subtle to striking, making it a very versatile countertop option with plenty of character. Marble can make for a gorgeous statement on countertops and backsplashes and works very well in larger kitchens. Plenty of people love marble so it can also increase your home's value. I personally have marble in my home. I love the look of the natural stone and in our case, it was less expensive than quartz.

TRENDING: The Best Kitchen Design Ideas For Your Home
The cons? Marble is a natural stone, which means it is porous and has to be well-sealed and cared for regularly to ensure it doesn't stain or sustain heat damage. But in my experience, if the marble is well-sealed there are ZERO issues with it. It's been 2 ½ years since the marble countertops in my home were sealed and we've not had issues with it showing wear and our kitchen gets a lot of use.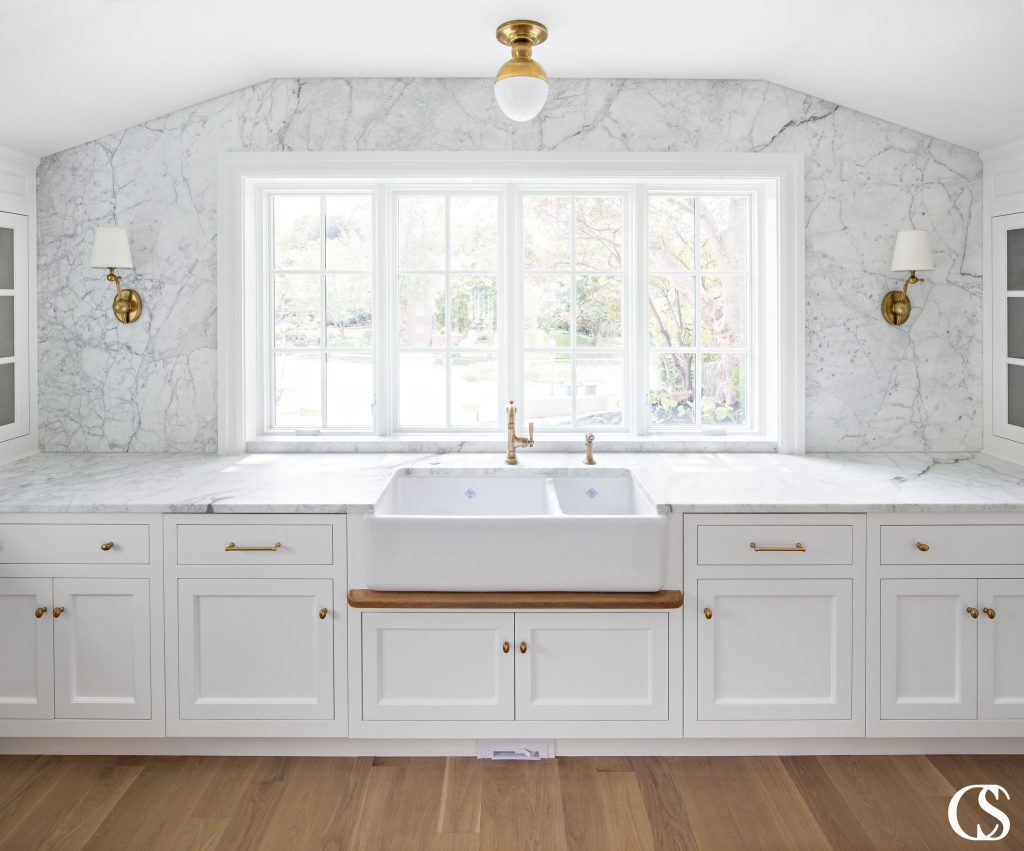 Granite Countertops With White Cabinets
Granite is another classic stone countertop choice, popular because of its durability and natural beauty. It's a less expensive option than marble and is also easier to maintain. Granite comes in a wide variety of patterns and colors and can be great if you're looking for a darker but still visually interesting countertop option.
RELATED: Our Favorite White Kitchen Cabinet Paint Colors
Unfortunately, while granite is great at resisting stains and heat damage, it can be prone to chipping, which can be an expensive fix. Another challenge? In my experience, there are few granite options that designers would approve because granite can be busy. If you care about timelessness, granite can be a tricky choice and I'd recommend looking at an Indian granite in a solid black with some speckles, which is what I have in my bathrooms. The caveat here is that black counters will show dirt and spills more, which I like. I don't want grime and dirt to blend in—I want to know it's there so I can clean it up quickly.
Soapstone Countertops With White Cabinets
Soapstone countertops can be a great alternative to granite or marble, as it's less expensive to purchase and maintain. But we also love it for its unique and slightly rustic qualities as well. It can be a great choice for more "casual" kitchens and offers beautiful contrast to white kitchen cabinets.
The downside of soapstone is that it tends to scratch more easily than other stone countertop options. However, small issues can often be buffed out fairly easily. Slight staining is also a possibility with soapstone countertops.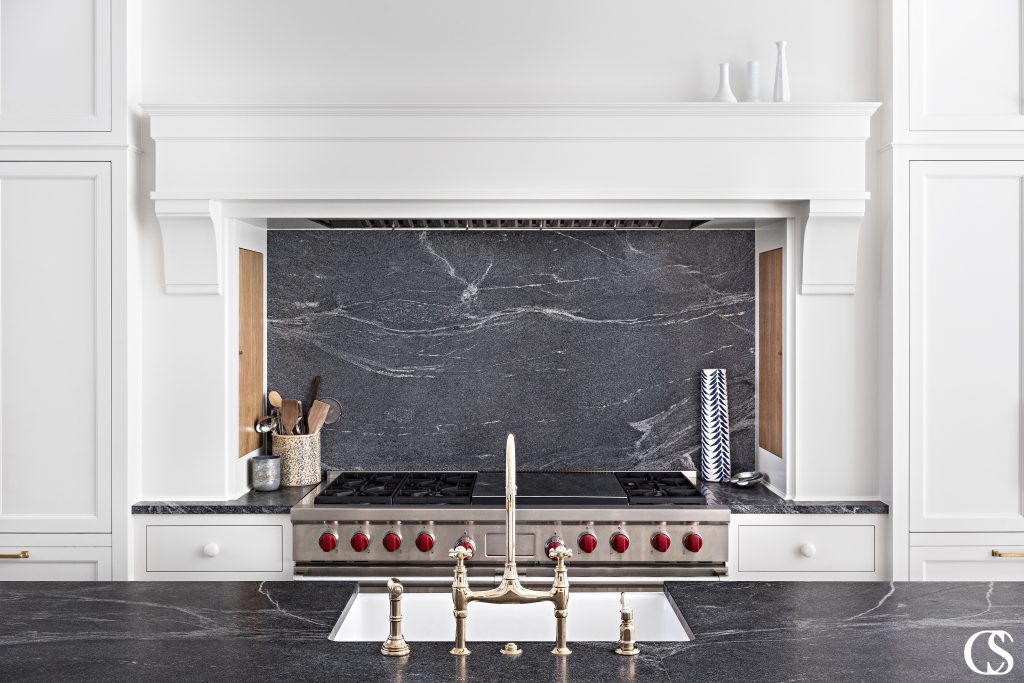 Quartz Countertops With White Cabinets
Because quartz countertops are man-made, there is a huge variety in color options available and it can even hold up better than granite and requires less maintenance. It's a super resilient countertop option that is difficult to cut, burn, or stain. Quartz can be more affordable than upscale marble and offers the same upscale vibe of more expensive options.
Wood Countertops With White Cabinets
Wood countertops are a beautiful and traditional choice for the right kitchen, especially with white cabinets. They add natural warmth, they're easy to install and repair, and the variety of woods and stains available (think lighter in a more casual space, darker for a more formal feel) make them a very versatile option. Wood countertops can be more affordable than stone, but you have to be comfortable with wear and tear and some ongoing simple maintenance to manage scratches and stains. They're great for workhorse spaces like kitchen islands.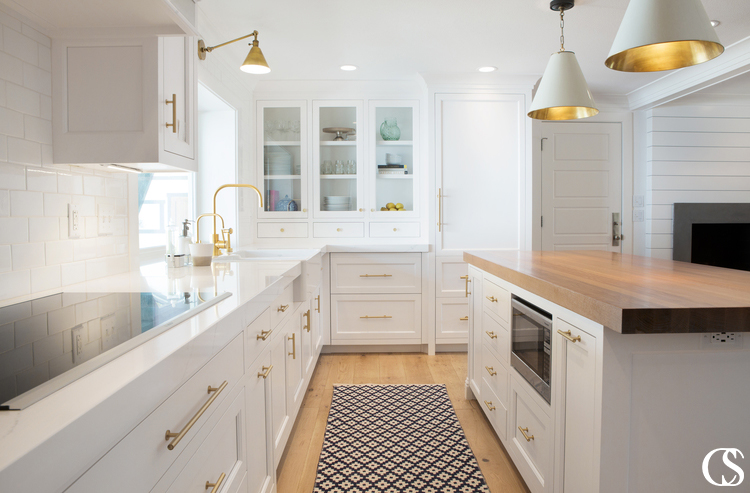 Ultimately, the best type of countertops with white cabinets will depend on your personal style preferences and your budget. The best part is that almost anything you want is bound to work well in your white kitchen.
What Color Countertops Go With White Cabinets
White kitchen designs are popular for good reason. They're bright, clean, fresh, and timeless. White provides an ideal backdrop for a variety of modern or classic styles, and essentially infinite complementary colors, patterns, and textures pair well with it. That doesn't mean you don't have to have a keen eye for subtle undertones, temperature, and lighting, all of which will affect what color of countertops will go best with your white cabinets.
Often the color of countertops you choose to go with white cabinets will be determined by your desire to stay fairly neutral (whites, grays, subtle beiges, light stained wood) or make a contrasting statement (darker stones or woods, cement, even laminate). It can also come down to the various qualities you're looking for your countertops to bring to your kitchen design as well—elegance, rusticism, ease of cleaning/maintenance, etc.
Just make sure you consider all the pros and cons of both the color and material before you pull the trigger on countertop material purchases as they're often one of the most expensive parts of a kitchen build or remodel. And whichever countertop you choose, make sure it's one that you know will bring a smile to your face for years to come.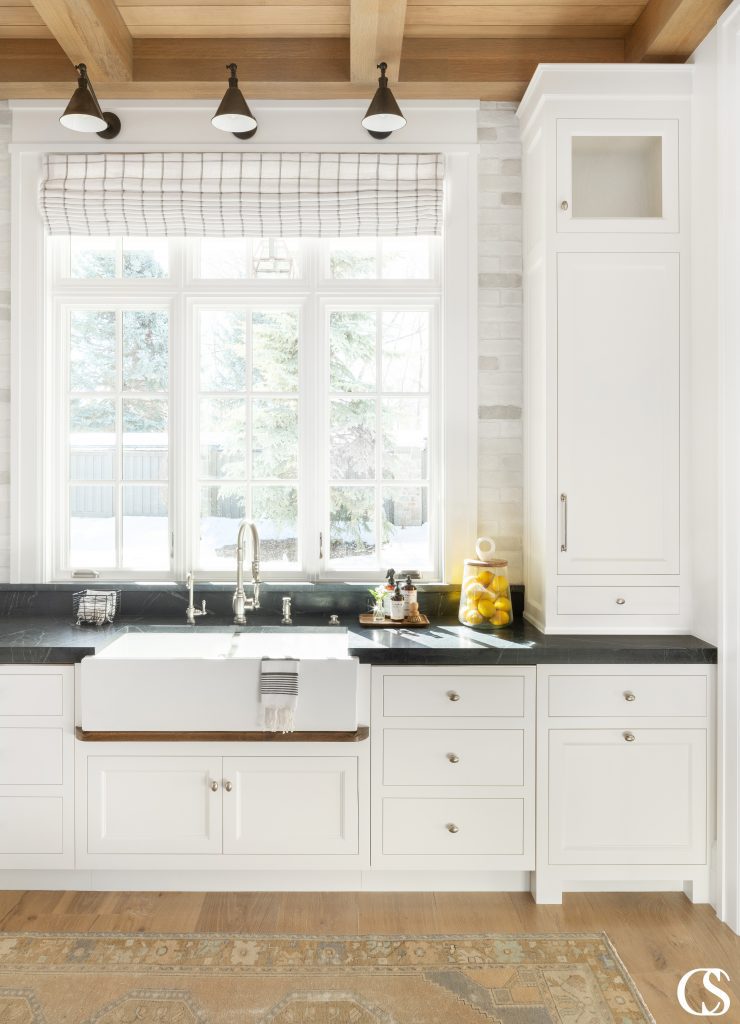 Check Out Our Portfolio For More Kitchen Inspiration
Now that these countertop tips and peeks into our cabinetry design have piqued your interest, make sure to check out our full portfolio of work and follow us on Instagram and Pinterest for even more inspiration!
Ready to start your own project? Contact us for a helpful consultation on paint colors, countertops, cabinetry, and design!